Bruno Cupillard: Aventures Cristallines
The 2007 "Flashes of Colour: Legendary Wines and Gemstones" exhibition featured the images of French photographer Bruno Cupillard. We were so taken by his work that we wondered what it would be like to look behind the camera at Cupillard and other mineral and gemstone photographers. FotogFocus is an occasional peek at the "photogs" whose work we've come to love, with a single page on Palagems.com dedicated to each of them.
Orbicular jasper, the source here, is also known as ocean jasper. (Photo © Bruno Cupillard)
Bruno Cupillard sees his work as an adventure—an entry into "a world where our reference marks are confounded." A collector of "stones" in the Jura (on France's eastern border) with an interest in gemology, Cupillard was lured beyond mere identification of what he found.
…I quickly understood that the suggestive interpretation of the graphs drawn by nature is the engine of the most surprising voyages. I wondered since many years about what is hidden inside the stones, like others could explore the sea-bed.

I started to select stones which spoke of landscapes, then studied those whose color and transparency allowed them to be cut.

I had discovered gems!
Cupillard intends his work to "enlarge the public admiration of minerals" through work that takes full advantage of color as well as "their surprising beauty and mystery."
Bruno Cupillard's work is available in several formats from his website: Aventures Cristallines.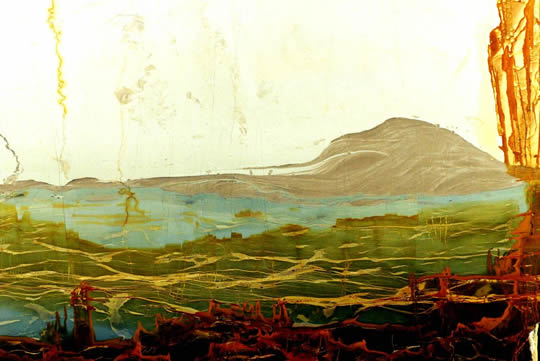 One of Cupillard's "landscapes," the source here is paesine, or limestone that has split and shifted. (Photo © Bruno Cupillard)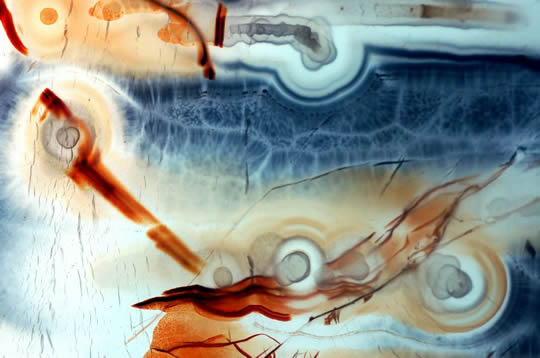 Agate is the source for this homage to the Spanish artist. (Photo © Bruno Cupillard)
Cupillard envisions his work being used in a variety of ways, including varying the shape of the photographs, multimedia presentation, incorporation in interior design, and use in public spaces.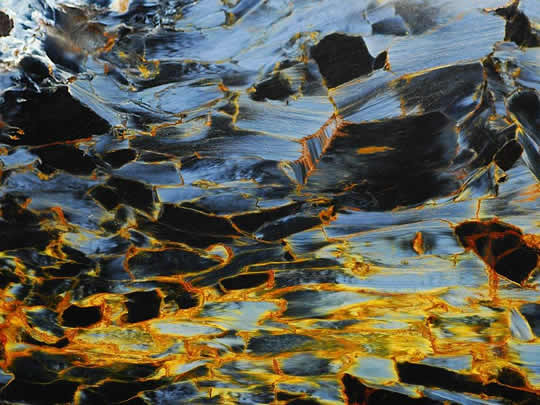 The expressionistic strokes here are from pietersite, named after the Namibian mineral dealer, Sid Pieters. (Photo © Bruno Cupillard)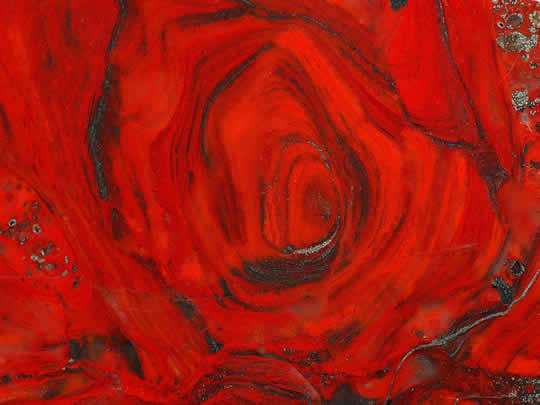 This material, stromatolite, was created by lime-secreting blue-green algae. (Photo © Bruno Cupillard)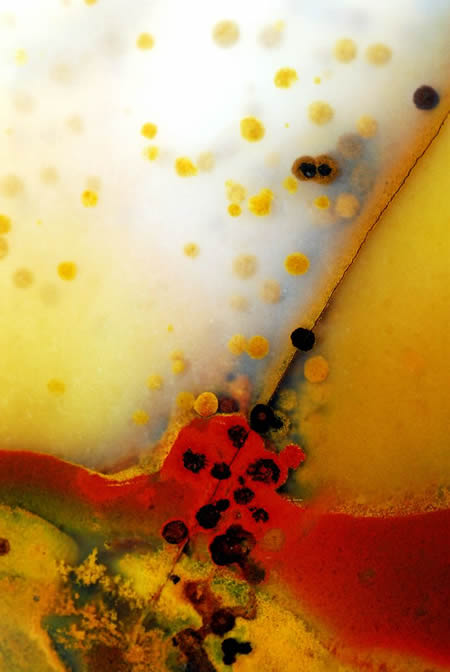 Like some recently unearthed (ouch!) Kandinsky, Cupillard achieves a balance of movement and stasis in this image of agate. (Photo © Bruno Cupillard)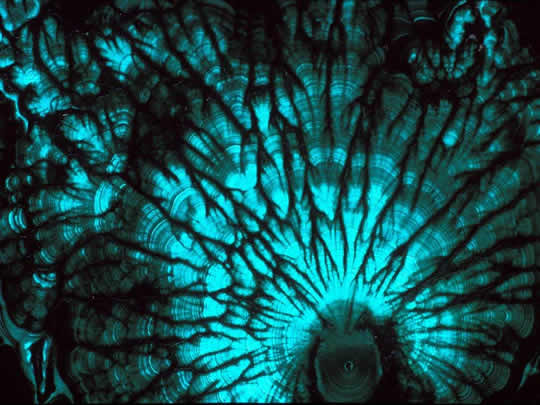 Malachite is the source material. (Photo © Bruno Cupillard)
Cupillard is generous in offering his photographic techniques to others. His website has a whole page devoted to his methods. He even provides examples of depth-of-field and reflective obstacles. "If you have technical questions or if yourself wish bring your light in any directions, do not hesitate to contact me or to contact Laurent Deliot who brings all his experiment of photographer to me." (Not fluent in French, try a web page translation service such as Babel Fish.)
Inclusions
Cupillard also revels in the microscopic realm of minerals. See more images at his Inclusions Gallery.
(Photo © Bruno Cupillard)
(Photo © Bruno Cupillard)