FotogFocus is an occasional peek at the "photogs" whose work we've come to love, with a single page on Palagems.com dedicated to each of them. See other profiles in the series here.
Sarah Oros: "Within Nature's Design"
A profile by Elise Skalwold
In the heart of New York State's Finger Lakes Region, an emerging artist debuts at the Paleontological Research Institute's Museum of the Earth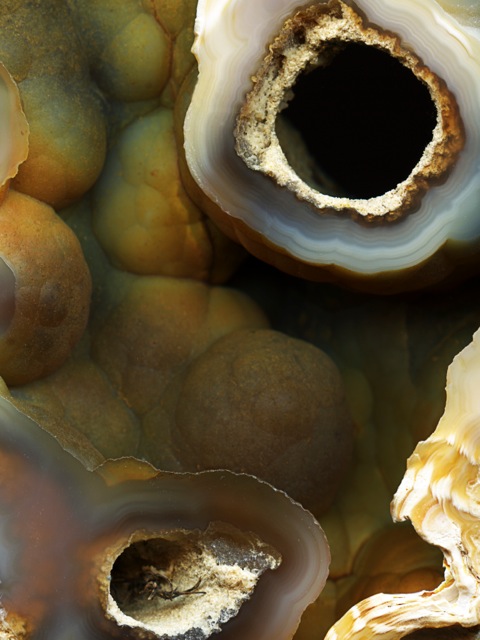 Polished slice, Tampa Bay, Florida, on Luster Photo Paper. (Photo: Sarah Oros)
On very still winter nights, the wistful melody of "Far Above Cayuga's Waters" might be heard faintly from across the fjord-like lake, while high up on its western shore the architecturally magnificent Museum of the Earth glows brightly out of the darkness of the surrounding hills. Under a multitude of bright stars and sparkling, crystalline air, prowling coyotes howl, owls call forlornly and ice crackles. On one such recent evening, scores of people were welcomed in from the biting cold with offerings of wine and hors d'oeuvres for a celebratory opening of works by local photographer Sarah Oros.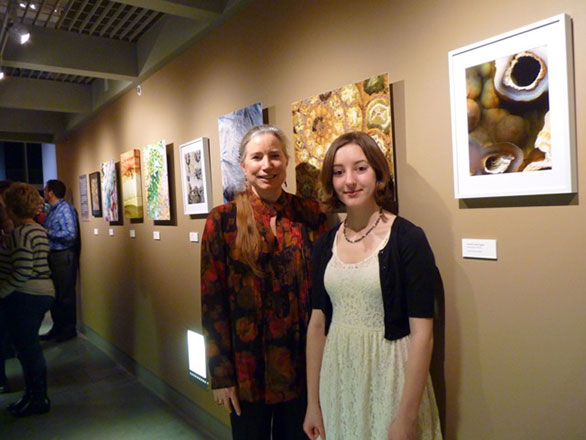 Within Nature's Design, January 5, 2013, Museum of the Earth. They stand in front of the ammonite fossil, below. (Photo: Mark Oros)
, right, with Elise Skalwold, at the opening of Oros's exhibition,
It was a little more than a year ago that I came across Sarah's framed portraits of agates and other lapidary materials gracing the walls of a friend's mineral shop in downtown Ithaca. While her images were reminiscent of Bill Atkinson's classic Within the Stone, others showed a detail that brought to mind the PhotoAtlas portraits of my dear friend, John Koivula, such was her eye for choosing a pleasing composition while also showing the subject's scientifically relevant aspects. Until that moment, I had not seen anything like this in Upstate New York, except perhaps during the Rochester Mineralogical Symposium, where the crème de la crème of the mineralogy world converges to hobnob and attend presentations that have in the past included John, as well as the symposium's highly anticipated "What's New in Minerals" photographic feast given annually by Jeffrey Scovil. Naturally, I had to find out who was behind this particular lens!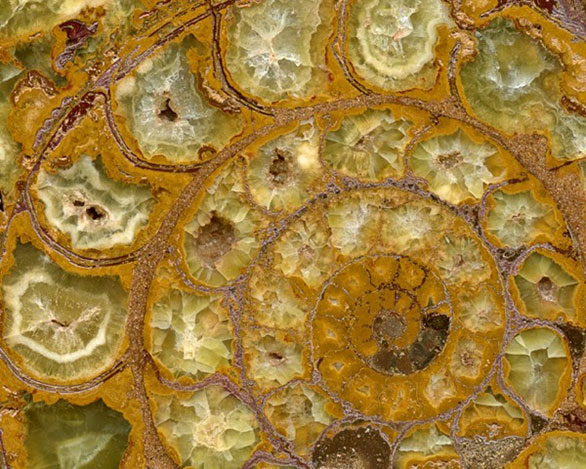 Polished slice, Madagascar, on white aluminum. (Photo: Sarah Oros)
To my surprise, it was a young woman who had never heard of Atkinson or Koivula, but was drawn in by the beauty revealed in polished mineral and fossil specimens. Sarah Oros is one third of an identical triplet set (the other sisters have much different, though equally impressive interests). She is an outstanding artist who will graduate this spring from the world-famous photography department of the Rochester Institute of Technology (RIT) with a unique degree in Biomedical Photographic Communications. While her plans are to pursue a photography career in the scientific/technical world, she clearly shows her impressive range having turned her lens this past year to documenting her father's lapidary works, as well as having landed a summer position as the PRI Photographer in Residence at the Museum of the Earth during summer break. Along with the invitation to hang a selection of her works, this position led to the paper "Photographing the Structure and Form of Ammonites." Not only is Sarah a gifted artist; her natural teaching abilities and generous spirit shine brightly, not least of all as when she worked the awed crowd at this, her first opening.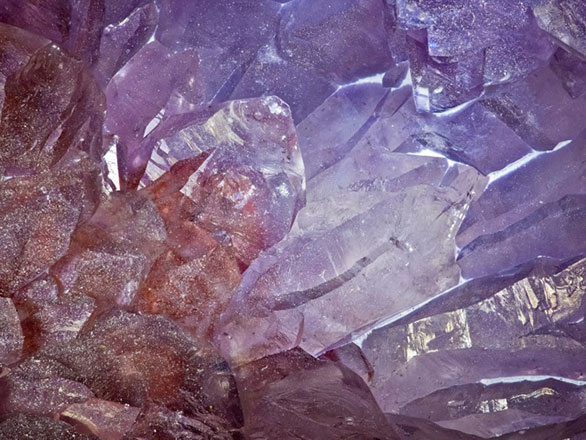 see this. (Photo: Sarah Oros)
Origin unknown, on Luster Photo Paper. For more on amethyst,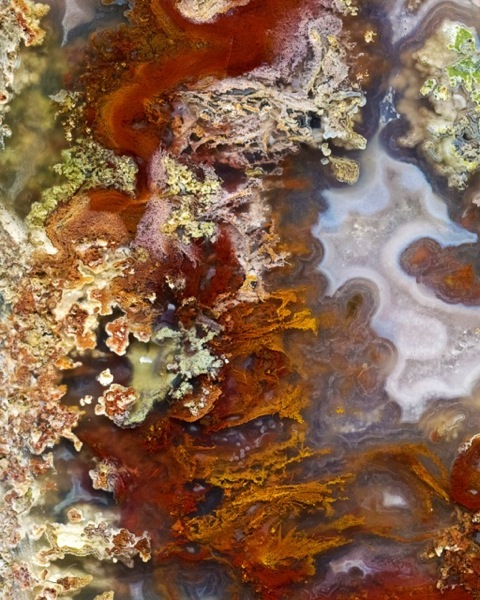 Polished slice, Mexico, on white aluminum. (Photo: Sarah Oros)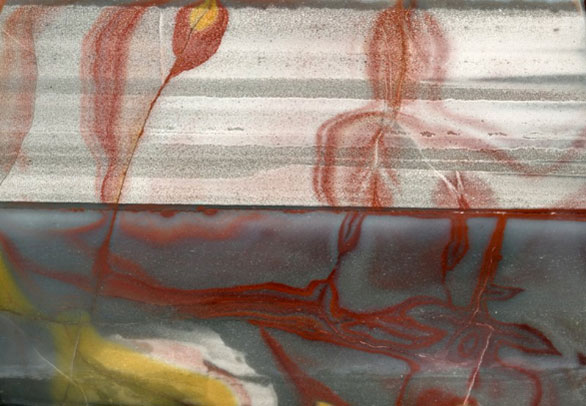 Near Chihuahua, Mexico, canvas print, 14" x 20". (Photo: Sarah Oros)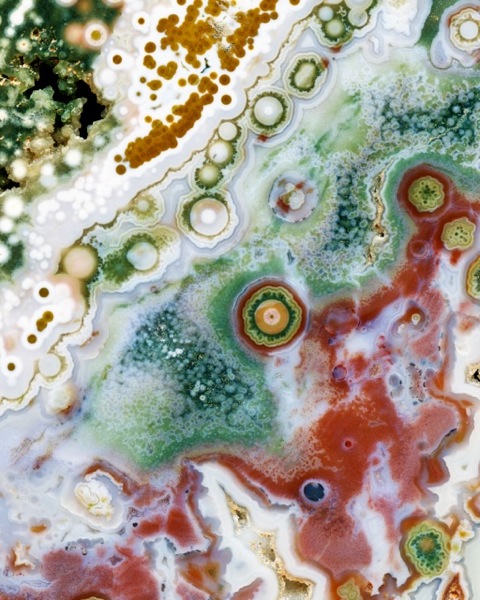 Polished slice, Madagascar, on white aluminum. (Photo: Sarah Oros)
All in the family
The father of this young artist, Mark Oros, is a lapidary artist of considerable talent and a sales representative for Ultra Tech faceting machines. In the past he has generously provided me with a variety of interesting inclusion specimens and is always ready to polish windows in any rough that I need to see the interior of—this is just the type of gemologist/lapidary relationship John Koivula has urged me and all students of the microWorld of gems to cultivate. Mark also collaborates with local artists who work in various mediums to incorporate lapidary materials into their pieces. The results have been met with quite a lot of enthusiasm; in fact the Museum of the Earth's gift shop carries many of the pieces along with Mark's own creations—a refreshing change from the fare that is often found in such shops.
*Paleontological Research Institution (PRI) and Museum of the Earth. Founded by retired Cornell professor Gilbert Harris in 1932, the Paleontological Research Institution houses a collection of nearly three million specimens (one of the ten largest in the U.S.). Its public Museum of the Earth (est. 2003) draws nearly 30,000 visitors a year through its 8,000-square-foot permanent exhibition of 4.5 billion years of history, from the Earth's origin to the present day (read further here). Today, PRI and its Museum of the Earth are separate from, but formally affiliated with, nearby Cornell University, and they interact closely with numerous University departments in research, teaching, and public outreach. The PRI Director, Dr. Warren Allmon, is a half-time, endowed professor in the University's Department of Earth and Atmospheric Sciences, which is also home to the Timothy N. Heasley Mineralogy Museum and the office of yours truly. Those in the gem world will surely recognize one staff member, Dr. Paula Mikkelsen, co-author of one of our most highly-prized reference books, the Museum of Natural History's Pearls: A Natural History, as well as being a curator involved in the decade-long tour of the associated collection (Landman, N. H., P. M. Mikkelsen, R. Bieler, and B. Bronson. 2001. Pearls: A Natural History. Harry N. Abrams Inc., New York, 232 pages). [return to text]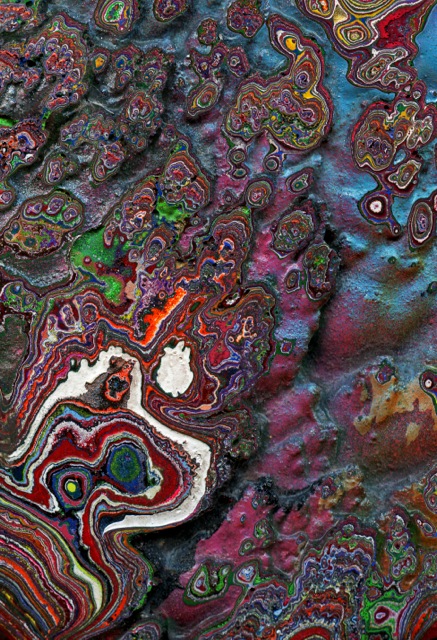 Polished cabochon. Origin: Los Angeles. Giclée on canvas. (Photo: Sarah Oros)
In camera: "I use a Canon DSLR with a Canon 100mm macro lens for many macro shots. I use Helicon Focus to focus stack images. For lighting, I use the SparkleLite Mini-Lite ML-700. Some of the images of minerals and fossil specimens are taken using the Epson v500 Perfection Scanner. The scanner provides even illumination and perfect depth of field (provided the specimen is only a few millimeters above the glass bed), along with resolution that allows for high magnification without resorting to buying expensive lenses. While individual exposures can take two to four minutes on the scanner, scanning is an affordable solution to the expensive world of macro photography, provided that the specimen is perfectly flat and expertly polished to at least 50,000 grit for higher magnification." — Sarah Oros