FOR IMMEDIATE RELEASE:

1 – "ALL THAT GLITTERS" EXHIBITION OPENS IN SAN DIEGO

2 – PALAMINERALS.COM DEBUTS ON WORLD WIDE WEB

3 – ABOUT PALA INTERNATIONAL
1 – "ALL THAT GLITTERS" EXHIBITION OPENS IN SAN DIEGO
FALLBROOK, Calif. – June 10, 2010 – Pala International today highlighted the opening May 15 of All That Glitters: The Splendor and Science of Gems and Minerals at the San Diego Natural History Museum, whose staff developed and designed the exhibition, which is scheduled to remain on display through April 2012.
The Museum's collection—highlights of which are displayed—is augmented by gem specimens and jewelry designed by Tiffany & Co., Cartier, and Van Cleef & Arpels on loan from private collectors, and institutions such as the American Museum of Natural History, Gemological Institute of America (GIA), Harvard University Mineralogical Museum, Newark Museum, and the Smithsonian.
More than 80 pieces on display are from the collection of Pala International president Bill Larson. Larson's son, Carl, contributed a dozen of his own specimens, including a tourmaline from San Diego County's Stewart Lithia Mine, which is featured in the exhibition entrance's photographic montage; son Will Larson also lent specimens. Making this a family affair, Bill's wife Jeanne Larson, executive director of Fallbrook's Collector Fine Jewelry, contributed exemplary jewels to the displays.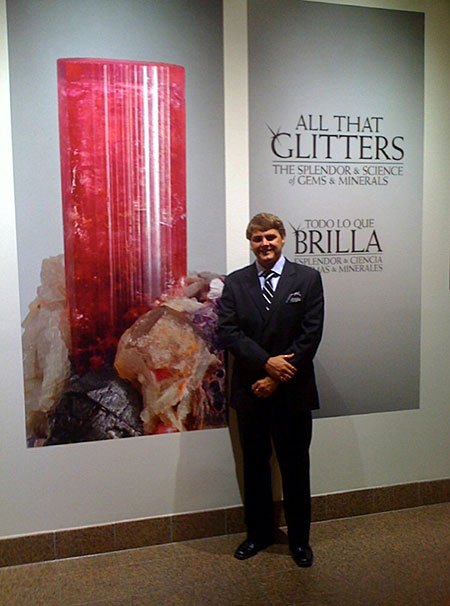 Carl Larson and a poster of his own tourmaline specimen, from the Stewart Lithia Mine in San Diego County.
The displays showcase classic workmanship and signature elements related to specific styles and time periods. Exquisite gem carvings include a Fabergé gray chalcedony pig with diamond eyes, a jellyfish opal brooch by Mauboussin, Cartier diamond panthers and tigers, and a never-before-seen collection of 13 butterfly brooches set with rare gems such as alexandrite, flame spinel, sphene, rhodochrosite, Mexican fire opal, pearls from Baja California, topaz, rainbow moonstone (transparent labradorite), and sapphire from Montana.
Tourmaline display, including specimens and jewelry from the Larsons' Pala International and Collector Fine Jewelry. Carl Larson's poster specimen is displayed on the pedestal at lower right. (Photo: Will Larson)
The centerpiece of the show is gems and minerals of California, with San Diego County's tourmaline well represented, alongside spessartite garnet, kunzite, topaz, morganite, aquamarine, quartz, opal, scheelite, colemanite, covellite, sphene, herderite, and jade. The rare state gemstone, benitoite, also is featured.
Intarsia Butterfly Box. The wings of the butterfly are created from bi-color tourmaline in this inlaid box by Nikolai Medvedev, 10 x 9.2 cm. Courtesy of Irv Brown. (Photo: Tom Spann, SDNHM)
Objets d'art also abound, with "The Carousel Egg," a jeweled enamel egg containing a miniature replica of the carousel outside the San Diego Zoo in Balboa Park. Intarsia boxes include a "butterfly" teakwood box inlaid with malachite, sugilite, tourmaline, and gold.
Star of Bombay. A remarkable 182-carat blue star sapphire on loan from National Museum of Natural History, Smithsonian Institution. It's one of the world's great star sapphires, famously given to silent-film actor Mary Pickford from her husband, actor Douglas Fairbanks, Sr. (Photo: Chip Clark, Smithsonian Institution)
Media contacts for All That Glitters:
See the exhibition website: http://www.sdnhm.org/exhibits/allthatglitters.
See also The Collector Fine Jewelry website: http://www.collectorfinejewelry.com.
2 – PALAMINERALS.COM DEBUTS ON WORLD WIDE WEB
FALLBROOK, Calif. – June 10, 2010 – Pala International today announced the debut of the firm's website for the mineral enthusiast: Palaminerals.com.
The new site retains features familiar to users of both Palagems.com and Pala's sister retail site, CollectorFineJewelry.com. (The mineral specimen catalog eventually will be phased out of the latter.) But there are some new features as well…
Proportional Thumbnails: Using on-the-fly thumbnail creation, the new website renders each thumbnail proportionally.
In-Place View Swap: Users can swap views of a single specimen by clicking the detail thumbnails to the right of the large view.
Autosuggest in Mineral Search: Enter two letters of a Country or Locality and Mineral Search autosuggest does the rest.
Running Shopping Cart Total: The total displays on every page.
Selections from Catalog and More: New features and old...
Pala International's Will Larson, webmaster David Hughes, and Fallbrook IT pros Stephen Calia and Brent Dussia guided the project through design and scripting phases.
Larson showed off the new website at the Las Vegas gem show last weekend. "Everyone is very happy with the home page layout," he wrote a half hour before the show's closing. "So much so that they have asked why [sister site] Palagems.com might not steal some ideas from Palaminerals.com."
"Plans are in the works to do just that," Hughes explained.
3 – ABOUT PALA INTERNATIONAL
For forty years, Pala International Inc. has consistently earned its reputation as the direct source for the finest colored stones. Numerous annual trips to the world's major gem-producing centers enable Pala International's staff to select from an impressive inventory.
In addition to tapping the world's resources for fine colored stones and mineral specimens, Pala has long been involved with mining tourmaline in San Diego county.
Pala International's slogan is "The only way to sell quality is to buy it." That, and the fine customer service offered, make Pala International your number one source for colored stones. The firm's gemstones and mineral specimens are among the finest in the world, having been sold to some of America's most famous jewelers. Clients include Tiffany & Co., Neiman-Marcus, Borsheim's, The Smithsonian Institution, American Museum of Natural History, Los Angeles County Museum of Natural History.
For a 40-year retrospective of Pala International see this Special Report: http://www.palagems.com/gem_news_2009_pala40.php#pala_at_40
For more information about Pala International, contact David Hughes, News Editor, at david@palagems.com.
# # #
Pala International
912 So. Live Oak Park Road
Fallbrook, CA 92028
USA
Tel: 800.854.1598; 760.728.9121
Fax: 760.728.5827
E-Mail: info@palagems.com
World Wide Web: http://www.palagems.com
"Fine Creations from Planet Earth"