World's Foremost Buys the World's Finest
GIA Acquires Dr. Eduard Gübelin Collection
Pala's Bill Larson Recalls His Own Work with the Collection
The Gemological Institute of America (GIA) has acquired the world famous gem collection of the late Dr. Eduard J. Gübelin. The collection of over 5,000 gem specimens covers all commercial and rare gem species, including organic gemstones such as pearl and amber. In addition to its intrinsic value, the collection has educational significance due in part to the numerous locality suites Dr. Gübelin assembled over his esteemed 70-year career. Gem collectors as well as GIA educators will find such features of the collection to be highly useful.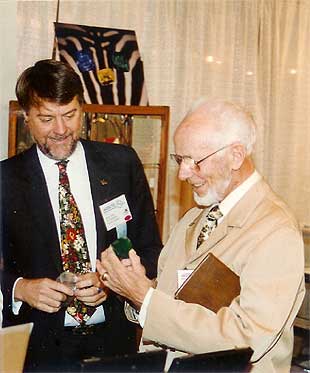 Bill Larson (left) with Dr. Gübelin, examining specimens at an exhibition. (Photo: Marie-Helen Gübelin Boehm)
Pala's Appraisal
Pala International has had a decades-long relationship with Dr. Gübelin and his collection, culminating in 2001 when Bill Larson, president of Pala International, was hired by Dr. Gübelin to do the first comprehensive, professional-dealer appraisal of the collection. The purpose was to compare and confirm Dr. Gübelin's own evaluation. This is Bill's summary of the appraisal process:
I visited with him three times, doing updates and evaluations. The first and most comprehensive trip was in July 2001. I remember driving to Lucerne with my son Will and being greeted by Eduard. (Dr. Gübelin insisted in the 1970s that I refer to him by his first name and I always felt so honored to be able to do so.) For accommodations, he had a special room saved for us with a lake view.

I had four full days to work with Eduard. The collection had been cataloged by his grandson, Edward Boehm, and son-in-law, so a printout with name, shape, weight, color, origin, and weight was supplied to me. My job was to concentrate on the gems and give an evaluation of what I would pay in the wholesale market. I could work for about four hours in the morning and about two and a half in the afternoon without tiring too much.

The colors of certain gems, like aquamarine, were set aside for morning light only. My son, Will, helped me keep the gems sorted, and located their entries in the printouts. We were on our own for lunch and had great walks around the lake, restarting at 2:00. After finishing we were on our own again, but the evenings were reserved for dinner. Eduard showed us a great variety of restaurants in the area. Each owner greeted him and suggested what the specials were that evening; Eduard's knowledge and selection of local Swiss wines was an education in itself.
Roll Out the Beryls. This beryl collection is one of 70 boxes that comprise the main gemstone collection. The top left pink morganite from Brazil weighs 100.99 ct. (Photo: Edward Boehm)
These were heavy days. When I was finished, he was very happy that I had come quite close to his estimate of what most of the gems might cost in the current market. My appraisal was much higher on a few superb gems, especially a world-class padparadscha sapphire of over 9 carats. This particular gemstone was apparently used by several European labs as a guide for the perfect color of this most elusive gem.

A few other favorites come to mind: an over-100-carat morganite, dark, fine pink from Madagascar; a sapphire-blue euclase from Zimbabwe; a 14-carat red topaz from Russia; and a suite of six large, fine demantoids. Another favorite is an amber with two complete scorpions in it, looking so perfect it appears to be a fake—except that it is a natural and untouched.

Longtime Relationship
Pala International's involvement with Dr. Gübelin began in 1974 when Dr. Peter Bancroft, who was Pala's mineral specialist at the time, introduced him to Pala principals Edward Swoboda and Bill Larson. Dr. Gübelin visited Pala International's mining operation at the Stewart Mine in Pala during the American Gem Society conclave, held at the Hotel Del Coronado. He is shown below digging one of several small gem tourmaline pockets excavated that day.
Tourmaline pocket. Dr. Gübelin at the Stewart Mine, operated by Pala International, in 1974. (Photo: Bill Larson)
Dr. Gübelin also was keen to purchase rare and unusual gemstones from various locations to which Bill Larson traveled throughout their 34-year friendship. "I remember the first time I visited him at his home, named 'Ratna Mahal,' or House of Gems, in Lucerne. His charming wife took such kind care of me that I felt like a family member." Over the next decades, Bill took care to save fine examples of rare and unusual gems for Dr. Gübelin's collection. "He was very keen on the rarest species and of course gems with beautiful or interesting inclusions, so we kept the best for him. I remember when we cut the first fine blue jeremejevites and the color-change scorodites from Namibia. Eduard would immediately take the samples we saved for him to his microscope to search for some wonderful inclusion. His enthusiasm was so infectious that others began wanting gems from us with Interesting Inclusions as well."
Included in this photo are some of the many fine danburites in Dr. Gübelin's gem collection. From top, left to right: Row one – 25.30 ct. and 15.60 ct. Row two – 16.55 ct. and 10.51 ct. Row three – 11.52 ct. and 7.77 ct. Row four – 6.47 ct. and 5.73 ct. (Photo: Shane F. McClure, Robert E. Kane, courtesy of Fine Gems International)
In 1993 Dr. Gübelin invited Bill and Edward Boehm, who was working for Pala International at the time, on a rare visit to the mines of Mogok, Burma. This was the first official visit by western gemologists to the ruby and sapphire mines of Mogok since the military coup thirty years before. Since that momentous journey, Bill has been back to Burma 27 times.
Mining in Mogok. Dr. Eduard Gübelin with William Larson and a group of workers at the entrance to the Lin Yuang Chi ruby mine in Mogok, Burma during a 1993 visit. (Photo: Robert E. Kane, courtesy of Fine Gems International)
Over the years Bill Larson became familiar with Dr. Gübelin's collection and watched it evolve into what it has become today. The locality suites would be quite impossible to duplicate with the same accuracy or quality: the ease of travel today makes many origin claims suspect to scrutiny unless one acquires material directly from the mines. Pala International and its president, Bill Larson, congratulate the GIA for making this collection available to future generations of gemologists for research as well as having portions of it on display in Carlsbad for the students and interested public to view.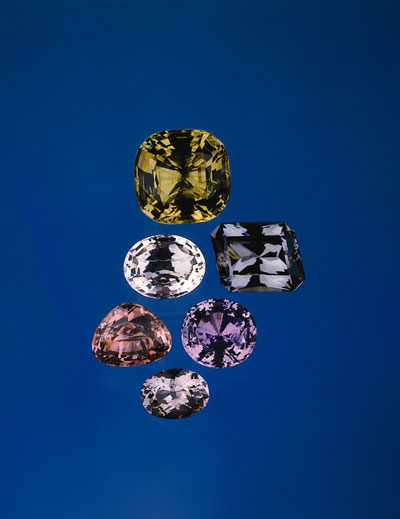 Included in this photo are some of the many fine gemstones in Dr. Gübelin's collection. From top, left to right: Row one – 22.25-ct. brown-yellow citrine. Row two – 6.00-ct. light pink scapolite and 11.79-ct. grayish-blue sillimante. Row three – 8.08-ct. dark pink scapolite and 6.17-ct. amethyst. Row Four – 4.02-ct. taaffeite. (Photo by Shane F. McClure, Robert E. Kane, courtesy of Fine Gems International)