Clean sweep for Pala Webmaster Richard W. Hughes at the
2004 Richard T. Liddicoat Journalism Awards
August 4, 2004 – Richard W. Hughes took home three prizes at the recent Richard T. Liddicoat Awards presented by the American Gem Society (AGS).
The AGS developed the Richard T. Liddicoat Journalism Awards in Liddicoat's remembrance to honor journalists that have made exceptional contributions to the understanding of gemology, as well as AGS ideals of ethics, education and consumer protection.
First prize in the Industry/Trade Reporting category went to John L. Emmett, Kenneth Scarratt, Shane F. McClure, Thomas Moses, Troy R. Douthit, Richard Hughes, Steven Novak, James Shigley, Wuyi Wang, Owen Bordelon and Robert E. Kane for their Gems & Gemology article, "Beryllium Diffusion of Ruby and Sapphire." This article also won the Dr. Edward J. Gübelin Most Valuable Article Award readers' poll at Gems & Gemology.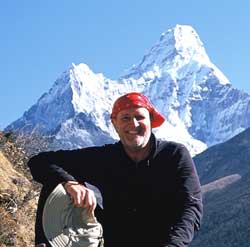 Richard W. Hughes on his way to Everest Base Camp in Nepal, December 2003.
An honorable mention went to Charles Ellias and Richard Hughes for "The Kimberley Process: Appeasement comes to the diamond trade" published at Hughes' personal web site, Ruby-Sapphire.com. A second honorable mention went to Richard Hughes and Brian Leber for their article on US sanctions against Burma entitled "Banned! Burmese gems in the crossfire," also published at Ruby-Sapphire.com. At the 2003 awards, Hughes earned an Honorable Mention for "Walking the line in ruby & sapphire," which was published at Palagems.com.
This year, Honorable mentions also went to Rob Bates of JCK magazine for "Cut From the Same Cloth," and Victoria Gomelsky of National Jeweler for "Trade Worries Over Mounting Skepticism Among Consumers."
Melissa Gagliardi of the Gannett News Service won in the national consumer reporting category for her article, "Take a Strand: Classic Pearls Add Luster to Casual and Dressy Looks." Ruben Rosario of the St. Paul Pioneer Press won in the local consumer reporting category for his article, "Romantic Leads."
The awards were presented at the Circle of Distinction Dinner on Tuesday during the JA NY Show at the Rainbow Room at Rockefeller Center. Each recipient will receive a check for $1,500, an etched crystal award, and the Society will donate $1,000 to the Richard T. Liddicoat Scholarship Fund at the Gemological Institute of America in the name of each award recipient.
Liddicoat Award judges were chosen from the top journalism schools in the United States. This year's judges included Glen T. Cameron, Maxine Wilson Gregory chair in journalism research, Columbia School of Journalism at the University of Missouri; Quint Randle, assistant professor of print journalism at Brigham Young University and David L. Nelson, chair newspaper department, and associate professor at Medill School of Journalism of Northwestern University.