Shows
Pala International participates in several gem and mineral shows every year. At these shows, you will have a chance to see our full range of fine gems and mineral specimens, including Burma ruby, Burma sapphire, rubellite tourmaline, demantoid, alexandrite, spinel, and others too numerous to name. From the common to the obscure, we have it.
Lectures
Because of our expertise, members of Pala's staff are often called on to give lectures. We have lectured across the US, as well as in Canada, Australia, Thailand, Europe, and elsewhere.
DVD Available: A 2-hour DVD of the 2004 Westward Look Show panel discussion, The Golden Age of Minerals, featuring Pala International President Bill Larson, is now available.
Here is our current show and lecture schedule: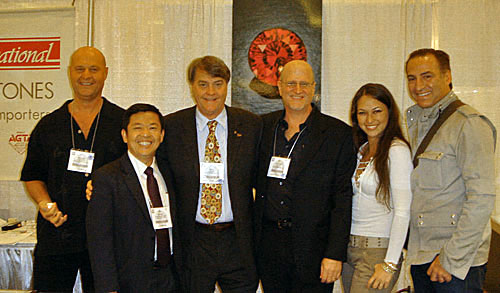 Gem shows provide us with an opportunity to see our friends from around the world. The above photo is from the 2004 Las Vegas JCK show. From left to right: Pala's Nickolai Kouznetsov, World Sapphire's Matee Jungsanguansith, Pala's William Larson, gemologist-author Richard Hughes, and GemExplorer's Anja Steinlechner and Yianni Melas. Photo courtesy of World Sapphire, Chanthaburi, Thailand.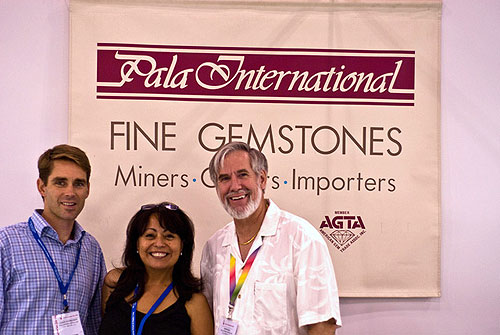 Pala International's Jason Stephenson, Gabrièl Mattice, and Josh Hall at the 2008 JA New York Summer Show. (Photo: Myles Heidenreich)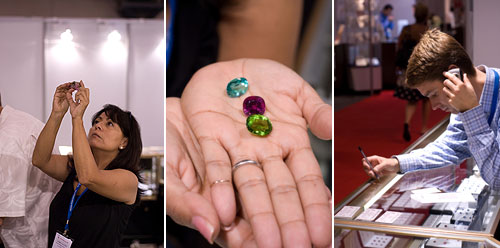 Buying rough (Nigerian rubellite tourmaline), displaying the jewels (paraiba-type tourmaline from Mozambique), and selling them. (Photos: Myles Heidenreich)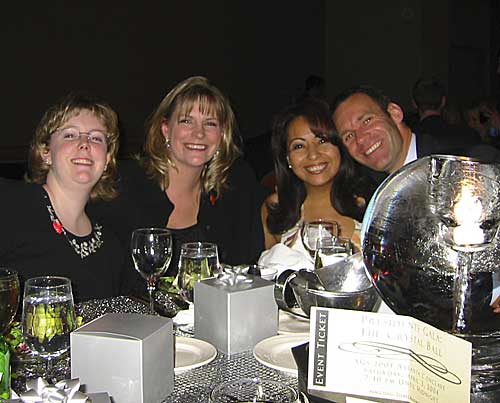 Among the many shows and trade events we attend during the year, the most delightful are those which allow us to spend fun time with our clients. At the 2004 AGS Conclave in Atlanta, GA, Pala's Gabrièl Mattice enjoys the company of some of our clients. From left: Amy Helein (Appleton's, Appleton, WI); Mary Beth Kroh (Hamilton Jewelers, Princeton, NJ), Gabrièl Mattice (Pala International), and Lucas Amelung (Molina Jewelers, Scottsdale, AZ). Photo courtesy of Amy Helein.
These events are a great way to meet the people we speak with on the phone every day. We look forward to meeting you at our next show!