Pala International prides itself on having the finest staff in the colored stone and mineral industry, bar none. With over a century of combined industry experience, no other company can offer you the same level of expertise.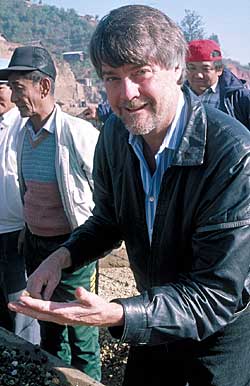 Pala President, Bill Larson, buying gems in Mogok, Burma. (Photo: Edward Boehm)
William Larson
The President of Pala International, William Larson, is one of the world's most knowledgeable gem and mineral experts. Starting from a small mineral collection at age ten, he has built one of the planet's finest mineral collections in private hands. And along with that, he has built Pala International into one of America's great colored stone houses.
After graduating with a degree in Geological Engineering from the prestigious Colorado School of Mines, Bill started Pala International in 1967. Today he travels the globe several times each year, bringing back both fine gemstones and mineral specimens. For a full biography of Bill, along with his wife, Jeanne, see Meet the Larsons: Pala's Globe-trotting Collectors. Email: bill@palagems.com.
Josh Hall
Pala's Vice President, Josh Hall, brings over 30 years of hands-on trade experience to the company. Josh has a BS degree in Natural Resources from Humbolt State University. Upon graduation he joined Pala in 1976. In the early 1980s, he was one of two gem dealers selected to evaluate the gem collection of the American Museum of Natural History in New York.
Josh is the engine that drives Pala day in and day out. No one knows colored stones better. He has seen it all and today is recognized as an authority on colored stone prices and, indeed, is one of the industry experts that is consulted for compiling wholesale gem prices for The GemGuide. Email: josh@palagems.com.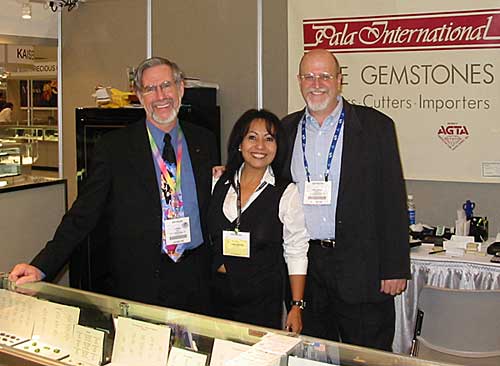 Pala International's Josh Hall and Gabrièl Mattice, with Richard Hughes at the 2003 AGTA Gemfair in Tucson.
Gabrièl Mattice
A graduate gemologist from the Gemological Institute of America (Santa Monica), Gabrièl Mattice has worked in sales and acquisitions for Pala International, in Fallbrook, California, since 1988.
Gabrièl is jointly responsible for the selecting, purchasing, and selling of Pala's extremely unique inventory of fine and rare gemstones. Gabrièl has a focused interest in gemstone origins and considers Asia to be one of her favorite places to dig for gems. She is one of the very few foreign women privileged to travel to the legendary Mogok, "Valley of Rubies," in Myanmar, still referred to as Burma by veterans in "The Business." Aside from working closely with fine jewelry retailers and a very select group of private collectors, Gabrièl has also collaborated with various museums and their curators with the most recent project to involve the Muséum National d'Histoire Naturelle in Paris. Email: gmattice@palagems.com.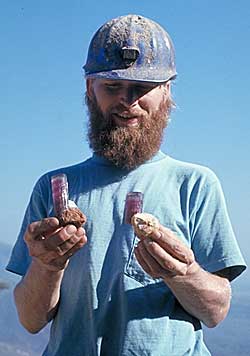 Pala's mining wizard, John McLean holding two beautiful blue cap tourmalines that he had just unearthed.
John McLean
After two years in the Peace Corps in Peru, John McLean joined Pala International in 1971, and has been in charge of Pala's mining and mineral division ever since. At one time or another, John has worked virtually every important gem deposit in San Diego County, including the Stewart, the Tourmaline Queen, and the Himalaya.
In addition to John's mining talents, he also excels at mineral specimen preparation and mineral photography. A master of mineral aesthetics, John has brought out the hidden beauty in specimens now gracing the greatest mineral collections in the world, including the Smithsonian, American Museum of Natural History, the Carnegie and the LA County Museum. Email: john@palagems.com.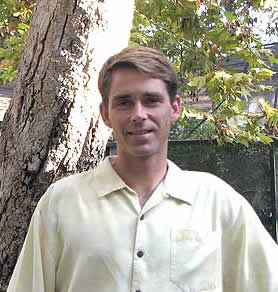 Jason Stephenson on the Pala grounds.
Jason Stephenson
Jason Stephenson joined the Pala team in October of 2006. His path in the gem and mineral world began with a Bachelors of Science degree in Geology from the University of Idaho in 1999. He then earned his Graduate Gemology degree from the Gemological Institute of America in 2000 and quickly became involved in the gem trade.
Jason has worked on the wholesale and retail side of the business, and has been involved with the buying and selling of jewelry, gemstones, and mineral specimens.
At Pala, along with sales, Jason has been contributing to the growth of information on Palagems.com, by researching and writing about the ever changing landscape of gem materials. A full biography of Jason can be read here. Email: jason@palagems.com.
Mia Dixon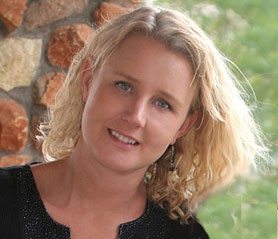 Mia Dixon
Mia Dixon took charge of the camera shutter upon the departure of in-house photographer Wimon Manorotkul in late September 2008. (We were told by Wimon that Mia was a quick learner, as tips of the craft were passed on while they worked together.)
Mia first started at Pala International back in 2002 as the Administrative Assistant. She left the company in July of 2004 to raise her first child.
In July of 2008 she joined the team again as the resident photographer, mostly of gemstones but also some shots of mineral specimens. Mia is working part-time so she still can enjoy spending time with her beautiful boys Erik and Axel.
Mia Dixon was born and raised in the area of Gothenburg (aka Göteborg), the trade, educational, and cultural center of southwestern Sweden. She first arrived in California in 1994. Mia received her Associate's Degree in Fashion Merchandising & Design in 1996 from Palomar College in nearby San Marcos, California. Email: mia@palagems.com.


Pala International has been in the international gemstone business since 1969 and thus assures your satisfaction. Each gemstone is guaranteed to be exactly as described.
Our gemstones and mineral specimens are among the finest in the world. We have sold pieces to some of America's most famous jewelers. Below are just a few of our more well-known clients:
Tiffany's
Neiman-Marcus
Borsheim
The Smithsonian Institution
American Museum of Natural History
Los Angeles County Museum of Natural History