2015.3 | 2015.2 | 2015.1
2014.3 | 2014.2 | 2014.1 | 2013.3 | 2013.2 | 2013.1 | 2012.3 | 2012.2 | 2012.1
2011.3 | 2011.2 | 2011.1 | 2010.3 | 2010.2 | 2010.1 | 2009.3 | 2009.2 | 2009.1
2008.3 | 2008.2 | 2008.1 | 2007.3 | 2007.2 | 2007.1 | 2006.3 | 2006.2 | 2006.1
2005 | 2004 | 2003 | 2002 | 2001 | 2000
December 2006 Newsletter
Shows and Conferences
Pala International News
Gem and Gemology News
Industry News
Shows and Conferences
Tucson Time – January 31–February 11, 2007
Following the holidays, make your plans for the world's greatest gem and mineral show in February. Pala International will be represented, as follows.
Event: AGTA GemFair
When: January 31–February 5, 2007
Where: Tucson Convention Center
Booth: 1016–1018
Event: Westward Look Mineral Show
When: February 2–6, 2007
Where: Westward Look Resort
Suite: 236
Website: Official show website
Event: 52nd Annual Tucson Gem and Mineral Show
When: February 8–11, 2007
Where: Tucson Convention Center
Booth: Aisle 5 East
We look forward to seeing our many friends there. Visit the Pala International Show Schedule for future events. [back to top]
Boyajian and AGL Owner to Address ICA Congress
Last week, the International Colored Gemstone Association (ICA) announced its speakers and topics for the ICA Congress in Dubai, May 5–9, 2007. Speakers include:
Bill Boyajian, Managing Director of the World Jewelry Center and ex-president of the Gemological Institute of America; see our story
Michael R. Haynes, CEO of Collectors Universe, which acquired Casper "Cap" Beesley's American Gemological Laboratories (a Congress sponsor), as we reported
Others on the slate:
Ahmed bin Sulayem, Chief Operating Officer of the Dubai Multi Commodities Centre
Tawhid Abdullah, Chairman of the Dubai Gold & Jewellery Group
Amit Dhamani, Managing Director of Dhamani Jewels
Laurent Grenier of Dubai Gem Certification and the Dubai Gems Club
Dr. Gaetano Cavalieri, President of CIBJO, The World Jewellery Confederation
Martin Coeroli of Perles de Tahiti
Toshio Takada of Takada Enterprise Co, Ltd.
Presentation topics include:
Marketing Success Stories
Fashion & Design: How the Super Brands are Merging Colored Gems with Fashion
Emerging Sources: Production Update and Development Programs
Manufacturing Countries: Adding Value & Reaching the Marketplace
Laboratories: How Gemological Laboratories Help the Industry in Building Consumer Confidence
Education/Ethics/Economics: Forces Shaping Today's Industry Professional
See the ICA press release. [back to top]
World Jewelry Center Adds New Firms
The planned World Jewelry Center in Las Vegas, which counts Bill Boyajian as its Managing Director, has signed 15 firms with intent to occupy, accordiing to yesterday's Jewelers Circular Keystone article. Signers include nearly a dozen jewelers, but also the American Gem Society, the International Gemological Institute, JPI Packaging Inc., and Focus Business Management, a trade consultancy. The mixed use, 50-plus story center, is due to open mid-2010. [back to top]
Pala International News
Pala's Featured Stone: Spessartite Garnet
Looks good enough to eat...
Spessartite garnet is a juicy gem, with color that can resemble a ripe orange. In fact, some stones with reddish-orange hues are referred to as mandarin. When plucked and sliced this jewel comes alive with a natural color and a brilliant appearance. A refreshing change from the common dark red garnet, mandarin-type colors are an attractive variety, demonstrating yet another flavor of the garnet family.
#11929. (Photo: Wimon Manorotkul)
from Nigeria, 5.76 ct, 10.92 x 10.44 x 6.71 mm. Inventory
The true mandarin garnets were first put on the collector's plate from a source in the Kunene River Valley along the border of Angola, in Namibia. Now, beautiful orange material is also coming from Nigeria, Brazil, and more rarely the Ramona mine in San Diego County, California. For more on spessartite garnet, see this Colored Stone article and, of course, our own Buying Guide.
Come sample the fresh fruit at www.palagems.com.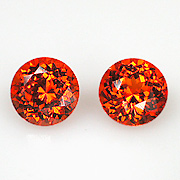 This stone has been sold. (Photo: Wimon Manorotkul)
from Nigeria, 7.79 ct, 9 x 6 mm.
Interested? Select the inventory links above for pricing, email us, or give us a call. [back to top]
Gem and Gemology News
GIA Offers Geographic Origin on Emerald Reports
Beginning this month, the Gemological Institute of America (GIA) begins offering geographic origin determinations on its Emerald Identification Reports.
In a press release, GIA's Carlsbad Lab director of Gem Identification, Shane McClure, stated, "While we staunchly believe that the quality of gem material will always be of primary importance, we recognize that the marketplace perceives the country of origin of an emerald to be of added value, and is therefore a factor in its valuation."
Due to trade demand, "initially this service will focus on the distinction of emeralds from Colombia," but the identification "will apply to all emerald localities." [back to top]
Improved Report Images
The GIA press release also mentioned that gemstone images in GIA colored stone reports will be improved. "We now have a specialized software system in place that maximizes color reproduction and printing to put very high-quality images on the reports," according to McClure. [back to top]
Synthetic Diamond Reports
Also this month, GIA released an image of its new synthetic diamond report. These stones will be accepted for grading beginning January 1, 2007. A sample report in PDF form is available for download. [back to top]
Last Gasp from GIA Symposium
And, finally, one last GIA Symposium follow-up feature, this time from the Fall 2006 issue of Loupe. Included is a story about the GIA-sponsored field trips—beginning at Pala International in Fallbrook—of the Pala Pegmatite District. Most other Symposium sessions are also covered in the issue. [back to top]
Industry News
Red Hot and Blue: Irradiated Topaz
Blue topaz is achieved by a combination of irradiation and (often) heat treatment. But what happens when "hot" material isn't allowed to cool? The issue has got some industry insiders seeing red because health effects on handlers and cutters—and resultant adverse publicity—could likely be avoided by a little foresight and self-regulation.
And the major players aren't moving together on this, preferring to go it alone.
We've assembled an article to raise some of the issues—a starting place for examination of a subject that calls for thoughtful solutions. Read more...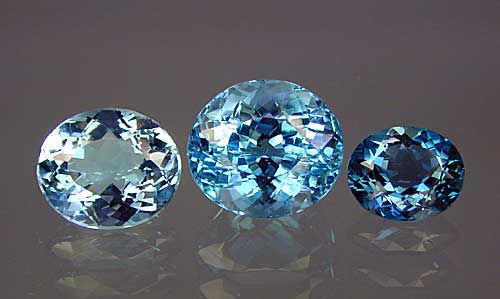 Three different examples of
. (Photo: Wimon Manorotkul)
[back to top]
— End December Newsletter • Published 12/14/06 —
November 2006 Newsletter
Pala International News
Gem and Gemology News
Industry News
Pala International News
Pala's Featured Stone: Brazilian Alexandrite
Ambiguous Alexandrite: The Chameleon of the Gemstone World
Like the chameleon hiding from its prey, the alexandrite shifts color as it moves into the daylight. The observer notices that the gemstone takes on a whole new appearance. Different wavelengths of light excite the crystalline structure in different ways, producing two distinct colors. Whether from a scientific view or an artistic eye the alexandrite is a refreshing sight.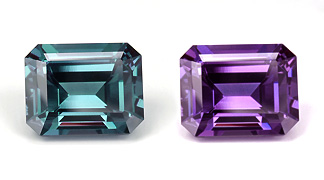 This stone has been sold. (Photos: Wimon Manorotkul)
(daylight at left; incandescent at right), emerald cut, 3.18 ct, 9.06 x 7.23 x 5.1 mm.
This month's alexandrite is from a fairly new discovery in Brazil (see Gems & Gemology, Spring 1988). The beauty of the Brazilian material rivals that produced by the historic Russian locality. These phenomenal gemstones exhibit medium-dark tones, teal blue to raspberry hues, and strong saturation—properties that define excellent quality and distinct rarity.
Please give us a call regarding other alexandrites we have in stock. [back to top]
Welcome, Jason Stephenson
Last month, Jason Stephenson joined Pala International in sales and acquisitions of gemstones and mineral specimens.
Jason's curiosity in rocks and minerals expanded when he moved to Idaho at the age of 14. The "gem state" quickly began to entice his exploratory nature. Mountaineering and gem collecting started Jason's thinking about geological formations and the treasures held within. It was an obvious transition to study geology at the University of Idaho. Jason enrolled in the fall of 1995 and started in on the curriculum with emphasis on mining and mineralogy. His classroom work was supplemented by a lot of field work, which took him all over the northwest. Building his mineral collection along the way Jason found garnets, fluorite, smoky quartz, malachite, opal, geodes, and a variety of agates including moss and plume.
in his new environment on the Pala grounds. (Photo: Wimon Manorotkul)
In the three and a half years at the University, Jason paid his way through by playing varsity golf for the Idaho Vandals. During his junior year Jason took a break from golf and decided to do an exchange program in Europe. To stay on course and diversify his geological skills Jason moved to northern Sweden where he was versed in the intricacies of heavy metal mining at Leleå University. Then he traveled south to the University of Reading, in England, where he focused more on sedimentary geology and costal processes. During one of his field trips he was able to collect some fine bivalve and gastropod fossils.
After college Jason began to search for careers related to gemstones, he then found out about the Gemological Institute of America and enrolled in the fall of 2000. While studying at the GIA Jason gained some practical skills by working retail at Gems of La Costa after school. He also met Edward Boehm and with him began some side projects related to the wholesale side of the market. Jason continued to work for both establishments after he completed the Graduate Gemology degree. With a desire to dive into all aspects of the gem and jewelry business Jason moved to Los Angeles and began work with a colored stone dealer/jewelry manufacturer. While at this company Jason was involved with buying and selling cut and rough gemstones. Traveling all over the country working and managing trade shows Jason honed his skills in customer relations and jewelry design. Beyond that Jason traveled aboard cruise ships where he arranged jewelry trunk shows and lectures on gemstones of the world. His work aboard Crystal Cruises took him through Asia, South America, the Caribbean Sea, Southern Africa, and the Mediterranean Sea. [back to top]
Gem and Gemology News
Pala's Gabrièl Mattice Consults for Houston Museum Gem Vault
Last Thursday, Joel A. Bartsch hosted a press-only viewing of The Lester and Sue Smith Gem Vault, the newest permanent exhibition at the Houston Museum of Natural Science. The exhibit, which opens to the public Friday, brings together some of the finest gemstones and jewelry seldom seen in one place.
In attendance was Pala's own Gabrièl Mattice. Mattice, a Graduate Gemologist, has been working closely in the background with Bartsch (who also holds the position of chief curator of the Cullen Hall of Gems and Minerals). For the past three years Gabrièl has been consulted as an advisor in the procurement of this collection, which is based on a core of rare gemstones, 45 carats and above.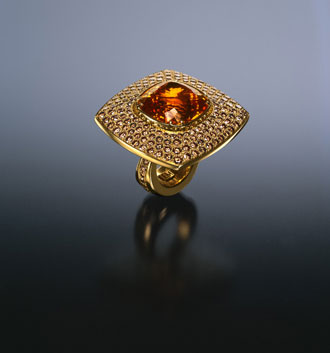 This ring of 18-karat, yellow gold has 39.35 carats of deep orange mandarin garnets and 10.05 carats of pavé cognac diamonds. Designed and created by Ernesto Moreira. (Photo: Thomas R. DuBrock)
Building such a world class collection has involved a painstaking process of discriminating selection, requiring travel between California and Texas on the part of both Mattice and Bartsch. "Joel has kept this project completely under wraps. Even I wasn't able to see every piece until the setup took place the night before," Mattice explained. Secrecy aside, the caliber of the collection is already evident from the few photos of special pieces that have been released. These include the mandarin garnet ring pictured above and the yellow sapphire brooch below, as well as the 62-carat sapphire ring that we included in our October Gem News story on the collection.
Museum president Bartsch, left, with museum board chair Randa Duncan Williams and jewelry designer Ernesto Moreira, at a Gem Vault preview last week. (Photo: Gary Fountain, Houston Chronicle)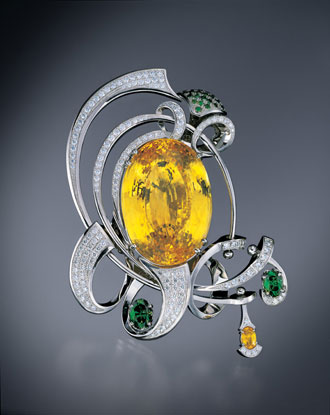 This platinum brooch has a 168-carat, yellow sapphire center stone, a 0.65-carat, yellow sapphire side stone, 3.46 carats of green diamonds and 2.92 carats of pave diamonds. Designed and created by Ernesto Moreira. (Photo: Harold and Erica Van Pelt)
We asked Gabe about her reaction to seeing the gems and jewelry in their new home. "The displays far exceeded my expectations. Each of the pieces appear to be suspended in space. It simply has to be seen."
She enjoyed watching the lucky few who were invited to the event. "It was a real treat for me to experience the delight and inquisitiveness of the visitors who attended this rare preview."
Below are snapshots that Gabe took of a couple of her favorites on the night of the preview.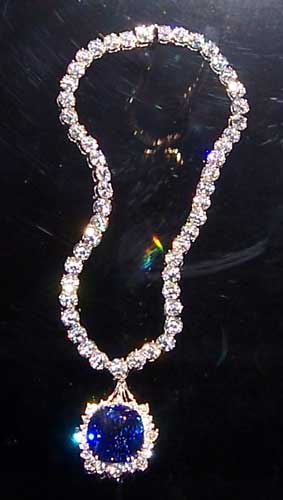 The Sri Lankan sapphire in this necklace weighs over 50 carats. It features beautifully cut and matched diamonds.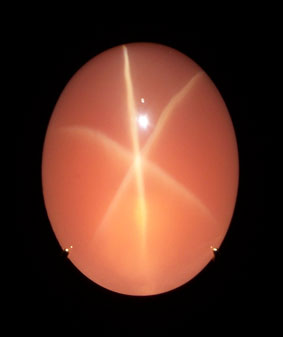 This
("As big as my fist," says Gabe) is over 1,400 carats in weight and hails from Brazil. The eye is sharp and distinct.
[back to top]
More Follow-up from GIA Symposium
Audience Surveys: Ethics and Internet
The Gemological Institute of America (GIA) continues to post follow-up on its 2006 Symposium. Last week it added results of audience surveys taken during "The Ring" Debate Centers. Surveys were taken during these sessions:
Ethical Dilemmas in the Jewelry Industry. Sample question: "Should gem dealers—and their customers—buy gems from Burma?"
The Great Internet Debate. Sample question: "What do you do when consumers come in with Internet diamond prices?"
Celebrating Excellence in Gems and Jewelry" show, which opened in conjunction with the Symposium. (Photo: Chip Clark)
This splendid 75-carat Colombian emerald, on loan from the Smithsonian, was displayed as part of the GIA's "
Albright Q&A Session
The Q&A session with Madeleine Albright also is up on the GIA website. Sample question: "Do you believe the jewelry industry has responsibility for what it buys, and that it has to be sensitive to the problems that are endemic in West Africa, where you have a tremendous amount of poverty? Would you support the idea of fair trade jewelry?"
G&G Special Issue
And, finally, the Fall 2006 Gems & Gemology is a special double issue containing abstracts of "nearly 200 presentations and panel discussions" from the Symposium and its companion Gemological Research Conference. [back to top]
Industry News
Record-Setting Burma Sale Features 7.2-g Ruby, 1188-kg Jade Boulder
The jade boulder at left is the 1,188-kg whopper that was on offer at the mid-year sale.
As a follow-up to last month's article on Burma gem sales, we located two references to unusual offerings at the recently concluded Mid-Year Myanma Gems, Jade and Pearl Emporium for 2006. The sale featured a "rare and unique jade boulder," according to the official New Light of Myanmar website.
The jade was mined from Hmawsisarhmaw Block-330 in Lonekhin Phakant gem land undertaken by Tun Yadana Seinn Co. It measures 44 inches by 24 inches by 52 inches and it is triangle shaped. It weighs 1,188 kilograms and three fifths of the upper part of the boulder was partially cut to show its fine quality.

Jade merchants visiting the Emporium said it would be difficult to find such a fine quality jade boulder for many years to come and they had never seen such a jade boulder either.
The triangular shaped jade boulder, inverted, as it was displayed at the emporium.
Approximately 2,700 jade lots were sold. At least 40 lots of gems were sold. On offer was a 7.2-gram ruby with a reserve price of $625,000, according to the online weekly The Myanmar Times. At least 135 lots of pearls were sold, bringing the total lots of jade, gems, and pearls to 2,843.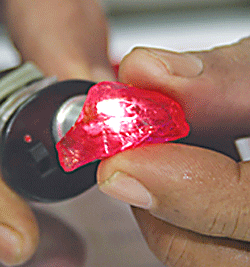 This
was among the 468 lots of gems on sale at the mid-year emporium.
The mid-year auction was the fourth this year to be conducted by the state-run Myanma Gems Enterprise (MGE), October 19–29. Pre-sale estimates of total revenue were $75 million, according to The Myanmar Times, but last week the paper claimed that an MGE official estimated the total to be more than $125 million, making it the most successful sale ever.
New Totals Reported
The official Chinese People's Daily reported the following statistics, which have been added to those we compiled last month:
March 2006 (43rd Gems Emporium): $101 million in sales; this figure conforms with what we reported April 17
Total Sales 1964–2006 (before Oct. mid-year sale): $600 million
[back to top]
— End November Newsletter • Published 11/15/06 —
2015.3 | 2015.2 | 2015.1
2014.3 | 2014.2 | 2014.1 | 2013.3 | 2013.2 | 2013.1 | 2012.3 | 2012.2 | 2012.1
2011.3 | 2011.2 | 2011.1 | 2010.3 | 2010.2 | 2010.1 | 2009.3 | 2009.2 | 2009.1
2008.3 | 2008.2 | 2008.1 | 2007.3 | 2007.2 | 2007.1 | 2006.3 | 2006.2 | 2006.1
2005 | 2004 | 2003 | 2002 | 2001 | 2000
Note: Palagems.com selects much of its material in the interest of fostering a stimulating discourse on the topics of gems, gemology, and the gemstone industry. Therefore the opinions expressed here are not necessarily those held by the proprietors of Palagems.com. We welcome your feedback.