Pala International's Featured Stones – 2014
Featured in Pala's Gem News. See other:
December 15, 2014: Spinel from Burma
This month we feature a lovely, bright, older fine-colored red spinel from Mogok, Burma with a weight of 7.33 carats. This fine gemstone was purchased in Denver this past September. Pala has since given the stone a nice re-polish. If this spinel looks familiar, it accompanied our Burma Bits column in October; we thought it deserved some more attention.
#22156. Photo: Mia Dixon.
Natural pink spinel from Mogok, Burma, 7.33 carats, 13.65 x 10.84 x 6.71 mm, Inventory
The gem is very reasonably priced, as it has natural inclusions. For all of its large size and color it's quite affordable. We believe that once this gem is mounted the inclusions will not disturb the viewer's vision and may add intrigue to the gem's lore.
Interested? Select inventory number above, call or email us to inquire. [back to top]
November 17, 2014: Plus-sized Tanzanite
In this month's newsletter the featured stone is an impressively large tanzanite. This stone is a beautiful display of tanzanite's excellence. While its deep blue color pulls the spectator in, the stone's luster springs out. Tanzanite is a trichroic stone that displays blue, purple and red colors before faceting. Although the stone is hard enough for setting in jewelry it has but one direction of cleavage, but this has not stopped tanzanite from making its way to the forefront of jewelry display cases.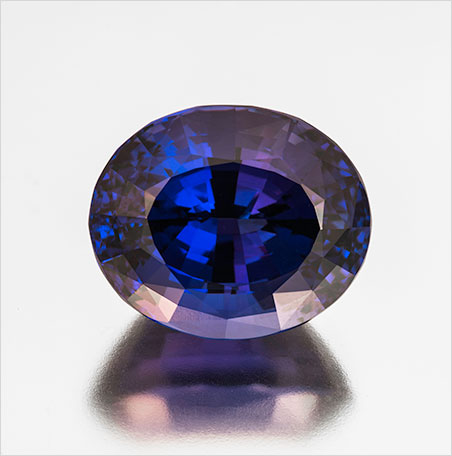 #362. This stone was custom-cut by Bernd Cullman, Idar-Oberstein, Germany. (Photo: Mia Dixon)
Oval cut tanzanite, 45.10 carats, 22.57 x 18.69 x 15.44 mm, heated. Inventory
Relative to their beauty, tanzanites actually are priced lower than consumers might believe them to be. At the moment, in the trade, tanzanite has been flying under the radar due to a rather large supply. This could help you stock up a nice reserve, as tanzanite will surely rise again with mining proving to be more difficult as TanzaniteOne, the major industrial operator, reaches new depths. As many other historical stone supplies have proved, the price will only climb as the mining plunges. While this may pose a problem for dealers it could be a blessing for the average collector.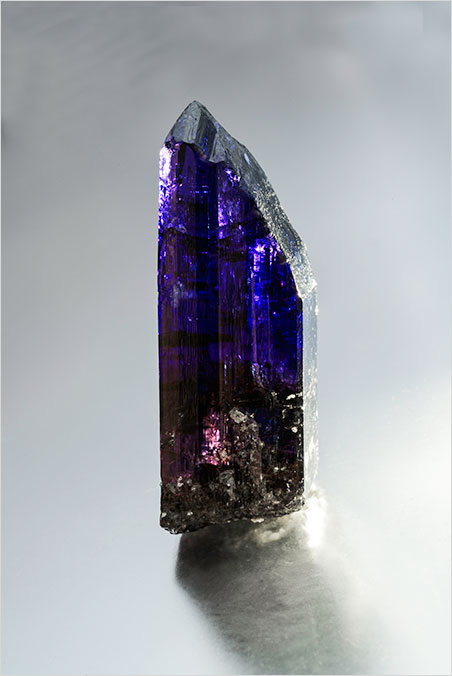 Tanzanite crystal, 385.75 ct, 7.0 x 2.5 cm, from Merelani Hills, Arusha, Tanzania. Price available upon request. (Photo: Mia Dixon)
Mineral specimens have been preserved to a greater extent since tanzanite prices have remained stagnant, allowing for more gem-clean crystals to survive the cutter's wheel. Dealers have reported that more and more "fancy" colored tanzanites are being found: pinks, yellows, and bi-colors of blue-pink.
Interested? Select inventory number above, call or email us to inquire. [back to top]
October 16, 2014: Topaz
Faceted Topaz Egg with a Nod to John Sinkankas
First off this month, Pala International's Bill Larson fills us in on the story behind a lovely faceted gemstone egg…
Inspired by the magnificent faceted eggs that John Sinkankas cut for the Smithsonian, I asked Meg Berry to do her best and turn the rough topaz crystal from Colorado, pictured (partially) below, into a beautiful egg. She took on this challenge and the result is perfect: over 900 carats of shimmering topaz.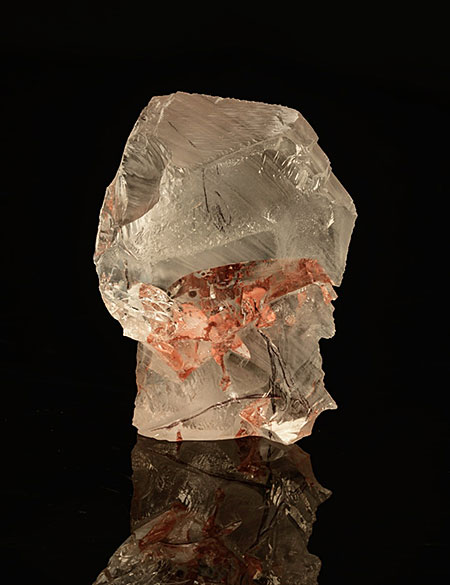 A section of the original rough from Colorado: a 315.92-carat topaz specimen. (Photo: Mia Dixon)
I obtained the topaz rough in exchange from then-Smithsonian curator Paul Desautels in the late 1970s. The crystal was not perfectly terminated (see below handwritten note on label: "etched incomplete crystal") but internally it was very good. And the provenance was wonderful. It was found by legendary collector Ed Over (covered this month in our sibling e-publication) in 1935 and retained by his partner, Arthur Montgomery, until his collection was donated without encumbrance. Paul selected something of importance for the Smithsonian from me and I kept the topaz for many years until I thought perhaps it was time to try to fashion it into a gemstone egg. The fact that it is from Colorado—Over's adopted home—just made this so much better.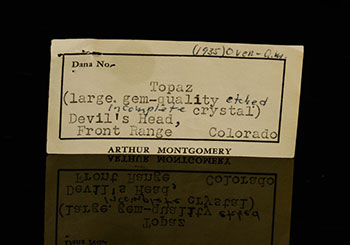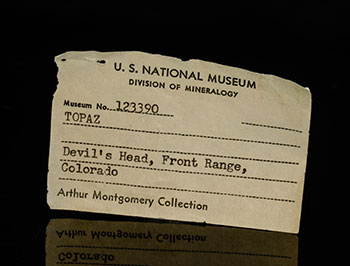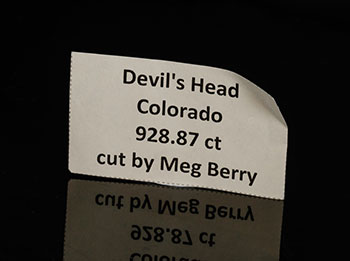 The labels for the topaz indicate 1) discovery—(1935) Over – Q.M., 2) retention—Arthur Montgomery Collection, 3) gift—to U.S. National Museum and 4) cutting by Meg Berry. (Photos: Mia Dixon)
Meg spent an enormous amount of time working on the design and perfecting the shape. Then the many many hours of grinding and polishing. All the while trying to maximize size. The finished gem is a true work of art and a great rarity.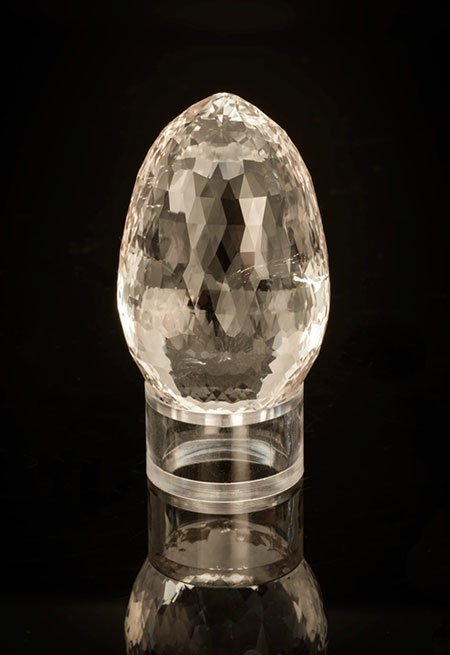 As the label above states, Meg Berry's finished work weighs in at 928.87 carats. Price available upon request. (Photo: Mia Dixon)
Egging Meg On
Master faceter Meg Barry also explained things, from her point of view…
When Bill Larson asked me to facet his mondo topaz crystal into an egg, I was paralyzed! I had never attempted anything that large, much less an egg. So I started at the source: John Sinkankas. I looked at pictures and read his articles about cutting it, and dived in.
The shape couldn't have quite the same bulk around the middle as the prototype, but I was able to achieve what I considered a nice egg shape, or oversized briolette, as it has been called. I went with smaller facets that Sinkankas, for many reasons, including the fact that it is much easier to control the shape that way. Smaller facets are also easier to polish, and twinkle more.
I encountered the cleavage plane twice, once on each side, and was able to confuse it out of being a problem. The total time it took to complete the cutting was 90 hours! I may have missed Bill's target weight of 1,000 carats, but I came close, at 930. And Bill says he is thrilled that it is over 900 carats.
Rare Replay: Imperial Topaz
Also this month, we feature a wonderful vintage imperial topaz showing a perfect marriage of red and orange in a clean, large emerald cut gemstone. This is rare to find in the marketplace today. Pala International sold this gem in the 1970s and was delighted to be offered it again this month.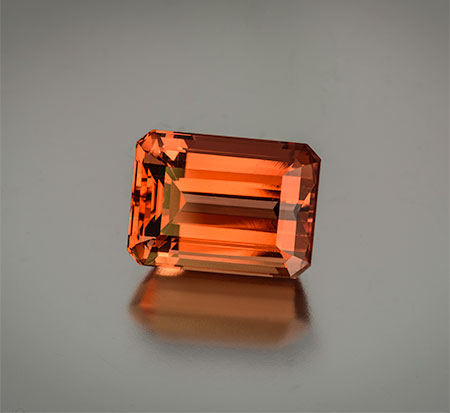 Natural imperial topaz from Brazil, 22.72 carats, 17.16 x 12.59 x 10.15 mm, Inventory #22218. Price available upon request. (Photo: Mia Dixon)
September 16, 2014: Yellow Sapphire from Sri Lanka
This month we feature an immaculate yellow sapphire. Properties reach the highest order on this fine jewel from Sri Lanka. Yellow sapphire has really taken off in the last couple of years as appreciation grows for varying colors of corundum. Along with popularity, prices and demand have continued their ascent as well.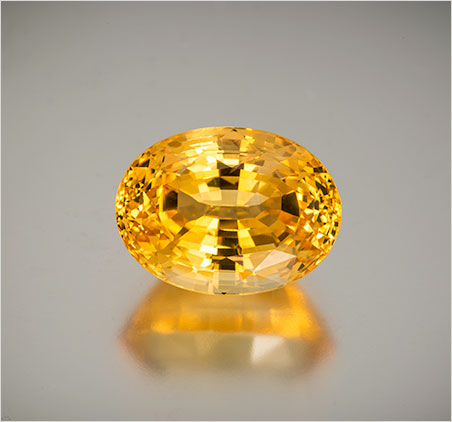 Natural yellow sapphire from Sri Lanka, 27.27 ct, 18.88 x 14.11 x 11.83 mm. It comes with an AGL brief. Inventory #19961. (Photo: Mia Dixon)
Finding that quintessential "diamond look" in a sapphire is at the heart of many a yellow sapphire quest. Yellow sapphires vary in color from slightly greenish yellow, to canary yellow to lemon yellow and on into golden and orangey yellows. This fine specimen hits on many levels, with its natural gold yellow color, precision oval brilliant cut, good clarity and brilliance. Not to mention an impressive size of 27.27 carats—a fine catch for any gem collector.
Interested? Select the inventory number above, call or email us to inquire. [back to top]
August 18, 2014: Mexican Opal
This month we feature a superb Mexican opal carved in flowing freeform by master lapidary Steve Walters.
This exquisite Mexican opal was brought and sold to Pala International personally by the opal's mine owner at the Las Vegas show two years ago. At the time, it was an epic piece of rough. After the purchase, Pala studied it and hoped that Steve Walters would agree to use his considerable talents to carve the lovely rough into a pendant. When Steve saw the piece he agreed, and in the next several months finished this marvelous piece.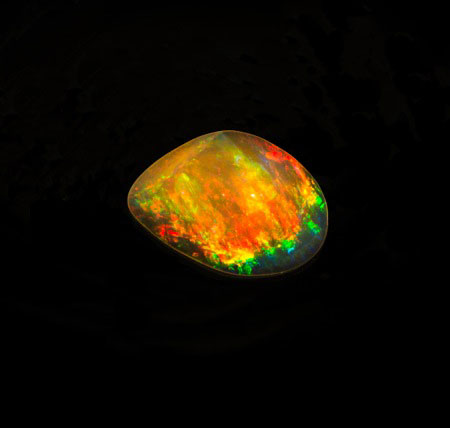 #20393. (Photo: Mia Dixon)
Fire opal from Mexico carved by master lapidary Steve Walters. It measures 29.5 x 20.5 x 12.4 mm and weighs 29.65 ct. Pala Inventory
Aristotle once said that when what is black is mixed with the light of the sun and fire, the result is always red. This flame-colored opal exhibits orange, yellow and red in a cascading play of colors—a veritable mix of fire and sun.
Fine opal also might be said to embody Aristotle's forebears' notion of the four elements: earth (from whence it came), water (it is hydrated silica, after all), fire (a coveted variety), and air (it is a self-contained world, with its own atmosphere).
This is all of that. This is a true collector's item.
Interested? Select the inventory number above, call or email us to inquire.
For more on Mexican opal, see our reprint this month of an article by David Gibson, directly below. [back to top]
July 16, 2014: Mozambique Copper-Bearing Tourmaline
In the early 2000s, fine rubellites with unique color were mined simultaneously with the various other colors from the Shalawa deposit in Mozambique. While these colors are not the classic paraiba blue, their pink-red is also very bright, vibrant and electric. These fine elbaite tourmalines are now very desirable, since the deposit seems depleted. They also can be certified as copper-bearing to pinpoint their Mozambique origin and untreated colors.
#14283. (Photo: Wimon Manorotkul)
There's still a lot of summer sun to be caught in this 17.24-carat natural copper-bearing tourmaline from Mozambique. Inventory
See the following articles on copper-bearing tourmaline from Mozambique on Palagems.com:
Interested? Select the inventory number above, call or email us to inquire. [back to top]
June 17: Demantoid Garnets
Pala International continues its quest to bring fine Russian demantoids into the U.S. markets and beyond.
As one source for demantoids seemed to be drying up, a new source has emerged in recent years providing Pala with a new selection of gem-quality material. From electric green melée to world class 10-carat sizes—mining in Russia's Ural Mountains is heating up again.
Via our mining projects, which spanned from 1997 to 2004, Pala has unearthed, processed and sold massive amounts of Russian demantoid around the world. As our demantoid inventory has been depleted over the years this recent influx of exceptional gems has elevated our stock again and caught the eyes of demantoid connoisseurs. This month we feature a couple of outstanding demantoids from our new source.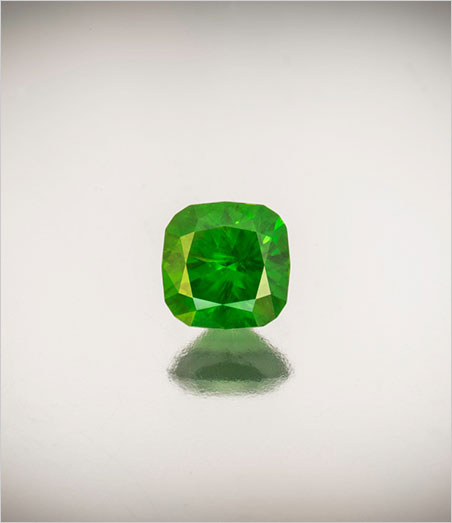 #21913. Click to enlarge. (Photo: Mia Dixon)
Demantoid garnet, 2.09 carats, cushion cut, 7.38 x 4.81 mm. Inventory
The first is a 2.09-carat square cushion-cut with an electric green hue. This is a top color for demantoid, even taking on a neon lime-green glow in the daylight. Upon closer inspection the silky feel of the stone reveals an amazing horsetail spray radiating from the center.
#21909. Click to enlarge. (Photo: Mia Dixon)
this is a : evergreen-hued demantoid, 9.61-carat round, 13.02 x 8.2 mm. Inventory
The second demantoid is a world-class 9.61-carat round brilliant. Even fine 2-carat Russian demantoids can be scarce, so to have such a massive gem is beyond rare. On top of that the color is a rich saturated evergreen that opens up in the daylight. This stone also has interesting inclusions including the classic horsetail sprays. A true wonder of nature on the inside and a feast for the eyes on the outside.
Interested? Select the inventory number above, call or email us to inquire. [back to top]
May 16, 2014: Multi-colored Tourmaline from Brazil
This month we feature an extremely rare multi-colored tourmaline from Brazil. A 10.59-carat elongated emerald-cut accentuating a variety of colors from dark green to indicolite to pink and white then back to a fine blue-green blue hue. Complex and colorful tourmalines like this sometimes are harder to find than paraiba…. Truly a one-of-a-kind, this piece was the prize out of a collection we bought recently. This jewel is most likely from Araçuaí, Minas Gerais, Brazil, where fine indicolites have been know to come from.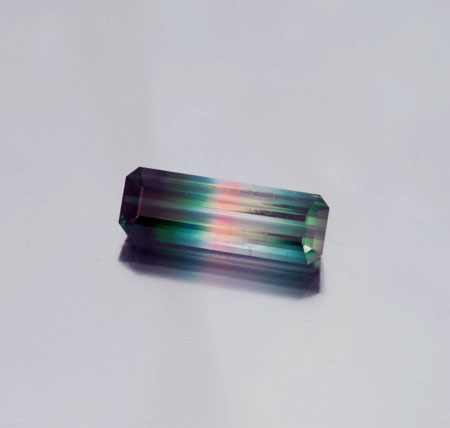 Rare multi-colored Brazilian beauty, 10.59 ct, 24 x 8 x 6mm. (Photo: Mia Dixon)
April 15, 2014: Taafeite
This month we feature a selection of taaffeites from Sri Lanka and Burma.
It's sometimes difficult to find a single taafeite, so this group of graduating sizes is quite a rare sight. Taaffeites are found in conjunction with spinels and are often mistaken and mixed in with spinel parcels. Taaffeites and spinels come from similar areas, have similar properties and come in similar colors. Identifying a taaffeite in a spinel parcel is a real find, since they are very rare and sought-after by the true connoisseur of collectable gems. Taaffeite crystals, like spinel, don't grow very large, so this 8.5-carat pentagon pictured below is rare in every sense of the word.
For more on taaffeite, see Gemdat.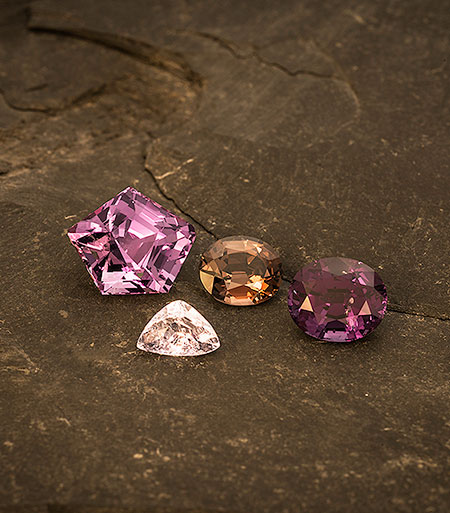 #16133), 1.66-carat lavender trillion from Burma's Mogok Stone Tract (#7805), 2.35-carat brown oval from Sri Lanka (#15929), and 4.28-carat mauve oval from Sri Lanka (#2116). (Photo: Mia Dixon)
From left, 8.50-carat purple pentagon from Sri Lanka (Inv.
Interested? Select inventory numbers above, call or email us to inquire. [back to top]
March 18, 2014: Spinels
Spinels continue to grow in popularity, keeping demand on the rise. As this awareness grows, the bounty of fancy colors opens up to a whole new group of collectors. Spinel requests are branching out from the classic red hues into green, blue-greens, blues, lavenders, pinks and beyond. These fancy colors are completely natural, coming out of the ground in this wonderful array. Although singularly refractive, spinels often display a pleasant mix of hues and exhibit a slightly higher dispersion than sapphire, giving them a more lively character in some cases. There are also color-change and color-shifting spinels, taking on different colors in different lighting. Supplying the demand seems to be the tricky part these days, so Pala International is continuously gobbling up all the spinels we can get our hands on.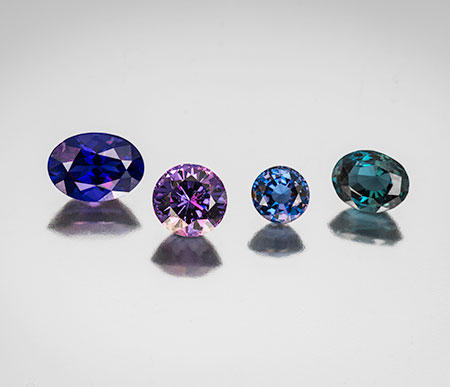 #18978), a Sri Lankan round purple spinel weighing 2.94 carats (#20775), followed by a blue round Ceylon spinel weighing 1.36 carats (#21745) and lastly we have a blue-green color-change Sri Lankan spinel weighing 2.20 carats (#21746). (The last two were just added to our inventory today.) Click to enlarge. (Photo: Mia Dixon)
Left to right, a Burmese 3.39-carat spinel (Inventory
Check out our extensive collection of spinels here. Interested? Select inventory numbers above, call or email us to inquire. [back to top]
February 17, 2014: Aquamarine from Madagascar
This month we feature a pair of stunning aquamarines from Madagascar. This gem-riddled island off the coast of southeast Africa is known for producing a wide variety of gem minerals from its extensive network of pegmatites. Beryls grow large in these parts and a new discovery of natural blue aquamarine just hit the market at this year's Tucson show. These aquamarines have strong natural blues hues with flawless interiors. This pair exhibits the quintessential color for aquamarine and each is precision cut into 14-mm round brilliants.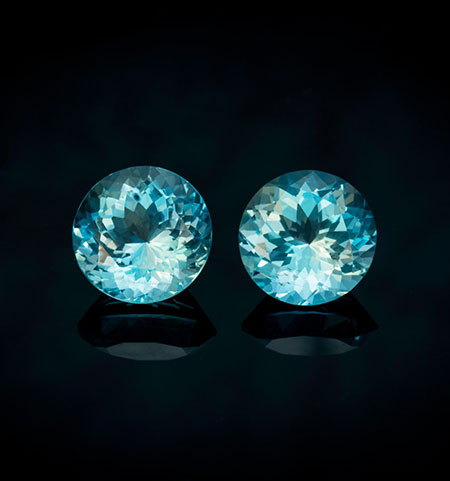 Natural aquamarine from Madagascar, 14.12 x 14.12 x 9.83 mm, Inventory #21660. These are brand new, acquired at the Tucson show. Price available upon request. (Photo: Mia Dixon)
[back to top]
January 16, 2014: Spessartite Garnets
Spessartite draws it derivation from the type locality for the mineral, Spessart, in Bavaria, Germany. Simply put, this is an orange variety of garnet, but the terminology, deposits, and actual colors are far more complex.
Spessartite is more of a mineralogical term for a specific chemical formula (Mn2+3Al2(SiO4)3) within the garnet group. The term spessartine is more often used in Europe but is synonymous with spessartite. Mandarin is a term inspired by the Namibian deposit producing more pure-orange hues.
When the Namibian deposit came online around 1991, the color palette for fine spessartite changed. The material coming out of Marienfluss, Kunene Region was an electric mandarin-orange hue, with some minor pink or red secondary that made it seem very pure and intense. The only drawback to this material was that it often had fine needles creating a silky appearance.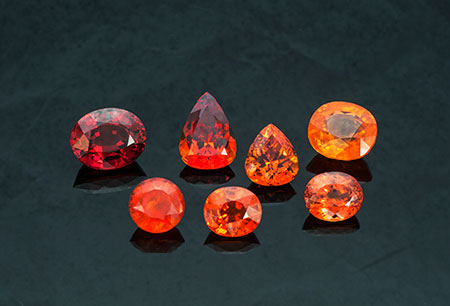 #13832), 17.71-carat pear shape from Nigeria (#20423), 12.90-carat pear shape from Nigeria (#16043), 22.73-carat cushion from Tanzania (#21599), 12.71-carat round from Namibia (#1531), 10.46-carat oval from Tanzania (#21598), and 11.10-carat oval from Nigeria (#21569). Click to enlarge. (Photo: Mia Dixon)
(l–r from top row) 24.80-carat oval from Nigeria (Inv.
The Nigerian deposit was by far the the biggest as far as carats produced. This deposit in Iseyin, Oyo State, Nigeria produced material from dark reddish-orange, to cinnamon orange, to yellowish orange, to mandarin hues. This material is very clean compared to many other spessartite deposits and still holds strong orange colors. Pala International last bought into a large parcel in 2004 and we are still selling off some of this impressive material. And Pala purchases spessartites whenever we can find fine gems.
The most recent spessartite deposit discovery was the massive find in Loliondo, Tanzania, around 2009. At first it seem only to produce fine crystal specimens, but some cleaner faceted gems worked their way into the market. Colors range from reddish orange, to yellowish orange, to mandarin hues.
Although these are the most prolific spessartite deposits lately, there are several smaller but important localities in San Diego County, USA; Burma; China; Madagascar; Pakistan; and Afghanistan.
Interested? Select inventory numbers above, call or email us to inquire. [back to top]
---
Pala International's Featured Stones – 2013
December 16, 2013: Pearls, 3 + 1
This month we feature a little batch of some big scallop pearls and an exceptional oyster pearl…
We were in luck this month as our Mexican pearl broker passed through the office with a large and impressive selection of natural pearls from Baja California. It seems they have hit a new bank of oysters and other mollusks that is producing some of the largest scallop pearls and some of the finest oyster pearls we have seen.
The first scallop pearl, or "lion's paw" (below left, Inv. #21517), is an 18.97-carat drop with an intense purple top, blending into a white bottom. A very striking and impressive piece; the morphology is perfect for a pendant. This natural pearl is from the Pectinidae family. The second scallop pearl (below right, Inv. #21518) weighs in at a whopping 21.52 carats, and looks like a mini Jupiter, with swirls and bands of purple, mauve, pink and yellow. Full of character, with a pleasing blend of hues. This pearl is from the Spondylus calcifer species. The third scallop (Inv. #21539) is the 18.97-carat's little sister, half the size, at 10.55 carats, with more lavender, yellow and light blue hues. A perfect accompaniment to the 21.52-carat, making a nice pair for a ring and pendant.
Above: this trio of pearls is from scallops. Below: this pearl is from a black-lipped oyster. (Photos: Mia Dixon)
The fourth and most outstanding pearl is a 17.57-carat Calafia oyster pearl, also know as the La Paz oyster pearl and Pinctada mazatlanica. This species has been found from the Gulf of California all the way down to Peru. Its natural beauty rivals the finest of the cultured Tahitian pearls you see on the market, with a steely silver base featuring overtones of green, pink, blue…bringing it the appearance of peacock coloration. Price available upon request.
See our previously featured scallop pear. And compare with Radiant Orchid…Pantone Color of the Year 2014.
Interested? Select inventory numbers above, call or email us to inquire. [back to top]
---
November 18, 2013: Danburite from Tanzania
This month we feature not only a rare gem variety but also a gorgeous jewel. Danburite is not usually a gem that causes too much excitement, but this 51.29-carat screamer would catch the eye of any passerby. Reminiscent of a fine golden sapphire or an exotic Malawi yellow tourmaline, this danburite is sure to puzzle the gem connoisseur.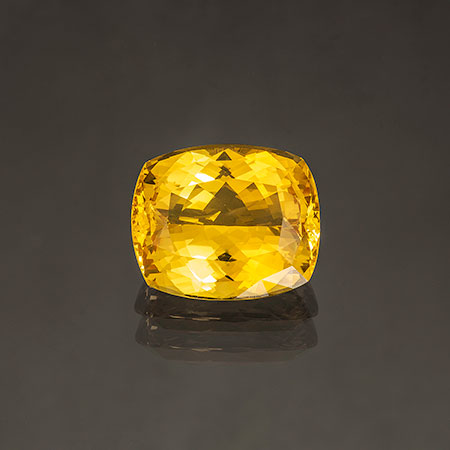 2(SiO4)2. It has a Mohs hardness of 7 to 7.5, so it's very wearable. Ask for Inventory #21490. (Photo: Mia Dixon)
from Tanzania, 51.29 carats. Danburite is a crystalline mineral similar to topaz. Its chemical formula is CaB
Danburite is a silicate mineral found scattered throughout the planet in unassuming colors from pale yellow to brown. However, Tanzania is producing these neon yellow hues—color schemes completely unique to danburite. This intense golden yellow danburite comes to us from the Morogoro region in the Uluguru Mountains.
Interested? Call or email us to inquire. [back to top]
---
October 15, 2013: New Favorites
In the mind of a gem dealer or gem connoisseur, the favorite gem seems to be the next one. The thrill of unveiling a completely brand new stone is the fuel that keeps us pining for that ideal gem. That rush of the senses as you first lay eyes on a beautiful jewel is like no other. In this way the gem addiction rolls on and keep us wondering, Could there be another one even finer on the horizon? This one in front of me seems to be the finest, rarest, most colorful, but what else could lay in store, just waiting to be plucked from the Earth?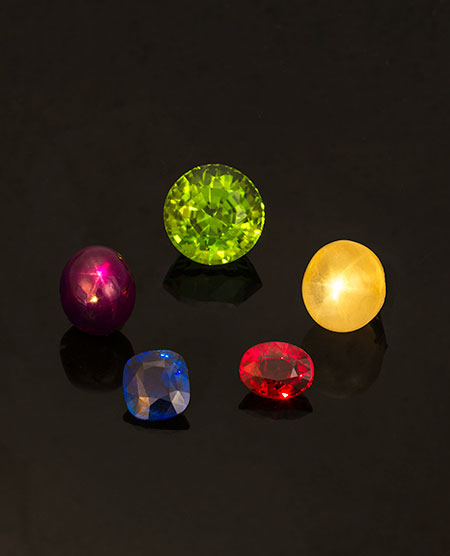 Click to enlarge. (Photo: Mia Dixon)
Here we have a 9.57-ct. peridot from Burma, a 11.83-ct. pale yellow star sapphire from Sri Lanka, a 2.53-ct. Mozambique ruby, a 2.03-ct. Madagasy blue sapphire and a 8.88-ct. Sri Lankan puroke star sapphire.
Being one of the biggest colored-stone houses in the U.S., we at Pala International are very fortunate to have new gemstones presented to us all the time. The mastermind behind Pala (Bill Larson) is even more fortunate to be able to travel the globe in search of the latest gemstones to enter the market. This month we feature a little sampling of Bill's most recent finds in Thailand and Burma. A delightful array of colorful, exotic, and phenomenal jewels…. Enjoy!
Interested? Call or email us to inquire. [back to top]
---
September 17, 2013: Phenomenal Ruby and Chrysoberyl
Phenomenals seem to be making a subtle resurgence amongst gem connoisseurs. These colorful and magical jewels engage the senses and help us appreciate the dynamic chemistry and physics at work within the crystallized oddities. A feast for the eyes and a puzzle for the intellect.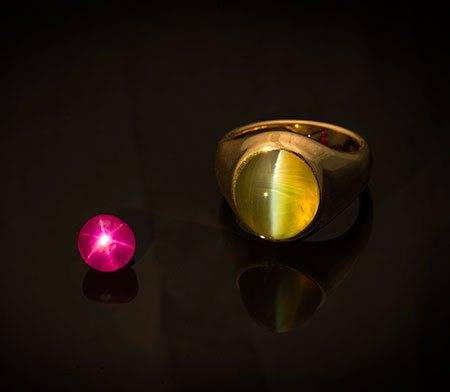 #19983). Estimated over 20-carat Sri Lankan chrysoberyl 15.25 x 13.7 x 10.4 mm. Click to enlarge. (Photo: Mia Dixon)
5.85-carat Burmese ruby, 8.93 x 9.11 x 6.26 mm (Inv.
This Burmese star ruby exhibits a blazing, slightly pink, red hue with good translucency. On top of the exquisite color lies an exceptional asterism with six well-defined and positioned rays.
This cat's eye seems to capture the best of a fine chrysoberyl. It displays a warm and pure milk-and-honey effect separated by a sharp white eye. This gem is also transparent, with only subtle internal graining tracing some of the structure. The stone is set in 18-karat gold with a precision bezel.
Interested? Select the inventory number above, call or email us to inquire. [back to top]
---
August 15, 2013: Red Beryl from Utah
This month we feature an exceptional red beryl from the Wah Wah Mountains of Utah. This fine blood-red jewel weighs in at 2.44 carats, which by red beryl standards is huge, especially in a fine quality piece. The red beryl crystals come out of the ground in small, mostly included elongated hexagonal prisms. It's very rare to even find small gemmy sections with which to cut moderately clean stones.
#21250. (Photo: Mia Dixon)
, 2.44 carats, 9.98 x 7.85 x 4.16 mm. Inventory
This particular gem was cut out of a crystal that Pala sold in the 1970s, which we recently bought back in the interest of using it as gem rough. Even though the crystal was very fine, the gem value far exceeded the specimen value. In the end, luckily we came out with a completely natural unoiled 2.44-carat emerald cut that would rival ruby for color and go way beyond, rarity-wise. Pala also purchased a few smaller crystals as well, so we have a good bit of a selection of these unique little red jewels right now.
Interested? Select the inventory number above, call or email us to inquire. [back to top]
---
July 16, 2013: Powellite from Tanzania
Powellite is more commonly seen in the mineral world, but these fine faceted stones bridged the gap into the gemstone side. These neon golden jewels are not only rare but radiate a beautiful glow. Stunning orange-yellow to greenish-yellow hues, with some dispersion, bringing them into a state that would be difficult for a sight ID. This is certainly some of the finest powellite we have ever seen, maybe even some of the finest the world has ever seen.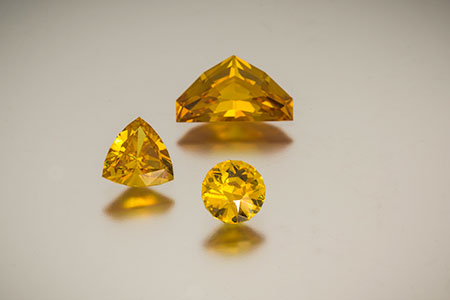 #21167, 5.62-carat shield; Inventory #21168, 2.98-carat round; Inventory #21174, 2.90-carat trillion. Click to enlarge. (Photo: Mia Dixon)
Inventory
These unique powellites were discovered in the Mahenge region of Tanzania, near the deposit of fine pink and reds spinels we have all come to covet. Originally thought to be scheelite, the material later on was correctly identified as powellite. Powellite does form a solid solution series with scheelite, but powellite is a calcium molybdenum mineral whereas scheelite has a calcium tungsten makeup.
Interested? Select the inventory numbers above, call or email us to inquire.
For more on powellite, see Mindat.org. [back to top]
---
June 17, 2013: Burmese Star Sapphire
This month we feature an epic star sapphire from Burma. This massive chunk of corundum has found its way to Pala after being oriented and cut down to a shallow cabochon, leaving a large face-up appearance. It is polished to reveal a sharp and well formed star with an intense blue body color we associate with fine Burmese sapphires. This rare and unique combination of a fine star and pure blue color is a treat for the eye and and fun for the imagination. All the dynamic optics and chemistry are coming together in one stone to produce a fine world class specimen.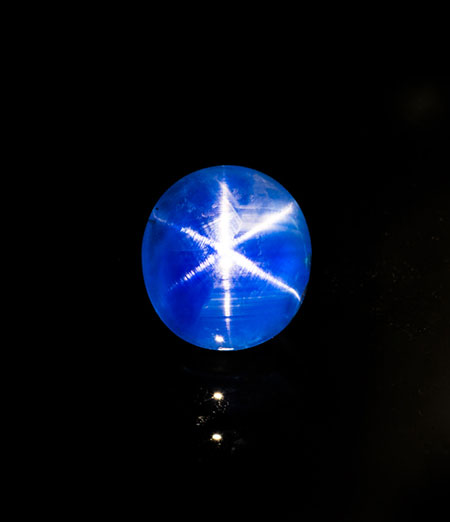 , 29.51 carats, 18.15 x 16.62 x 8.71 mm, Inventory #21218. (Photo: Mia Dixon)
Interested? Call or email us to inquire. [back to top]
---
May 16, 2013: Spessartite from Nigeria
This month we feature a gargantuan spessartite garnet from Nigeria. Weighing in at 58.44 carats, this oversized jewel came to us through an estate collection recently. It probably was obtained between 2004 and 2005, when the Nigerian deposit was in full swing. The mining area in western Nigeria, Oyo State, produced by far the largest quantity of spessartites the world has seen. This massive deposit was known for quality as well, recovering many 10-carat-plus, near flawless mandarin colors, and a plethora of fine smaller sizes. Colors ranged from burnt reddish orange to the pure orange hues.
#20641. (Photo: Mia Dixon)
, 58.44 ct, 28.00 x 22.43 x 13.82 mm, Inventory
Pala International bought into one of the large parcels of rough back in 2004, and we are still supplying fine pieces in the 1 to 6-carat range. But since this epic find, which only lasted a few years, the mines have been exhausted and nothing has compared, causing the prices for fine orange spessartite to see a steady rise over the years. Our featured stone really shows the beauty of the material: deep orange hue and a unique modified trillion cut. Perfect for a museum or collector of the oversized gems.
Interested? Select the inventory number above, call or email us to inquire.
Ruby or Spinel?
For those of you who didn't "cheat" by clicking on last month's inventory items: the ruby is on the left. [back to top]
---
April 17, 2013: Ruby and Spinel
Can you pick out the ruby and spinel?
Throughout history ruby and spinel have gone from being considered the same gem, to ruby's great rise as a precious stone and spinel's fall in association with synthetics, on through to ruby's continued ascent as one of the earth's rarest and spinel's attempt to find itself amongst the elite gemstones.
Ruby, of course, was one of the original gem varietals recognized by the first collectors of jewels, even categorizing spinel as a ruby simply because of its red hue. The foundation and provenance of ruby is ingrained into modern adornment, while spinel has waited patiently for its rise. Spinel has exploded onto the gem radar over the last few years as one of the next great collectable gems. One dealer described this rise as the pricing/value gap shrinking between ruby and spinel, by means of spinel gaining ground on ruby's dominance.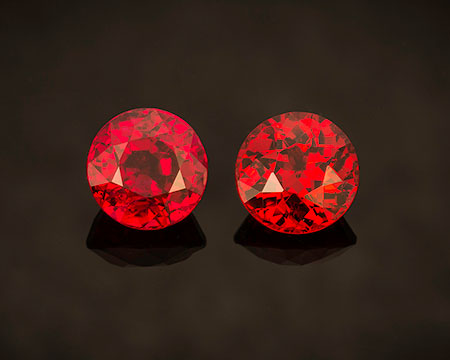 #19506. On the right, Inventory #20644. (Photo: Mia Dixon)
On the left, Inventory
Both have seen immense increases in value for larger, finer, completely natural varieties. In some cases it's harder to source large red spinels than it is to find large rubies. The relationship between ruby and spinel runs deep and they continue to evolve together and separately in unique fashion.
Colors for ruby and spinel can overlap with a myriad of secondary hues, which give each stone a unique look. Fine ruby and spinel average in the range of 70–80% red and the remaining percentages can be filled in with pink, purple, orange or a mixer. Ruby still holds the most pure red the eye can perceive, in the "pigeon's blood" realm, but in some cases spinel isn't too far behind.
Interested? Select the inventory numbers above, call or email us to inquire. [back to top]
---
March 19, 2013: Tsavorite Garnet & Diamond Crystals
This month we feature some new purchases from the Tucson show.
The first feature is a tsavorite from Eastern Africa. This tsavorite is a step above the average, with an ideal medium tone and super saturation. So often tsavorite is overly dark in tone when you get into larger sizes. This one really is the Goldilocks of tsavorites…just the right color coming to us just at the right time as tsavorite has seen an uptick in demand. Tsavorites have a short history as a gem variety, only dating back to 1967 when the late Campbell Bridges discovered them in northern Tanzania. He later found them in southern Kenya in 1970, near Kenya's Tsavo National Park, and coined the name tsavorite in 1974 along with Henry Platt of Tiffany & Co.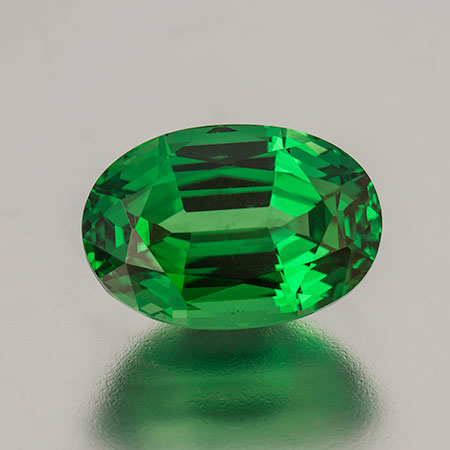 10.94 x 7.36 x 5.69 mm, weighing 4.52 carats. Price available upon request. (Photo: Mia Dixon)
This month's second feature isn't technically a faceted gem, but it certainly is a gem. We have seen rough diamond crystals popping up more and more in designer jewelry. These three unique gems would inspire design as well as entice the collector.
The first one is a 9.04-carat octahedron from The Democratic Republic of Congo. It displays perfect octahedral form with etched faces full of trigons and terraces. This crystal is a grayish white with no damage and good translucency. The second diamond is an unusual 7.8-carat double yellow macle from Russia, with an unusual Christmas tree-like formation from two penetrating macles. The top faces are like windows, looking into a fairly clean core with some internal crystals. This diamond is a light yellow, with no damage and very lustrous. The third is an extremely rare 3.44-carat white macle from Canada. It features perfect macle form with etched faces. The crystal is colorless and nearly flawless, showing great transparency. No damage; just a pristine jewel.
See above for descriptions. Prices available upon request. (Photo: Mia Dixon)
Interested? Call or email us to inquire.
[back to top]
---
February 18, 2013: Red Beryl from the Ruby Violet Claims
This month's featured stone, without a doubt, has to be red beryl. With the gemstone portion of the Tucson Gem and Mineral Show just having been completed, we found that red beryl was the most sought-after and asked-for stone of our show.
With only one recognized gem-producing locality—in the Wah Wah region of Utah—this bixbite variety of beryl is highly valued as a rare acquisition to gemstone collectors all over the world.
Click to enlarge. (Photo: Mia Dixon)
Red beryl from Wah Wah Mountains, Utah, 2.74 ct, 9.0 x 7.0 mm. Note that this particular stone has been sold.
In 1904, red beryl first was discovered at Topaz Cove, Juab County, Utah; the material mostly was not gemmy. Maynard Bixby was the head of this early mining project and in honor of Mr. Bixby, red beryl's mineral name "bixbite" was conferred (not to be confused with bixbyite, also named for Bixby). This discovery was the beginning of what would prove to be one of the most important finds in U.S. gem mining history.
In 1958, gem-quality crystals were found 100 miles south of Juab County. It was in the Wah Wah Mountains of Beaver County that Lamar Hodges staked his claim. As a matter of fact, he had twelve claims that, throughout his mining career, were worked by him, various other family members and other sub-lease groups. These claims were known as the "Ruby Violet Claims."
Although Hodges's original desire was to prospect for uranium, he eventually deserted that plan, putting the Ruby Violet Claims project in its place. The discovery of gem-quality red beryl would launch this still relatively unknown variety of beryl on the road to legitimacy. This "red beryl" would forever stand in the "rare" category of "collection quality" gems and mineral specimens.
In 1967, the Rex Harris family would purchase the mining rights. The paltry amount of $8,000 seemed like a lot of money then. The mining started slowly, then mechanization eventually had to be established. Eventually the mine would be functioning at full capacity, producing upwards of 1,500 tons of material per year.
Rex's daughter, Tina Nielson, states that the Harris family is in control of the only access and production available, and at present there is no material being commercially excavated for sale to the market due to negotiations in the works for the possible sale to a particular unnamed party.
At the Tucson show this year, it was lovely revisiting red beryl with our established clients and other enthusiastic trade members. It was fun to see how many visitors wanted to view the beautiful samples of ruby-like material, with selected pieces resembling lovely Burmese ruby with its pink secondary.
All of us at Pala love the rare and delicious, and take constant joy in sharing our knowledge and enthusiasm with all of you. Thank you for visiting us at Tucson and on the Web. With fond regards,
Gabrièl Mattice, G.G.
Fine Stone Acquisitions and Sales

Interested in other stones like this? Due to a limited amount of material on the market, we cannot promise that this will be available. Call or email us to inquire.
---
January 16, 2013: Amazonite Feldspar
This month we feature a gem usually found on the mineral side of the business. Amazonite feldspar is found in many pegmatites around the globe, ideally showing beautiful prismatic bluish-green crystals. These amazonite crystals are almost always milky and opaque, but occasionally you find clean enough sections to facet. Amazonite is a gemological term that can apply to green and bluish-green feldspars. As a gemological term amazonite has been applied to green feldspars (both microcline and orthoclase) recognized since the early 1900s (Bauer: Precious stones..., 1904, L. J. Spencer translation).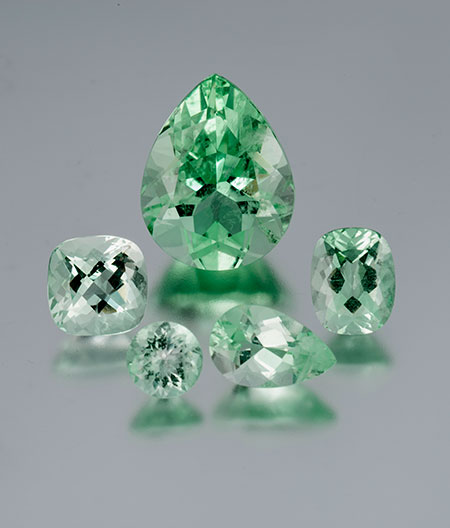 above, 12.19-carat pear shape, 18 x 14 x 10 mm; below, left to right, 2.79-carat cushion, 0.97-carat round, 2.17-carat pear shape, 2.22-carat cushion. (Photo: Mia Dixon)
Pala acquired a rough parcel of some of these exceptional amazonites, and had them tested by Prof. George Rossman up at Caltech to make sure they were 100% natural. These gems were cut from a parcel that can be traced back to a gem pocket in Luc Yen, Vietnam. This pocket was uncovered in 1997 and contained many high quality tourmaline crystals along with some of these gemmy amazonite feldspars. The color is reminiscent of neon-green paraiba tourmaline, showing fluorescent-like properties in daylight. This is fairly common mineral transformed into extremely rare and beautiful faceted gems.
Interested? Call or email us to inquire. [back to top]
---
Pala International's Featured Stones – 2012
December 17, 2012: Sapphire Extravaganza
Blue and yellow and orange—Oh my! This month we feature a melange of sapphires. Sapphires are found in all colors of the rainbow and many mixtures in between.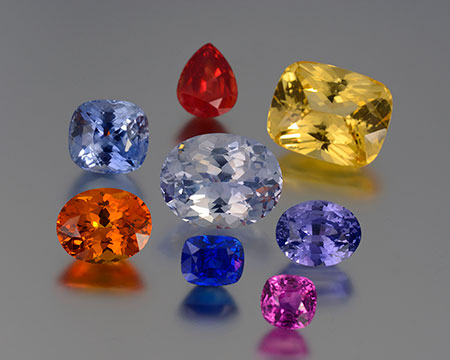 Click to enlarge. (Photo: Mia Dixon)
From the common ruby-red and sapphire-blue, to the more unusual purple color-change and blended orange and pink, sapphires fill the color wheel with endless possibilities. Clockwise from top: 5.66-carat natural pear-shape orange-red from Malawi (Inv. #20451), 25.51-carat fancy canary-yellow in a brilliant cushion cut (#20615), 10.08-carat violet-purple oval with lots of life (#20452). 4.03-carat purply pink one from Madagascar (#14626), 4.77-carat fine natural Sri Lankan blue (#20081), unusual 10.09-carat pumpkin orange (#20356), 11.5-carat pastel violet-blue (#19503). Center: 21.36-carat icy-blue oval brilliant-cut from Sri Lanka (#20453).
Interested? Call or email us to inquire. [back to top]
---
November 15, 2012: Imperial Topaz from Brazil
This month we feature an exceptional imperial topaz from Ouro Preto, Brazil. We normally focus just on the loose gem, but this exquisite piece of jewelry just fell in our lap out of an estate collection. We couldn't help but present the piece in all its glory, from the finely crafted platinum mounting to the fine white diamonds, all accentuating the sherry-colored jewel that is the centerpiece. This imperial not only has the golden hues but spills over into the the sherry and cherry spectrum, which defines it as one of the most sought-after colors. Since these unusual colors only really come from a small area in Brazil, production is limited and demand has always been strong, making it difficult for us to fill our clients' needs. This is a great opportunity to pick up one of Brazil's little treasures.
Topaz 17.54 carats, 19.08 x 12.88 x 8.99 mm, GIA certified. Diamonds 2.20 carats, VS clarity, F color. Platinum mounting. Price on request. (Photo: Orassa Weldon)
Interested? Call or email us to inquire. [back to top]
---
October 16, 2012: Spinels from Abroad
The spinel family continues its campaign into the world as its color cornucopia and exquisite properties continue to impress. As the rarity and beauty of the spinel varietals disseminate, the collectors seem to be acquiring a taste for this rising phoenix. We in the trade have always had a love for spinels, but now it seems the secret is out. We can't seem to keep up with the requests for fine reds and blues. So we are constantly scouring old collections and keeping an eye on material coming out of the major spinel-producing regions, mainly southeast Asia and eastern Africa.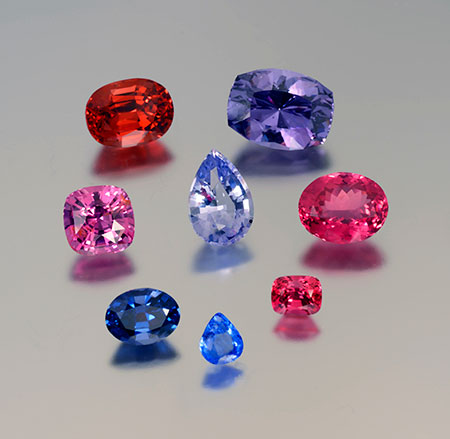 #20439), 12.37-ct lavender Burma cushion (#20436), 7.11-ct pinkish red Tanzania oval (#20468), 1.8-ct flame red Burma cushion, 1.26-ct cobalt blue Vietnam pear shape (#20502), 3.73-ct cobalt blue Burma oval (#20467), 6.14-ct purply pink Tajikistan cushion (#17979). Center, 5.90-ct violet blue Vietnam pear shape (#20437).
Clockwise from top left, 8.07-ct orangey red Burma oval (Inv.
We had the great fortune recently to buy a large gem collection filled with a variety of spinels, in an array of colors and sizes. Bill Larson also is just back from another buying trip to Bangkok and Burma. Above, we offer just a few highlights from these purchases…. Enjoy!
Interested? Select the inventory numbers above, call or email us to inquire.
See also this May 2011 article on spinel from Rapaport that quotes Pala's Jason Stephenson. [back to top]
---
September 19, 2012: Purple Scapolite from Tanzania
This month we feature a purple scapolite from Tanzania.
This scapolite has a phenomenal purple hue, reminiscent of the finest amethyst, one of the most saturated and pure colors we have seen here at Pala. This scapolite is virtually flawless and has an exquisite trilliant cut with a very symmetrical brilliant-style faceting. Most scapolite you see from Tanzania is more often in the yellow color spectrum, but every once in a while an intense purple, like the one seen below, is produced. This gem is from an older collection Pala bought recently, so it's hard to pinpoint a specific locality, but it's probably from the Morogoro region in Tanzania. Other fine purple scapolites have been coming out of China and Afghanistan more recently.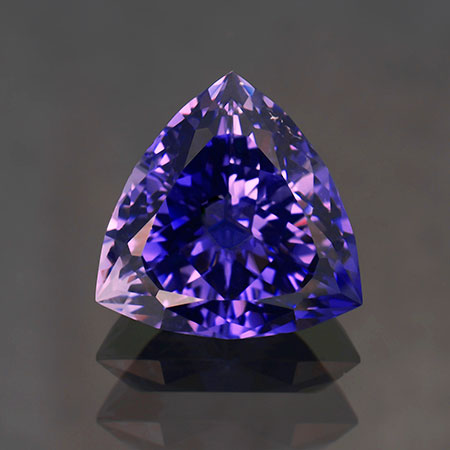 15.26 carats, about 17.3 mm. (Photo: Mia Dixon)
Interested? Call or email us to inquire. [back to top]
---
August 17, 2012: Azurite-Malachite
This month we feature some colorful free-form cabochons with a mix of azurite and malachite. This material was mined pre-1960s from Bisbee, Arizona, and purchased years ago by Pala International as specimens, then cut more recently by Bud Standley. Similar specimens have been mined in Morenci, AZ, and more recently at the Milpillas Mine in Sonora, Mexico.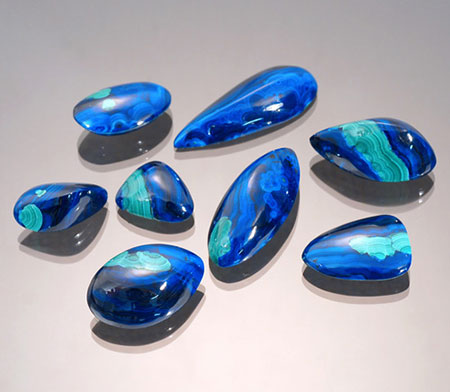 #16149. Click to enlarge. (Photo: Wimon Manorotkul)
Various shapes and sizes. For reference the bullet shaped stone at lower right is 11 ct, 18.66 x 14 x 5.11 mm, Inventory
The material features intricate flow and growth patterns, bands of alternating dark and light blues and greens. And brilliant cornflower to cobalt-blue azurite showing some bullseye patterns left after botriyoidal formations have been cross-cut and polished. Then, as if bubbling right out of the blue, radiating bands of malachite create an exquisite contrast. Two copper minerals are blended together to make a truly unique and beautiful gem.
Pala International has an extensive selection of azurite and malachite in specimens, rough, cabochons and free-form.
Interested? Call or email us to inquire. [back to top]
---
July 16, 2012: Brazilian Tourmaline!
This month we feature a couple of complimentary tourmalines in the teal spectrum. Tourmalines have been a jewel of interest for at least half a millennium, being mined all around the globe in every color imaginable. The range of colors, big sizes and clean nature has made tourmaline a staple of gem and jewelry connoisseurs worldwide.
#15993. (Photo Mia Dixon)
24.05-ct blue-green emerald cut, 20 x 12.1 x 10.5 mm, Inv. #20351; 15.49-ct indicolite emerald cut, 14.23 x 12.95 x 10.5 8mm, Inv.
These two emerald-cut beauties seem to mix well with the teal green and teal blue hues exhibiting aquatic tones. The green one was a recent purchase from Brazil and the indicolite has been in inventory for a few years, most likely from Brazil as well.
Interested? Call or email us to inquire. [back to top]
---
June 14, 2012: Sri Lankan Purple Star Sapphire & Chrome Tourmaline from Tanzania
As the months roll on here at Pala International, it becomes increasingly harder to come up with a suitable featured stone. We have logged about 100 featured items so far on Palagems.com. Sure, there are thousands of gem varieties and a plethora of colors bubbling out from our planet. However, to find a truly exceptional crystal created by Mother Earth, found by Man, and cut into a rare and beautiful gem worthy of display and intrigue... is an exercise in patience.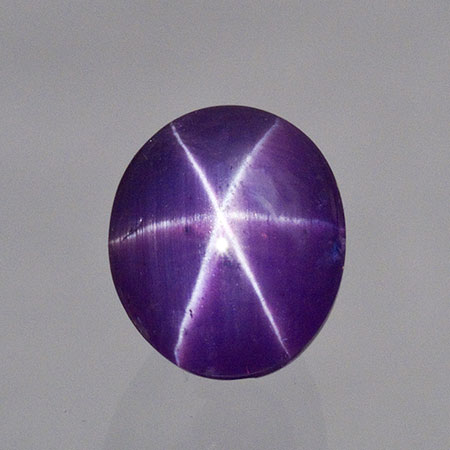 6.32 carats, 9.42 x 8.02 x 7.52 mm, Inventory #20268. (Photo Mia Dixon)
This month we feature two new gems we purchased while at the Las Vegas show. First, a unique purple star sapphire from Sri Lanka. It's an exceptionally fine star with sharp, full rays centered perfectly over the stone. The unique property is the grape-juice purple color that give the gem a candy-like feel.
5.75 carats, 12.33 x 9.7 x 7.08 mm, Inventory #20267. (Photo Mia Dixon)
Another exceptional find in Vegas was this intense chrome tourmaline from Tanzania. It features a highly saturated evergreen hue with a pleasant medium-dark tone, brighter than most chrome tourmalines we normally see, since they can tend to be overly dark.
Interested? Call or email us to inquire.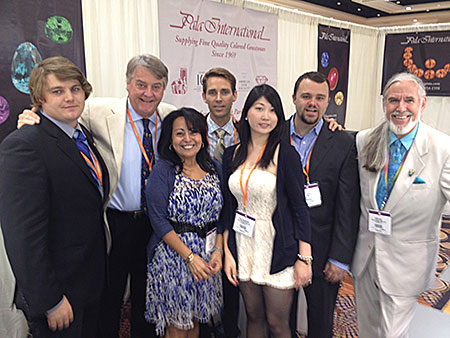 at this year's Las Vegas show. From left, Carl Larson, Bill Larson, Gabrièl Mattice, Jason Stephenson, Rika Nakamura, Will Larson, Josh Hall. (Photo: Rebecca Boyajian)
[back to top]
---
May 17, 2012: Tanzanian Sunstone & Tanzanite
Tanzania has been a hot spot for many gem varieties lately. Ruby from Winza, spinel from Mahenge, prase opal from Mt. Iyobo, sunstone from Masai Boma, and of course tanzanite from Merelani. Along with Bill and Will Larson's trip to the Arusha International Gem, Jewelry & Minerals Fair they were able to buy a few select things. This month we feature a wild sunstone and unusual tanzanite to be plucked from the Tanzanian soil recently.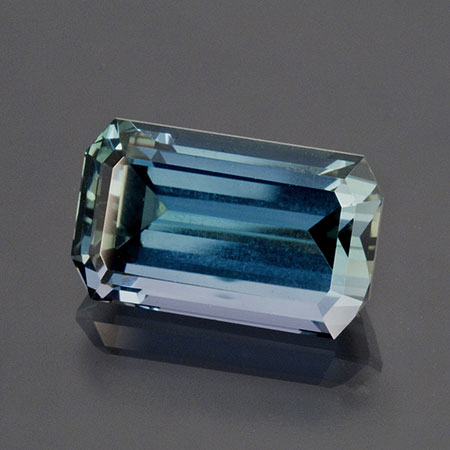 4.36 carats, 11.3 x 6.8 x 5.8 mm. (Photo: Mia Dixon)
Merelani has continued to produce the world's only source of gem quality tanzanite. Many millions of carats have found their way into the markets around the world since the late 1970s, but it seems the deposit has taken a turn and has been producing some more unusual jewels. We definitely have seen finer crystals and specimens being preserved as well as a variety of colors produced. We featured an amazing purple-pink faceted tanzanite a couple months back and now we have an intense steely blue-green emerald-cut that demands a second look. In a group of tanzanite, this unusual color stood out and earned a place in the Pala inventory.
19.53 carats, 27.50 x 13.47 x 10.27 mm. Inventory #20200. (Photo: Mia Dixon)
The sunstone being produced out of Tanzania is very sporadic, with maybe a few kilos being unearthed occasionally. Most of the material seems to be heavily included and fractured. But every once in a while a large, fine stone like this one makes it out. This 19-carat marquise-cut beauty has a metallic copper sheen at first glance. Then, as you narrow in on the inclusions and start to rotate… the gem comes alive, throwing a full spectrum of colors from within.
See our previous featured Tanzanian sunstone here.
Interested? Call or email us to inquire. [back to top]
---
April 16, 2012: Burmese Spinel & Sri Lankan Sinhalite
This month we feature a couple of new jewels Bill was able to buy on a recent trip to Thailand and Burma. Other highlights included natural rubies from Mozambique, natural blue sapphires from Sri Lanka and Madagascar, blue zircon from Cambodia, and many other rare ones like hackmanite and amber from Burma.
#20075. (Photo: Mia Dixon)
3.23 ct, 9.78 x 7.66 x 5.92 mm. Ask for Inventory
Red spinel has been in high demand recently, while the supply is slow to fill the increasing interest. This intense orangey-red spinel exhibits the highly saturated reds that many collectors are looking for. The Pala team is always happy to welcome another spinel into our family even though they seem to move out fairly quickly. Enjoy this one while it lasts.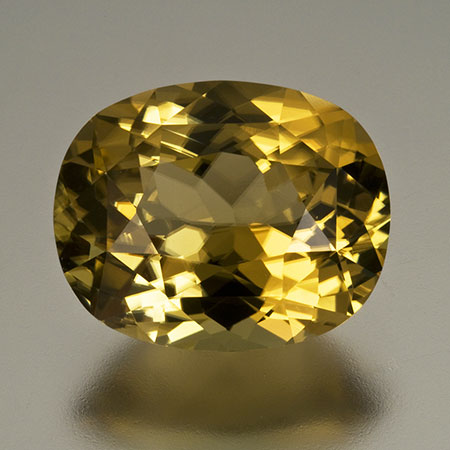 #20073. (Photo: Mia Dixon)
14.36 x 11.64 x 7.93 mm. Inventory
Sinhalite was first identified as a new mineral species in 1952, previously thought to be a brown peridot because of its similar properties and color. Sinhalite is in the borate mineral group and is formed in metamorphic environments. This golden sinhalite is exceptional in size and color for this unusual species. Yet another exquisite gem to be plucked from the mineral-rich lands of Sri Lanka.
Interested? Select the invtentory numbers above, call or email us to inquire. [back to top]
---
March 15, 2012: Ethiopian Opals
In recent times play-of-color opal has been discovered in Ethiopia's Shewa Province (1994) and Wollo Province (2008). The Shewa material turned out to be very unstable and unsuitable for jewelry, while the Wollo opal was more stable and exhibited an unusual property know as hydrophane, i.e., the latter opals came out of the ground very porous, possessing the ability to absorb water. The rich rainbow of colors and transparency are a recipe for beautiful gems. The Wollo opal has the most similarities to the Mexican fire and water opals with play-of-color.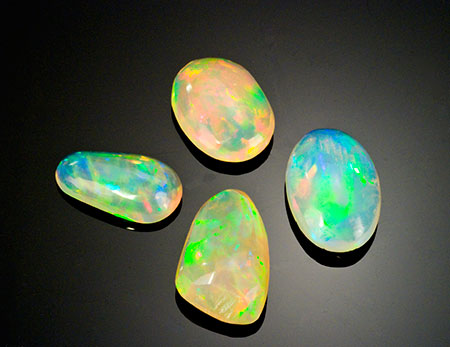 #19278; 3.38 ct, Inv. #19407; 3.4 ct, Inv. #19274; 1.86 ct, Inv. #19284. (Photo: Mia Dixon)
Wollo opals from Ethiopia show a bounty of colors: clockwise from top, 2.75 ct, Inv.
Interested? Select inventory numbers above, call or email us to inquire. [back to top]
---
February 15, 2012: Purple-Pink Zoisite from Tanzania
This month we feature a purple-pink zoisite from Tanzania. The Merelani mines have produced large amounts of blue-to-purple tanzanite since its original discovery in 1968. The mines also have produced gem quartz, diopside, prehnite and calcite. Occasionally pink and purple zoisite (often referred to in the trade as pink tanzanite) is unearthed in small, localized pockets, but production of these colors is very limited.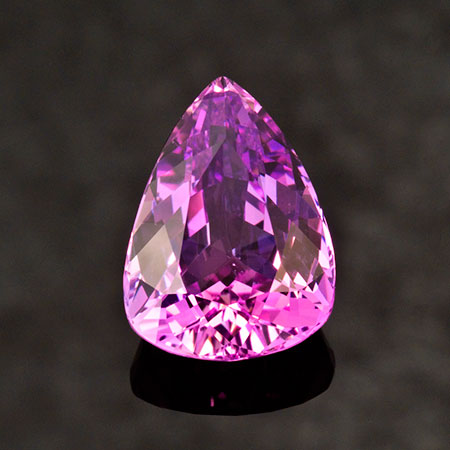 4.28 carats, 12.18 x 8.89 x 5.61 mm, ask for Inventory #19821. (Photo: Mia Dixon)
When the team at Pala first saw the intensity and brilliance of this jewel we figured it was a spinel or kunzite. We were all shocked to hear it was in fact a natural zoisite, and the color was unlike any we had seen in the past. Apparently the small series of pockets that produced this purple-pink color only yielded a few pieces of facetable rough. Luckily we were able to score this 4.28-carat gem before the AGTA show began. Pala's supplier was quite confident that this stone was perhaps the finest single gem produced from these pockets.
Interested? Call or email us to inquire. [back to top]
---
January 18, 2012: Brazilian Paraiba
This month we feature a set of tourmalines from the original mining area in Brazil. The pegmatite that produced these copper-bearing beauties spans the states of Paraîba and Rio Grande do Norte. Distinguishing which side of the border an individual stone was mined from has been trying, even for the most highly equipped laboratories around the world.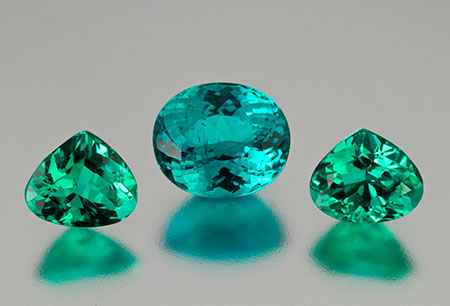 Blue green center oval, 2.8 carats, 9.22 x 7.8 x 5.57 mm, and the green teardrop pair, 2.51 carats, 7.5 x 6.3 x 4 mm. (Photo: Mia Dixon)
Whichever state these paraibas were actually mined from seems irrelevant as you take in the light and color that is unlike any other gem on the planet. Dazzling neon hues of blue and green in a perfect medium tone, with saturation tilting the scales of what's possible for a natural gemstone.
Throughout the year Pala is fortunate enough to have a handful of true Brazilian paraibas pass through our doors even though the mines have been exhausted for several years now. We also have a good supply of the now depleted Mozambique deposit. Contact us or check our inventory to see what's available.
Interested? Call or email us to inquire. [back to top]
---
See other: