2015.3 | 2015.2 | 2015.1
2014.3 | 2014.2 | 2014.1 | 2013.3 | 2013.2 | 2013.1 | 2012.3 | 2012.2 | 2012.1
2011.3 | 2011.2 | 2011.1 | 2010.3 | 2010.2 | 2010.1 | 2009.3 | 2009.2 | 2009.1
2008.3 | 2008.2 | 2008.1 | 2007.3 | 2007.2 | 2007.1 | 2006.3 | 2006.2 | 2006.1
2005 | 2004 | 2003 | 2002 | 2001 | 2000
January – May 2006 Gem News Archive
May 22: Pala International's Featured Stone: Imperial Garnet
This unusual pyrope-spessartite garnet is the latest in beautiful and rare gem materials to be unearthed from the Lindi Province of southeastern Tanzania.
What makes this particular stone so special is its size. Marketed as "imperial" garnet, it is reported that most such material suitable for cutting is rarely over one carat in size, and inclusions are common. This incredible "gem" weighs 57.12 carats and has an amazing, intensely saturated combination of rich orange with a crisp pink secondary that indeed gives it a color similar to fine imperial topaz. The clarity is exceptional and the cutting is superb.
The price is available upon request. [back to top]
May 22: Pala at Las Vegas, June 2-6, 2006
It's time for the JCK Las Vegas show. Pala International will be there in force, with one of America's largest selections of fine colored gems.
When: June 2-6, 2006
Where: Venetian Hotel Grand Ballroom adjacent to the Sands Expo & Convention Center, Las Vegas, NV
Hours: AGTA Gemstone Section
Friday, June 2nd: 10:00 AM - 6:00 PM
Saturday, June 3rd to Tuesday, June 6th: 9:00 AM - 6:00 PM
Pala International is in the AGTA Pavilion, at booth 34308. For more information visit the JCK and AGTA GemFair websites. [back to top]
May 22: GIA Brazilian Collection in Las Vegas
In March we mentioned the Gemological Institute of America's Brazilian jewelry collection, which premiered in Tucson. Two dozen photos of the collection are now online demonstrating the amazing diversity of the collection.
Attendees will get a chance to see the collection in June at the Las Vegas show, in the AGTA Pavilion. [back to top]
May 22: Cultured Pearl Production
Our reader Andy Müller, of Kobe, Japan, kindly pointed us to his projection of 2005 seawater pearl production, delivered at the first GemmoBasel colloquium, sponsored by the SSEF Swiss Gemmological Institute.
The report documents the tremendous rise in production of South Sea pearls (from white-lipped pearl oysters), forecasting a 2005 increase nearly triple that of 1999 (260%). Müller contrasts that figure with the meager 14% rise in value over the same period.
Müller provides an analysis of the effect of this supply—and demand—on prices. Other statistics contained in the report include breakdowns by country and oyster type.
For an overview of pearls in general, see Volume 4 of the newsletter published on Pala International's sister site, Collector Fine Jewelry. [back to top]
May 11: Burma to Boost Gem Production
According to this May 9 Agence France-Presse story, "[m]ilitary-ruled Myanmar said Tuesday it would increase production of gems and jade, one of the most important sources of desperately needed foreign currency in the sanctions-hit nation." The announcement was made at a May 8 meeting held by Burma's gem industry officials.
As a government website reported, the decision to boost production was in response to increasing international enthusiasm for the nation's semiannual gem auctions (see this Palagems.com item): "Previously, gems sales were held two or three times a year. However, it is now required to hold gems sales occasionally based on production without any fixed time." The next is scheduled for June 20 through July 4.
In January, China's People's Daily reported on Burma's earlier plans to enhance its gem mining, providing actual statistics of gem mining blocks and number of carats mined (61.23 million in 2005). [back to top]

May 2: Gold Hits $660; Impact on Jewelers
Gold futures closed yesterday above $660 an ounce for the first time in 25 years. According to San Francisco's MarketWatch, this marked "the highest front-month futures level in more than 25 years, as steep declines in the U.S. dollar and concern about Iran's nuclear-research program fueled safe-haven buying and fed a broad-based metals rally."
The Earlier last month, as the futures were inching their way towards yesterday's high, USA TODAY reported on the impact of gold prices on jewelry prices and sales. According to the article, even this 46% jump from a year ago has a limited impact on jewelers. "[T]hat's because gold makes up only about 25% of the price of a piece of jewelry, notes Whitney Sielaff, editorial director of National Jeweler magazine. The rest comes from designer and overhead costs." The article concluded, "Few expect moderately higher prices to hurt sales very much."
Nonetheless, National Jeweler itself reported last week that "[t]he rising price of gold weighed heavily on the minds of the Floridian retailers attending the Jewelers International Showcase (JIS)" held two weeks ago in Miami, and that they were not buying. The magazine claimed that retailers at the JIS reported "an increased interest among their customers in pieces heavy on gemstones or small diamonds."
Update May 11: Malaysian Indian Goldsmiths and Jewellers Association claims that "businesses [sic] have dropped by between 40% and 50% for the past three to four months" due to the soaring price of gold, according to the Malaysian daily The Star. An advisor for the trade group "said local manufacturers were already reducing production by 50% because wholesalers could not afford to buy the prized metal." According to another Star article, "Malaysia... is a major exporter of jewellery and a leading gold jewellery producer, with RM1.8bil worth of export last year," much of it going to Southwest Asia.
Gold futures rose to a 25-year high today, topping $725 an ounce. According to Associated Press, a fleeting all-time high of $875 was reached in 1980 "in a huge day-and-a-half surge. But it quickly fell back under $700." MarketWatch reported that silver futures today spiked to a 25-year high: "July silver touched $15.20 an ounce, the loftiest futures level since early 1981. It was last up 53 cents, or 3.7%, at $14.81." In another report, MarketWatch speculated that South American nationalization of natural resources could "spill into the mining sector, likely boosting prices for metals that are already at multi-year or record highs." [back to top]

April 28: India to Tackle Gem Smuggling from Burma
In an attempt to curb the smuggling of fake gemstones from Burma, India plans to train young men from the border state of Mizoram to authenticate gems, according to the Indian Gem and Jewellery Export Promotion Council, as reported by Mizzima News Group, the news agency run by Burmese people in exile. The operation will be funded by the government's Ministry of Commerce and Industry. Exactly how the trainees would get their hands on smuggled gems, and how the fakes and their purveyors would be managed, was not explained.
For a profile of gemstone smuggling on Burma's eastern border in the late 1990s, see this article by Richard Hughes. [back to top]

April 17: Pala International's Featured Stone: Chrysocolla
This month we bring you a sampling from our inventory of chrysocolla, consisting of both cabochon-cut and uniquely carved pieces. The 63.99-ct piece pictured above is from material found in the 1950s and cut by Bud Standley. It features an attractive agatized pastel blue band and a small druzy window.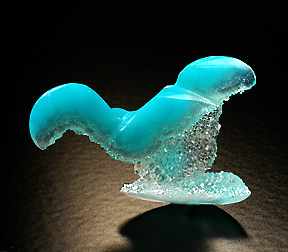 Inventory #12092. (Photo: Wimon Manorotkul)
The second piece above, 16.46 cts., is another great chrysocolla, perfect for custom-made jewelry. It is masterfully carved to show off both its color and the delicate druzy area.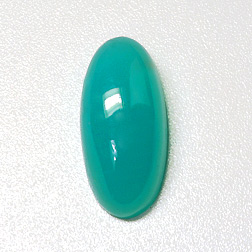 Inventory #4880. (Photo: Wimon Manorotkul)
Finally, a fine translucent cabochon with an even pastel blue, 7.63 cts. Simply exquisite. These are just a few of our unique pieces. Prices are available upon request. [back to top]
April 17: Palagems.com User Survey Results
Thanks to all who completed our Palagems.com user survey. The respondents were almost evenly divided between trade members and "interested public." The following were the major themes:
Leave the website alone. You said, "don't fix what ain't broke." We will, however, make a few changes per your suggestions, such as web page printing compatibility (coming soon), additional gem types in Gem Search, and the new search tips on our Appraiser and Jeweler finder pages
Bugs. You pointed out a couple of glitches on the website. We're working to correct them
News, articles, and references are the most important feature of the website, according to the survey; nearly as important to the trade as the public. You've missed seeing articles by Richard Hughes; be sure to catch the item below by RWH on beryllium treatment of sapphires
Photos. You want more. We wish we could post a photo for each stone, but our resources are limited
Prices. The public, including students, wants access to prices, which are available to trade member only. For a limited selection may we suggest checking out Collector's Corner?
Foreign Trade Members. We routinely deny foreign trade members access to our catalog prices because import duties and shipping are prohibitive. A couple of you, however, noted that you do regular business in the U.S. If you have a U.S. address, let us know, and we'll reconsider...
Remember, you don't need a survey to sound off: email us at info@palagems.com. [back to top]
April 17: Beryllium-Treated Blue Sapphires
American Gem Trade Association Gemological Testing Laboratory's Richard Hughes, along with co-authors Garry Du Toit and John Koivula, provide this follow-up to reports last fall of beryllium being detected in blue sapphires.
While the possibility of "accidental contamination" exists, the authors lean towards the probability of purposeful introduction of beryllium, with the intent of lightening dark stones.
Update May 22: Colored Stone published "Beryllium-Diffused Blue Sapphire?" The article includes interviews with Adolf Peretti, director of GemResearch Swisslab; Christopher Smith, director of identification services at the GIA's New York lab; and Pornchai Chuenchomlada, president of the Thai Gem and Jewelry Traders Association. [back to top]

April 17: Christie's and Kroc... Rock!
Christie's Magnificent Jewels sale last week at Rockefeller Plaza topped $39 million. "The combination of a strong economy, coupled with buyers from emerging markets, drove the prices of this auction to a whole new level. Diamonds continue to soar and rare jewels and gemstones have gained tremendous ground in the market," said Rahul Kadakia, Head of Jewelry for Christie's Americas.
A 50.53-ct. diamond ring (pictured at right) fetched $4.216 million, or $83,450 per carat.
The sale was remarkable for other reasons: It included jewelry from the estate of Joan B. Kroc, philanthropist and wife of McDonald's founder Ray Kroc. Kroc, who died two years ago, collected many notable pieces, including a Harry Winston necklace set with a detachable pear-shaped fancy intense yellow diamond weighing 42.13 carats. It sold for a half-million more than its estimate of $1.5 million.
Sotheby's will hold its own jewelry auction next week, including the 107-carat Rojtman diamond and a sale of over two dozen lots of Van Cleef & Arpels, the Paris jeweler celebrating its centenary this year. [back to top]
April 17: Abalone Pearls
Palagems.com visitor Lou Hill, of New Zealand, sent us the following message:
I was recently out snorkelling in Wellington, NZ, and on a couple of occasions I have come across some small pearls within the Abalone that I had found. I have taken some photos as best as I could to show the location and formation of the pearls within the Abalone and I thought you might be interested in having a look. I have been trying to find similar documentation such as this in various publications and on the internet with no luck so I thought I would take a few photos of my own for educational purposes.
The intriguing photographs found on Mr. Hill's website include "horn" pearls such as the one pictured above, as well as smaller pearls (included in two PDFs that also show formation of the pearls in the abalone flesh). [back to top]
April 6: New Owner for Fred Leighton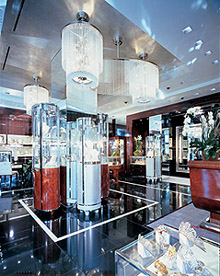 Leighton's Madison Avenue boutique.
Fred Leighton, "jeweler to the stars," has been acquired by Ralph Esmerian, according to reports in Women's Wear Daily and British web portal FashionUnited. "Leighton pieces have been worn by the most famous actresses and musicians, including Elizabeth Taylor[,] Nicole Kidman and Madonna."
Esmerian is a gem dealer and a major art collector. Born into the business, he is the son of the late Raphael Esmerian (1903–1976) who, according to Christie's (via Richard Hughes), was "the world's leading gem dealer of his time." Ralph Esmerian himself is known in the trade as a gem dealer's gem dealer.
According to FashionUnited, "Esmerian is planning to open a second store in Las Vegas and will also open a store in Beverly Hills next year. Plans are also in the pipeline to expand Leighton's small watch collection and his signature jewellery line." [back to top]
April 6: New Mineral and Gem Crystal Show in China
Pala International recently received an invitation to an intriguing new conference and exhibition to be held in Beijing, October 9 and 10. According to the website for the 1st International Minerals & Gem Crystal Conference and Exhibition, China, the event will feature thirty international speakers, over forty showcases for sponsors and selected enterprises, and two optional mining area tours in Hunan Province.
The prospectus we received asks the question, "Why is the conference held in China?" The answers include: 3 million collectors of, and investors in, stones and minerals; Chinese government support of the mineral business; the planning and construction of hundreds of natural history/mineral museum in major Chinese cities; and the fact that "[a]ll high schools in China will begin to offer geoscience courses, which are expected to create a dramatic increase in demand for educational minerals." [back to top]
April 6: Know Your Jewelry
This FOXNews.com MarketWatch feature provides resources for first-time jewelry buyers, including mention of helpful websites. Note: All links in the story are broken, so for your convenience we are listing them here:

March 21: Burma Gems Auction Underway
Agence France-Presse (AFP) reported March 15 that Myanmar's military rulers were set to conduct their largest-ever auction of gems and jade, the 43rd Myanma Gems Emporium, beginning on the 16th and continuing until tomorrow. They hoped to earn at least €53 million from the sale.
According to AFP, it was anticipated that as many as 1,000 buyers, mainly from China and Thailand, would attend the biannual auction, held in Yangon. The government's New Light of Myanmar newspaper claimed today that the sale attracted "2,359 merchants at home and abroad," with "1,475... from 419 companies in 16 foreign countries."
The newspaper reported that "[s]ales of jade lots will be launched [March 22] through tender system and prices of jade lots are ranging from 100,800 euro to 1 million euro." AFP mentioned that "the highlight of the auction will be a spectacular 33.39-carat sapphire, which will go on sale with a starting price of 3.5 million euros..."
The government's U.N. mission posted this report on its 2005 sale. We will provide an update on the outcome of the present sale as soon as information becomes available.
Update March 26: According to the New Light of Myanmar, "[a] total of 1877 lots of pearl, gems and jade were sold at the emporium. 142 pearl lots were sold on 18 March, 51 gems lots on 19 March, a total of 1684 jade lots from 21 to 24 March."
Update April 17: While no official sales totals for the Gems Emporium have been disclosed since 2004, our source estimates last month's sale at over $100 million, well above the $63 million anticipated. The Yangon City Development website today announced that a "special sale" will take place during June and July.
The website also announced (4/6/2006) that Myanmar Pearl Production and Sale Enterprise, which sold pearls at the 43rd Myanmar Gem Emporium, "set [the] highest record in financial year 2005-2006 during its 14 years history and earned the most foreign exchange, it was learnt." [back to top]

March 15: Opals in Outer Space?
Not necessarily. But the heart-shaped comet particle (pictured at right) returned to Earth by NASA's comet-chasing Stardust Mission is eerily terrestrial. NASA doesn't identify the composition of this charming particle—extracted from its keystone on Valentine's Day—but, as reported March 14 in the Washington Post, early analysis of other specimens "revealed minerals that included magnesium iron silicate, known as olivine, or, in its gem-quality variety, peridot; magnesium aluminum oxide, also called spinel; and titanium nitride. [Stardust principal investigator Donald Brownlee] said all these form at temperatures of at least 2,000 degrees Fahrenheit."
This poses a challenge to scientists, as reported March 14 by the Associated Press. "NASA scientists have a new mystery to solve: How did materials formed by fire end up on the outermost reaches of the solar system, where temperatures are the lowest?" The material was returned to Earth in January in a 100-pound capsule, having been captured during Stardust's 2004 flight through the dust and gas surrounding the comet Wild 2. [back to top]

March 9: Pala International's Featured Stone: Blue Tanzanite
Since its history-making discovery in 1966, most deep-blue-color tanzanite in the market today is the result of heat treatment. Most of the time...
This 47.43-ct. "gem" was cut from the amazing unheated natural-colored crystal seen below, which weighed 114.67 cts. before cut.
The stone, the rough of which was acquired at this year's show in Tucson, is a vivid blue with intense trichroic flashes of violet and red; often compared to sapphire. A natural tanzanite of this size, with documentation of its "before cut" state is a rarity. When the time came for cutting a crystal of this caliber, we chose to entrust the stone's fate to the eye of master cutter, Raphael De Gottrau, of Raphael's Lapidary in Scottsdale, Arizona. We are happy we did.
The price for this blue tanzanite is available upon request. [back to top]
March 9: Pakistan: New Government Initiative and Mining Areas Reports
Government Initiative. In response to our January appeal for reader story leads, our correspondent in Pakistan mailed us regarding a new government initiative, from the online edition of Dawn.
He had this to say about the new developments: "I think this latest effort by the government in improving Pakistan's gem and jewelry exports is a bit better than its previous efforts (they want to execute it "on an organized pattern"). They also wish to target the lucrative Pakistan immigrant population residing in the U.S. and Europe, rather than countries as a whole such as the U.S., Europe and Japan..."

Mining Areas Reports. Another reader in Pakistan suggested that "there must be a lot of changes in the gemstone mines of Kashmir" following the October 2005 earthquake. While we have not received specific information regarding the mines, we were able to locate the following stories from the UN's Integrated Regional Information Networks (IRIN) regarding areas of interest: [see map]
Hunza: Ruby and blue sapphire deposits lie in the Hunza Valley, north of Rakaposhi in the center of Pakistan's Northern Areas. IRIN filed this report last week regarding the assessment of high-altitude damage in the area
Azad Kashmir: A February 28 story about water shortages mentions that roads were still blocked to the Kashmir ruby mining area of the Neelum Valley (just north of Kel on the map). And yesterday's story includes interviews with refugees from the Neelum Valley
Kohistan: In January our Pakistan correspondent alerted us to the deaths, due to avalanche, of gemstone miners who were working in unusual weather conditions, possibly in desperation following the October 2005 earthquake. Desperation appears to follow desperation: IRIN and Dawn reported last week that poppy cultivation has resumed in the North West Frontier Province, and unnamed district(s) of Kohistan in particular, according to remarks made by UN Office on Drugs and Crime representative Vincent McClean. McClean was announcing the release of the UN International Narcotics Control Board Annual Report for 2005 (which, itself, does not identify the province or Kohistan by name)
[back to top]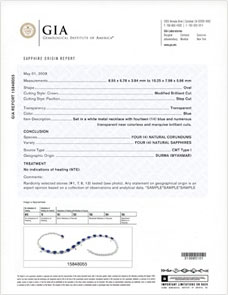 GIA Introduces Colored Stone ID Reports. Late last month, the Gemological Institute of America (GIA) announced new gemstone-specific identification reports for ruby, sapphire, and alexandrite, in addition to those previously offered for emerald.
According to the GIA press release, the reports "will provide better descriptions, more detail, and more information on treatments. In particular, the new Identification Reports will provide separate information for the species and variety of the submitted colored gemstone, as well as a quantification of treatments when present. Identification Reports for rubies, sapphires, emeralds, and alexandrite will now feature a photograph of the submitted gemstone."
As it did when it introduced cut grading into its diamond reports last summer, GIA will offer special services for gemstones previously verified.

AGS and AGTA Form Strategic Alliance. Last year, the American Gem Society (AGS) Laboratories demonstrated its innovative Cut-Grading System, which measures all facets of a diamond in three dimensions, thus enhancing the grading in reports.
Early last month, the AGS Labs and the American Gem Trade Association Gemological Testing Center (AGTA GTC) announced that they are entering into a strategic alliance that will allow clients to submit colored gemstones to the AGS Labs' take-in windows in Antwerp, Dubai, India, and Israel. Clients will receive a diamond grading document from the AGS Labs or a colored gemstone report from the AGTA GTC. (The AGS Laboratories does not grade colored stones or fancy color diamonds.) [back to top]
March 9: Christie's Sets New Ruby Record
Less than a year after its previous record-setting ruby sale, Christie's has almost doubled the top price-per-carat paid for a ruby. According to Bloomberg, on February 15 "Laurence Graff, a London jeweler, paid a record $425,000 a carat for a ruby in the Swiss resort of St. Moritz..., smashing the previous record of $275,000 and indicating demand for precious stones is still increasing."
The catalog describes the ring as a "cushion-cut ruby weighing 8.62 carats to the rectangular-shaped diamond bombé mount, mounted in 18k gold, ring size 3-1/4; Signed Bulgari." Apparently the gemstone is remarkable for its combination of attributes: "pigeon's blood" red color, superb transparency and, of course, the absence of any signs of heat treatment.
Those with a memory for such things will recall that Graff previously acquired another record-breaker, the Mogok Ruby (aka Alan Caplan's Ruby [see photo]), which held the price-per-carat record until last year's Christie's sale. [back to top]
March 9: GIA Museum Unveils New Brazilian Jewelry Collection
Tucson show-goers were treated last month to the debut of GIA's new Brazilian jewelry collection, featuring the work of the country's most prominent designers and manufacturers.
As stated in a pre-show news release, this international collection, a first for GIA, "highlights the spirit and soul of Brazilian jewelry and showcases both traditional and contemporary designs."
Brazil, long known as a source of gemstones, is now being recognized for its designs. Attendees will get another chance to see the collection in June at the Las Vegas JCK show, in the AGTA Pavilion. [back to top]
January 19: Pala Co-hosts Tour by Russian Mineralogists
A three-week Mineralogical Study Tour by prominent Russian mineralogists, Igor Pekov and his wife, Anna Turchkova, is scheduled for February. The pair are faculty members of Lomonosov Moscow State University's Department of Mineralogy. According to lead tour sponsor, Fallbrook Gem and Mineral Society (FGMS), "Pekov is the discoverer of 33 new mineral species and the co-discoverer of 22 more. Both are prolific authors, having several book credits between them, as well as over 300 scientific papers."
The tour will take the Pekovs to four U.S. geographic areas, beginning with Arizona (including the Tucson mineral shows) and continuing to Southern California, including a tour of George Rossman's lab at Caltech and the Natural History Museum, hosted by the Mineralogical Society of Southern California. The Pekovs then will head south to Fallbrook where they will address the FGMS and on about February 15 or 16 they will view the collections of Pala International President Bill Larson and others.
The tour also will include the nepheline syenite complex at Magnet Cove, Arkansas, which is akin to the alkaline rocks of the Kola Peninsula, where the Pekovs have done much field work. The tour concludes on the East Coast.
A press release (including tour details), biographical profiles, and list of tour sponsors and hosts are available." [back to top]
January 16: Pala International's Featured Stone: Alexandrite
Our featured stone this month is alexandrite, from the chrysoberyl family. This outstanding matched pair is from Brazil.
These stones, 2.48 carats combined, possess a strong color-change effect, the primary qualification for labeling a chrysoberyl alexandrite. The change is from fine bluish green in daylight to raspberry/rhodolite in incandescent light.
See Inventory #12886. For more information on color-change properties visit our Palagems.com Alexandrite Buying Guide. [back to top]
January 16: Pala to Host Tibetan Sunstone™ Owner in Tucson
Pala International is pleased to host Jacqueline Li, owner of the Tibetan Sunstone™ Mine, at the AGTA GemFair, February 1–4 only. Stop by the Pala booth and meet Ms. Li on her very first U.S. visit. Robert Schwarztrauber, U.S. Marketing Coordinator, will be there as well to answer all of your questions.
Palagems.com visitors will remember a sunstone acquired by Pala President Bill Larson last March. Now Tucson attendees can see for themselves the exciting and mysterious gemstones known by such names as Chinese sunstone, Tibet sunstone, and Chinese andesine. Specimens from rough sample to fine gem will be displayed exclusively at the Pala booth 1016–1018, AGTA GemFair, Tucson Convention Center.
Amazing reds, rare greens, and dazzling color-change stones will be on display and for sale. This is not your Oregon sunstone! Preview online now. Then, come prepared to take some home because you can buy direct from the mine owner!
Also in Tucson: Richard W. Hughes and Vincent Pardieu will deliver a talk on their travels in the corundum mining regions of Madagascar and Burma. The talk is free and will be held February 2 from 1:00 to 2:00 pm. See our story from November 2005 for more details on their journeys.
For details on Pala at Tucson: See our Show Schedule. [back to top]
January 16: Pala International at the 2005 Tokyo Mineral Show
In December, Will H. Larson represented Pala International at the Tokyo Mineral Show in Sunshine City, Ikebukuro, one of Tokyo's major city centers. In this article Will discusses the show and the particular proclivities of the dealers and other clientele as they perused Pala's array.

Will H. Larson with Sakumi Shimizu at the Tokyo Mineral Show last month.
[back to top]
January 16: Volume 2 of Classic Photoatlas Published
microWorld of Gems (mWG) has announced the December 31, 2005 publication of Photoatlas of Inclusions in Gemstones, Volume 2. Like its predecessor, the present pictorial reference is a collaboration by the late Dr. Eduard J. Gübelin and John I. Koivula.
According to mWG: "Renowned for their unique ability in capturing the beauty of the internal world of gemstones and bringing an artistic sensibility to a scientific subject in their photomicrographs, Dr. Gübelin and Mr. Koivula bring to Photoatlas, Volume 2 their considerable expertise and combined experience in laboratory gemology, mineralogy, geology, and chemistry."
Details, including a table of contents and ordering information, are available at the mWG website. [back to top]
January 16: Fall Tours of Colombian Production and Mines
Last fall, the International Colored Gemstone Association (ICA) hosted a tour of gem enhancement labs, gem-cutting shops, export offices, and three mines on an emerald production and mining tour in Colombia.
The sixteen members of the tour included several ICA officials as well as notables from gemological institutions and periodicals. According to a ICA press release, "[s]everal meetings were held with the new generation of mine owners... during which bases of cooperation between ICA and the Colombia gem trade sector were established." A report on the tour by participant Jean Baptiste Senoble also is available from Vincent Pardieu's FieldGemology.org.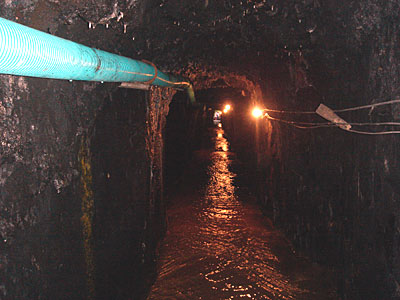 The mile-long tunnel of the La Paz mine at Coscuez. (Photo: ICA)
Shortly before the ICA tour, another tour visited Bogota and the mining areas, this one led by Ron Ringsrud, an American emerald dealer. This group of ten gemologists and reporters included the American Gem Trade Association's Dr. Lore Kiefert, Laboratory Director of the AGTA's Gemological Testing Center. Her write-up includes mention of an auction, at the mine at La Pita, of forty days' production: 12,000 carats of emerald crystals.
Update March 8: Yesid Nieto, owner of one of the Colombian emerald mines mentioned in Dr. Kiefert's story (above), was shot the last weekend of February, the Colombian El Tiempo daily reported March 1 (see Professional Jeweler and the Venezuelan Daily Journal for coverage in English). El Tiempo reported yesterday on fears in the community of a return to the the "green war" of the past between esmeralderos (emerald clans), while Msgr. Luis Felipe Sánchez, the local bishop, warned against such speculation and stated that "the peace of the region does not falter and is firmer than ever." Indeed, the bishop may his hand on the pulse of the region: as the Daily Journal put it, "[s]ome observers suggested that the shooting may have been linked to Nieto's offer to help authorities in their effort to eradicate 6,000 hectares (14,800 acres) of coca leaf—the source of cocaine—belonging to right-wing militias active in the emerald-producing region." [back to top]
January 2: Avalanche Kills 24 Miners in Kohistan, Pakistan
A friend of Pala International has just informed us that an avalanche has killed 24 miners December 29 in the Kohistan region of Pakistan's North West Frontier Province. Our correspondent questioned why the miners were "prospecting" because "the place is usually freezing and snowed over during this time of year."
The online edition of Dawn, Pakistan's English language newspaper, provides more details on this tragic event.
Our correspondent commented that "the article mentioned the area as 'Sput Mali,' though I believe this to be 'Sput Nallah,' where the peridots are mined." This is supported by a Daily Times article, which identified the mine as "Spat Nalla."
The BBC reported that more than 120 miners were working and that the cause of the avalanche might have been one of the numerous aftershocks from October's devastating earthquake, centered nearby, and which killed more than 73,000 people. Desperation on the part of workers in the region could account for their atypical winter labor. [back to top]
January 2: Pakistan's Gemstone Industry – Another Perspective
Our same correspondent in Pakistan, who alerted us to the avalanche story above, has been working in the gem industry for several years. Regarding the state of progress in Pakistan's gem industry, he had the following skeptical, yet hopeful, remarks:
Thank you for your recent articles on Pakistan's gem and jewelry industry. It's surprising to know how little esteemed buyers and collectors know about the wonderful gem deposits found here and in neighboring Afghanistan. With regard to your December update, on how Pakistan's gem and jewelry strategy is "nearing completion," well, [despite] all good intentions, I wouldn't have too much hope in that. Year after year these people in the administration promise to do good for the country's gem industry, but it's all just talk, really.

[In any case], always an optimist, I would be interested in knowing what progress [the administration has] in store for the industry here. I mean, perhaps you know that there are some first-rate emerald deposits in Swat [North West Frontier Province (NWFP), in the foothills of the Hindu Kush range], as well as pink topaz in Katlang, Mardan [District, in the southern part of NWFP], but it's a shame how these two mining areas are being run under-efficiently (though I give some credit to Boulous, who ran the Gujar Killi mine in Swat, [which] was a good, clean operation, and profitable for them, I believe). As for the unfortunate Katlang mine, that's [been] all but closed for years now, though the area is pretty scenic and so is a wonderful picnic spot for Sundays.
Finally, in a comment related to the unfortunate incident recounted in the Gem News item above, our friend had this to say: "[Publicity regarding the tragedy] would be a wake-up call for the higher authorities here in their endeavoring to take Pakistan's gem industry to a new frontier... Sure, although mining-related accidents happen all over the world, it seems that everything here related to the industry is primitive." [back to top]
2015.3 | 2015.2 | 2015.1
2014.3 | 2014.2 | 2014.1 | 2013.3 | 2013.2 | 2013.1 | 2012.3 | 2012.2 | 2012.1
2011.3 | 2011.2 | 2011.1 | 2010.3 | 2010.2 | 2010.1 | 2009.3 | 2009.2 | 2009.1
2008.3 | 2008.2 | 2008.1 | 2007.3 | 2007.2 | 2007.1 | 2006.3 | 2006.2 | 2006.1
2005 | 2004 | 2003 | 2002 | 2001 | 2000
Note: Palagems.com selects much of its material in the interest of fostering a stimulating discourse on the topics of gems, gemology, and the gemstone industry. Therefore the opinions expressed here are not necessarily those held by the proprietors of Palagems.com. We welcome your feedback.