2015.3 | 2015.2 | 2015.1
2014.3 | 2014.2 | 2014.1 | 2013.3 | 2013.2 | 2013.1 | 2012.3 | 2012.2 | 2012.1
2011.3 | 2011.2 | 2011.1 | 2010.3 | 2010.2 | 2010.1 | 2009.3 | 2009.2 | 2009.1
2008.3 | 2008.2 | 2008.1 | 2007.3 | 2007.2 | 2007.1 | 2006.3 | 2006.2 | 2006.1
2005 | 2004 | 2003 | 2002 | 2001 | 2000
2005 Gem News Archive
December 15: Pala International's Featured Stone: Green Tanzanite
In our last featured stone presentation we introduced you to a unique mint-colored garnet from the Merelani mining district in Tanzania. This month we return to Tanzania to acquaint you with the most rare of tanzanites.
What would make this stone any rarer than other tanzanite? you might ask. The color, for one thing: at first glance you might not even guess that it is a tanzanite at all.
Due to chromium, this material produces tones that are predominantly green with subtle blue overtones in contrast to the more familiar royal violet/blue tones, derived from vanadium. Green tanzanite is rarely seen in jewelry stores and is sought in large sizes by many gemstone aficionados and collectors.
When mining, it is rare to find any material that will produce something larger then 5-carat sizes. This beauty tips the scales at approximately 9.5 ct. and displays exceptional clarity. Please give us a call if your client/collector wishes to add a gem of this type to their portfolio. Price available upon request.
December 15: Pakistan Industry Update:
Gems and Jewelry Strategy Nearing Completion
Pala International received word this week from the Pakistan government's Technology Upgradation and Skill Development Company (TUSDEC) that it is nearing completion of its Gems and Jewelry Sector Development Strategy. TUSDEC anticipates submitting its recommendations to the government for approval by the end of January.
According to TUSDEC, Asad-ur-Rehman of the Strategic Working Group on Gems and Jewelry sector said that "the strategy [is] being developed by the group with the help of USAID, consultancy agencies, and a number of government organizations aimed at enhancing value-addition, with [the] ultimate aim of increasing exports of polished and processed gemstones and gem-studded jewelry. For this purpose, he added, the establishment of common facility centres for training and manufacturing and gem identification and certification labs had been planned."
TUSDEC Chairman Almas Hyder highlighted CAD/CAM learning centers that are to be set up in Peshawar and elsewhere, providing skilled labor to the gems and jewelry sector.
Khalid Sultan Khawaja, Chairman of the Gems and Gemmological Institute of Pakistan, mentioned gemology and gem-cutting courses being offered by an educational facility established by the Export Promotion Bureau (EPB) and All Pakistan Commercial Exporters Association of Rough & Un-Polished Precious & Semi Precious Stones (APCEA). (Palagems.com visitors may recall mention of EPB and APCEA in our overview of Pakistan's gemstone industry.)
According to TUSDEC, Asad-ur-Rehman claimed that Pakistan is the seventh largest consumer of gold in the world. [back to top]
November 17: South Africa Diamond Update
Last month we linked to an Oct. 11 BBC story that De Beers would go before South Africa's parliament to argue against a bill, supported by the African National Congress (ANC), "designed to create a state diamond trader and bring in a 15% export levy on diamond shipments."
Since then the BBC and others have reported the following:
November 15: Pala International's Featured Stone: African Mint-Colored Garnet
Kenya and Tanzania have long been regarded as producers of some of the world's finest colored stones. This mint colored-garnet is of the grossular variety and is particularly lovely with its delicate blue/green tone that is very brilliant when cut properly, as it is here. The northern Tanzanian mining area of Merelani, where this material is found, is also the magnet that has drawn tanzanite dealers for years.
The mint-colored garnet material is difficult to find in fine, crystalline form, and its size is always relatively small. It is often considered a softer companion to its big and more well known relative, Tsavorite garnet.
This gemstone weighs 7.14 carats and measures 10.5 x 10.5 mm. The hardness makes it a great everyday-wearing stone. This stone has been sold. . [back to top]
November 15: Richard Hughes in Madagascar
AGTA's Richard Hughes (now with Lotus Gemology), during a trip last month to the corundum mining region of southern Madagascar, took the following photograph of what he calls the "Pala branch office in Tana," as the country's capital, Antananarivo, is nicknamed. Read the full account of Richard's fascinating journey to these boomtowns and their mines.
Hughes was accompanied on his travels by his co-writers on the article, wholesaler Dana Schorr, and AIGS lab director Vincent Pardieu who gives his own report on a visit to the region this past summer in an effort to keep up-to-date on origin determination, a continuing challenge for gemologists in an age when ease of travel makes verification of origin increasingly difficult. [back to top]
November 15: Michael Scott Collection at the Shanghai Museum
Pala International has received word from world renowned collector Michael Scott that his collection is on exhibition currently at the Shanghai Museum through July 6, 2006. The exhibit, entitled "Light and Stone," includes a variety of gem and crystal treasures, as well as carved gems and sculpture. Scott, perhaps best known outside collecting circles as the first president of Apple Computer, has assembled the collection over the past 21 years. (Quotes below are from catalog notes received from Scott earlier this year.)
Shown here in both crystal and cut form, tanzanite was used to create Scott's remarkable Queen of Kilimanjaro tiara. (Photo: Harold and Erica Van Pelt)
Highlights of the exhibition include:
The Queen of Kilimanjaro tiara, featuring the world's largest faceted tanzanite, weighing 242 carats and accented with 803 brilliant-cut tsavorite garnets (32 carats total) and 913 brilliant-cut diamonds (14 carats total). Because tanzanite is relatively soft, it is not usually set in necklaces and earrings, so the tiara is truly a rarity
A perfect diamond: Scott spent more than a year searching for a specimen "as close as possible to 1 carat, clear, geometrically perfect, with no internal flaws or surface nicks"
"Big Momma": A giant 10,041-carat ruby crystal from Burma. "It's very rare to find a natural ruby crystal this big because miners often break them open hoping to find a 'gemmy' nodule inside"
Idar-Oberstein carvings, including the masterpiece, "Repose," pictured below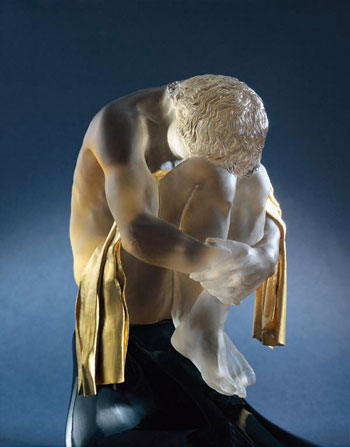 Just four inches tall, this exquisite figure is carved in citrine quartz and draped in 18-karat gold, resting on an obsidian base. It is one of the centerpieces of Scott's collection on display at the Shanghai Museum. (Photos: Harold and Erica Van Pelt)
Also on display is jewelry by masters such as John Marshall, as well as Metamorphos: "a giant slab of quartz that seems to be infused with gold. At almost 500,000 carats—more than 100 kilograms—[it] is believed to be the world's largest faceted gemstone."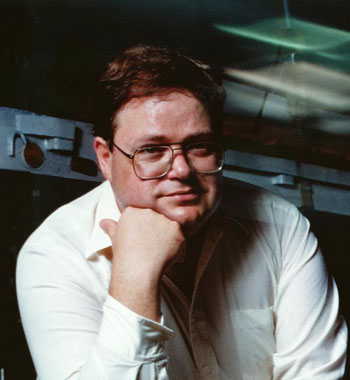 back to top]
Michael Scott has assembled his collection over the past 21 years. (Photo: Harold and Erica Van Pelt) [
November 2: Jewel Trade's Diamonds In the Rough
Picking up where the Herald Tribune article below leaves off, the San Francisco Chronicle discusses "the quiet change now going on in how some high-end retailers are approaching the art of jewelry."
Comparing independent jewelers—and their new, contemporary designs—with indie filmmakers, this article examines the market for customers in search of something "that originates with a craft, that is special, that is done by hand." [back to top]
November 1: Christie's Sale – Some Surprising
New Facets to the Art Jewelry Market
The International Herald Tribune discusses Christie's record-setting jewelry sale, held October 19, calling it "one of those rare art market events that signal a turning point in the living culture of our world." The article concludes that "[j]ewelry is now looked at as an art form, not just an accumulation of precious stones, and this new perception is radically changing the game."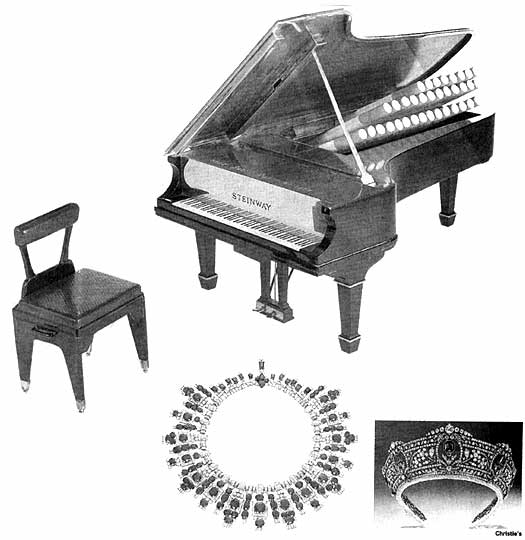 A cigarette case, in the form of a miniature Steinway piano, was designed as a present from Theodore Steinway to the pianist Josef Hofmann—the chair is a lighter. The set brought $318,400. Above left, a ruby and diamond Art Deco necklace by Cartier, containing diamonds and 116 Burmese rubies, sold for $2.3 million. Above right, the emerald and diamond Harcourt tiara, worn at the coronations of George VI and Elizabeth II, went for just over $1.57 million. [back to top]
October 19: Threat to De Beers Diamond Sales
The BBC reported on October 11 that De Beers would go before South Africa's parliament to argue against a bill, supported by the African National Congress, "designed to create a state diamond trader and bring in a 15% export levy on diamond shipments." De Beers claims the legislation would cost jobs and harm smaller mines, while the ANC claims it will cultivate development of the country's indigenous gemstone industry. [back to top]
October 6: A Special Gemstone from Pala International
This pale pink poudretteite was found in the Mogok district of Burma. It is one of less than ten known faceted stones.
It weighs 3.8 carats and measures 11.4 x 8.4 x 6.7 mm. Price available upon request.
Further information about poudrettite can be found in Gems & Gemology, Spring 2003, Volume 39, Issue 1, pp. 24-31. [back to top]
October 6: Painite Comes to Pala
From an initial viewing of a couple of reddish-brown crystals in the British Museum in the 1970s to exciting new discoveries this year in Mogok, Pala International President Bill Larson recounts a thirty-year quest for a mysterious stone, finally concluding, "no painite, no gainite." Read the full story.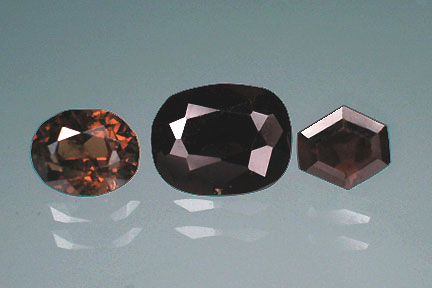 Dark red beauties: Painite, with a hardness of 8 on the Mohs' scale, has been quite elusive, with only three known specimens collected between 1954 and 2000. Faceted painites are even rarer; the above stones are amongst the very few painites considered to be clear enough for cutting. Weight (l-r): 0.72 cts, 1.32 cts, 0.32 cts. (Photo: Wimon Manorotkul; Gems: Pala International) [back to top]
October 4: George R. Rossman Receives Award
On September 26, Caltech Mineralogy Professor and GIA Board Member George R. Rossman received the prestigious Friedrich-Becke Medal award in Schladming, Austria. The award was presented by P. W. Mirwald, President of the Austrian Mineralogical Society, at its MinPet 2005 mineralogy/petrology conference, co-sponsored by the University of Loeben's Department of Applied Geosciences and Geophysics.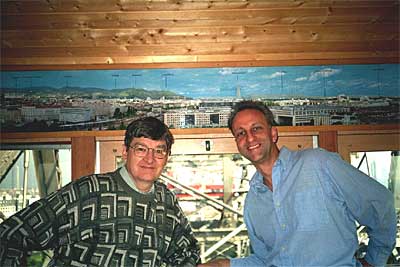 Awardee: George R. Rossman (left) enjoys some sightseeing from the Prater ferris wheel in Vienna, with Andreas Ertl, discoverer of a tourmaline provisionally named "oxy-rossmanite."
At the conference, Professor Rossman delivered a plenary address on the topic of "hydrous components in nominally anhydrous minerals," a subject on which he has researched and written extensively. We congratulate Dr. Rossman, a thirty-year friend of Pala International, upon receiving this award.
(Palagems.com visitors may be interested to know that the GIA has just announced that Dr. Rossman will be amongst the keynote presenters at its first Gemological Research Conference, being held in San Diego, CA, Aug. 26-27, 2006.) [back to top]
October 4: GIA to Include Cut Grading in Diamond Reports
This summer, the Gemological Institute of America announced its plans to include diamond cut grades in its diamond grading reports, beginning January 1, 2006.
According to the GIA's press release, "[f]or round brilliant cut diamonds in the GIA D-to-Z color range and Flawless-to-I3 clarity range, the new reports will include a Cut grade to accompany the Color, Clarity, and Carat Weight information," that have been integral to its grading system for over 50 years.
The GIA will offer special services for diamonds that have been graded previously by the Laboratory, along with new viewing and measurement tools and a new reference guide. [back to top]
September 22: Pala International's Featured Stone: Imperial Topaz
What's in a name?
This 14.37-carat gem "Imperial Topaz" is the perfect example of what an imperial should look like.
This stone has a combination of fiery red, mixed with a brilliant orange and just the right splash of peach to bring it to the top of the list of the most desired topaz colors, second only to a true red, which has proven to be the rarest color to find in gemmy material.
It weighs 14.37 carats and measures 16.5 x 10.7 x 8.8 mm. This stone has been sold. We invite you to call us about any of our other stones to help you complete that perfect piece. [back to top]
September 22: Imelda Marcos Jewelry Collection
Philippine former first lady Imelda Marcos has taken legal action to prevent the government from selling jewelry seized when she fled the country during a "people power" uprising in 1986.
Christie's auction house experts from Hong Kong and Geneva appraised items last week. Sotheby's is scheduled to continue appraisal this week, according to Reuters.
The government plans to sell items worth an estimated $10 million, but a targeted auction date of November could be thwarted by red tape as well as Marcos's legal actions. Read the story. [back to top]
September 22: Pala at 42nd Munich Mineral Show
Pala International President Bill Larson will attend the Munich Mineral Show and Geological Trade Fair. The Special Show, "Splendid Agates," will feature specimens from five continents, including the famous "Hooded Owl" (at right) from Mexico.
When: October 28-30, 2005
Where: Munich Exhibition Centre
Hours:
Friday–Saturday: 9 a.m.–7 p.m.
Sunday: 9 a.m.–6 p.m.
We look forward to seeing our many friends there. For more information:
September 22: Melo Pearls from Southern Vietnam
Pala International has procured some high quality melo pearls from southern Vietnam. Browse several recent photographs of the melo pearls—and their exotic source (pictured below).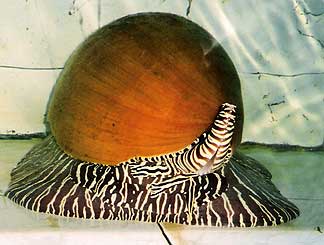 Escargot étrange: The marine snail, or Baler Shell, creates the melo pearl without production of nacre. [back to top]
September 22: New Find of Alluvial Rubies in Northern Vietnam
This summer, a new find of alluvial rubies was encountered in northern Vietnam, this time south of Luc Yen District (Yenbai Province). One piece was reported to weigh 40 carats in the rough and was semi-transparent, perhaps cutting at over 5 carats of natural red gem. The following photos show the miners at work in this new area.
[back to top]
August 16: Will Larson Spreading the Word in Kobe, Japan that Pala Rocks!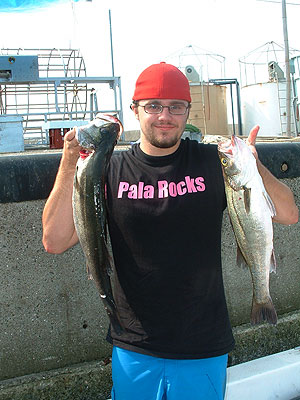 Will H. Larson, in Kobe to learn Japanese language with Pala International's friends the Tanakas, spreads the good word on Pala! He caught several sea bass and over 40 ika (squid) and attested to their being delicious both sashimi-style and teriyaki.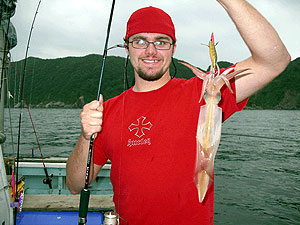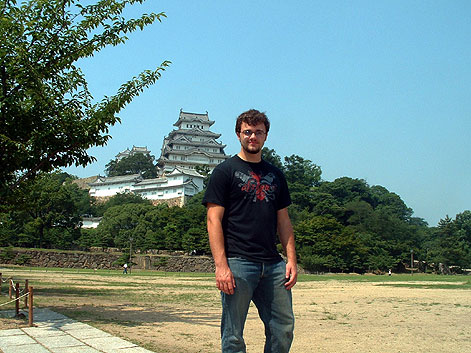 Will learning and experiencing incredible Japanese history with Mr. Tanaka. Here they are viewing the famous Himeji Castle one of the greatest in Japan. From feudal times to the present day, the castle was never conquered. [back to top]
August 15: Palagems.com Adds Two New Articles on Pakistan
August 15: Featured Stone: Unusual Spinel from Tanzania
This beautifully cut gem spinel hails from the unusual location of Tanzania. Most aficionados of gemstones know Burma to be the classic and most familiar source for fine spinel… until now. In the past most spinels from Tanzania displayed a somewhat hazy appearance, what we refer to in the business as a "sleepy" overall look. This gemstone has a limpidity and brilliance that defies verbal description. And then there is the color!
This amazingly crystalline, perfectly cut, untreated natural "gem" is a perfect combination of fiery pink with a kiss of orange.
It weighs 2.39 carats and measures 9.7 x 7.7 x 4.9 mm. This stone has been sold. We invite you to call us about any of our other stones to help you complete that perfect piece. [back to top]
August 15: Pala International Obtains One of the World's Most Historic Tanzanite Crystals
On his way to the Sainte-Marie-aux-Mines gem and mineral show in France, Pala International President Bill Larson acquired a famous tanzanite consisting of "twin" crystals.
This crystal has been featured prominently in gemological publications.
Read the full story behind this remarkable 342-carat natural-color crystal. [back to top]
August 15: Pala at Colorado Mineral & Fossil Show
Pala International will attend the Colorado Mineral & Fossil Show.
When: September 14–18, 2005
Where: Holiday Inn/Denver North, 4849 Bannock St., Rm. 183
Hours:
Wednesday–Saturday: 10 a.m.–6 p.m.
Sunday: 10 a.m.–5 p.m.
We look forward to seeing our many friends there. For more information:
August 8: Largest Piece of Rough Tanzanite Ever Found
TanzaniteOne Ltd., a British and Australian-funded mining and marketing operation, announced August 3 the discovery of the world's largest piece of rough tanzanite. The rough was taken from its Merelani Tanzanite Mine in Northern Tanzania and weighs over 3 kilograms (16,839 carats). [back to top]
August 8: Larson Gift Displayed at American Museum of Natural History
Earlier this year, the American Museum of Natural History placed on permanent display a ruby specimen given to the museum by Pala International President Bill Larson. The ruby is exhibited under the title "Minerals From Mogok," which features specimens from the world-famous mining region of Burma.
[back to top]
August 8: Richard Hughes Receives AGS Award for Flux Healing Article
Richard W. Hughes received the first-place Richard T. Liddicoat Journalism Award from the American Gem Society in 2005. The prize-winning article, "Fluxed Up: The Fracture Healing of Ruby," includes an appendix authored by John L. Emmett. The late Richard T. Liddicoat is known as the Father of Modern Gemology. The Richard T. Liddicoat Journalism Awards honor journalists that have made exceptional contributions to the understanding of gemology, as well as AGS ideals of dedication to proven ethics, knowledge, and consumer protection within the jewelry industry. [back to top]
June 30: Bill Larson in Burma and Vietnam, 2005
Following the International Colored Gemstone Congress in February, Pala International President Bill Larson joined the ICA Gem Mines Tour to Burma. He was then lured to Vietnam to track down some of the finest spinels in the world.
Browse a brief selection of photos from Bill's travels, on Palagems.com. [back to top]
June 30: GIA Lab Update on Healed Fractures and Fillings in Rubies
Earlier this month, the GIA Insider reported on the recent appearance of synthetic ruby "altered to look like heat-treated natural rubies… [which] reportedly originate in Thailand [and] have been circulating in the New York trade for the past few weeks."
A second report updates "on the clarity enhancement of rubies with a lead-glass filler."
The reports provide preliminary results on the GIA Gem Laboratory's study on the durability of the fillers under various conditions.
Visitors to Palagems.com will recall Richard Hughes's July 2004 article on the subject (from which the illustration at right is taken). [back to top]
June 30: Bonhams & Butterfields Auction Brings Nearly $1.2 Million
The Natural History auction of Bonhams & Butterfields on June 5 in Los Angeles brought nearly $1.2 million. The sale featured minerals and jewelry from various sources as well as "a strong assortment of decorative objects culled from the Earth and carved by skilled craftsmen."
"The top lot of the sale was… an eight-inch high tourmaline crystal mined in a mountainous region of Afghanistan. A bidder paid $38,188 for this exceptionally large museum-quality specimen." [back to top]
May 28: Featured Stone: 16.16-carat Zircon
Pala International President Bill Larson's most recent trip to Burma and Bangkok turned up this very clean blue Zircon.
This Cambodian stone features a fine, rich, bright blue with no green. The excellent cushion cut contributes to one of the finest stones of its kind to be procured by Pala.
Interested? Search on Inventory #11628. Or call us about this or any of our other stones. [back to top]

Cubic zirconia facsimiles of the Tavernier and French Blue (left, center) alongside the Hope Diamond
April 26, 2005: Smithsonian Settles Hope Diamond Controversy
Smithsonian gems and minerals curator Jeff Post claims to have settled the question of whether other diamonds were cut from the same stone as the Hope Diamond.
Using computer modeling and carved facsimiles, Post and a team of experts attempt to put to rest what "historians and conspiracy theorists have long claimed." Read the full story in the April 2005 issue of Smithsonian magazine or this February 9, 2005 press release. A Smithsonian timeline traces the travels of the famous gemstone. [back to top]
April 26, 2005: Smithsonian Acquires 23.1-ct. Ruby
In other news from Smithsonian's February 2005 issue was the acquisition of a 23.1-carat Burmese ruby last August by The Smithsonian Institution.
Smithsonian gems and mineral curator Jeff Post called the ruby "the most important addition to the collection in the 20 years that I've been here." [back to top]
April 26, 2005: GIA to Hold Tribute to Dr. Gübelin
The passing of Dr. Eduard J. Gübelin March 15 will be marked with a tribute on Saturday, May 21, 2005, to be held at GIA's world headquarters in Carlsbad, CA. GIA also has established the Dr. Edward J. Gübelin Memorial Scholarship as well as a permanently endowed fund, the Edward J. Gübelin Research Fund. [back to top]
April 26, 2005: Forty-Niner Frolic in Fallbrook
The Fallbrook Gem and Mineral Society and Jeanne and Bill Larson cordially invite you to join in a fine springtime afternoon, Sunday, May 22, 2005. The Forty-Niner Frolic benefits the Fallbrook Gem and Mineral Museum. Festivities include games, both a silent and live auction, and a chuckwagon dinner. [back to top]
April 26, 2005: AGTA Reduces Turnaround for Gemstone Reports
The American Gem Trade Association (AGTA) announced March 30 that a "boost in staff and experience has increased productivity and reduced turnaround times" for gemstone reports. The Gemological Testing Center claims that results can be expected "within 5 to 8 working days." [back to top]
April 26, 2005: Bill Larson Named to AGTA Committees
Pala International President Bill Larson has been appointed to two committees of the AGTA, the Ethics & Grievances and Arbitration Committee, and the Smithsonian Committee. [back to top]
April 14, 2005: Christie's Auction Breaks Ruby Record
On April 12, the "Magnificent Jewels" sale at Christie's New York broke the record for per-carat price with an 8.01-ct. ruby—$274,656 per carat ($2.2 million). The stone was purchased by a private client in Asia. According to the catalog description by Rahul Kadakia, Head of Christie's Jewellery Department, New York,
[t]he 8.01 carat Burmese ruby offered for sale exhibits all the qualities characteristic in the ideal gem. It displays a pigeon-blood red colour typical of old Burmese material and a strong fluorescence which makes the stone come alive and appear to be internally illuminated. In addition, it possesses a flawless clarity that is near impossible in stones of this size. And its cut, shape and size also make it a perfect gem in every respect.
The ruby, mounted in a platinum ring within an oval-cut diamond surround with pear-shaped diamond shoulders, was the next-to-last lot in a sale that topped $31 million. According to Richard Hughes, previously the highest price per carat was set in 1988 with Alan Caplan's Ruby, a 15.97-ct. faceted stone that sold at Sotheby's New York in October 1988 for $227,301 per carat ($3.63 million). [back to top]
March 24, 2005: Bill Larson Appointed ICA Ambassador
In a letter dated March 14, Pala International President Bill Larson received official notification from International Colored Gemstone Association (ICA) President Joseph M. Menzie of Bill's appointment to be ICA Ambassador to the Western United States. The appointment was announced during the general meeting of ICA members at the 2005 Congress in Bangkok, Thailand, on February 21. A special mention of this appointment is to be featured in an upcoming issue of the membership publication, ICA Gazette.
In his letter, Menzie stressed that the appointment "is not an honorary position; it is a demanding one… An Ambassador is the conduit through which the Board and I are able to communicate with your local members, and they with us, not only to provide information but more importantly to obtain the opinions and needs of our members in each country." He added that "the Ambassador is the ICA official spokesperson in your country and the permanent link with the local trade associations and government authorities."
The term of Ambassador is two years, with an automatic renewal for an addtional two years. [back to top]
March 23, 2005: In Memoriam – Eduard J. Gübelin
We received the following notice from the Gübelin family, dated March 18, 2005, Lucerne, Switzerland.
Eduard J. Gübelin
Gemmologist
16th March 1913 – 15th March 2005
We must say goodbye to our dearly beloved daddy, grandpa, and great-grandpa who passed away after a long, full life. His love, generosity, and great knowledge were a shining example to us for nearly 100 years, for which we are most grateful. He leaves behind an unsurpassable scientific lifework to which he gave all his energy until the very end. He imparted much new knowledge in over 100 papers which he wrote. He was always curious and took a great interest in the world and its fate. From his many, mostly business trips around the world he always acquired new knowledge of the treasures and different cultures—and this taught him modesty and tolerance on his long journey on this earth. He will be sadly missed.


Farewell funeral service: Monday 21st March 2005, 9 a.m. in the Hofkirche in Lucerne followed by a private burial. In lieu of flowers, donations if desired to: American Heart Association (www.americanheart.org) or a charity of your choice.


Addresses for condolences:

Marie-Helen Boehm-Gübelin, Glenway Avenue 414, Signal Mountain, TN 37377, United States of America
Birgitte Burkart-Gübelin, Wesemlin-Terrasse 18a, 6006 Lucerne, Switzerland
[back to top]
March 16, 2005: Passing of Dr. Eduard J. Gübelin
We have just learned of the passing of our esteemed colleague and friend Dr. Eduard J. Gübelin, 93. Dr. Gübelin was recognized world wide as one of our brightest pioneers in gemology.
The entire staff of Pala International are deeply saddened by the passing of a friend and one of the industry's true gentlemen. We extend our sympathy to his daughters and their families.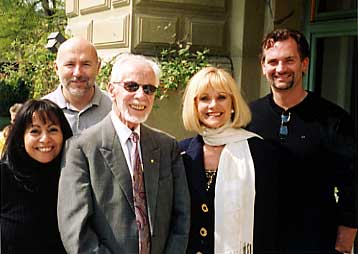 Dr. Gübelin (center) with Gabrièl Mattice, John Koivula, Jeanne Larson, and Edward Boehm, Lucerne 2003
Dr. Gübelin's legacy begins with his father, Eduard Gübelin Sr., who established a state-of-the-art gemological laboratory station as a component of his jewelry business in Lucerne during the first quarter of the twentieth century. As stated on the lab website, "[t]he industry at that time was faced with challenges, which are common today, with the advent of the first true synthetic gemstones… that threatened the stability and the future of the jewellery industry."
In 1932, Eduard Josef Gübelin joined the family business, "[combining] his knowledge of mineralogy and the jewellery business, with his love and admiration for gemstones, to establish the importance of gemmology in the gemstone and jewellery industry." Dr. Gübelin was the author of countless publications spanning many decades, including the classic Internal World of Gemstones: Documents from Space and Time (1974), the title of which reflects his love of poetry, and which demonstrated how the direct source of stones might be identified by their "internal world," especially inclusions. The Gübelin Gem Lab continues to maintain its renown in the field of gemology.
Richard W. Hughes expressed his feelings regarding Dr. Gübelin's death:
I had the opportunity a decade ago to assist him in compiling a bibliography of his writings. As I perused the listings, I was struck by the sheer breadth of his work. And so often as I traveled to remote areas in pursuit of gems, I found myself traveling paths that he had blazed decades before.

While he is known first and foremost as a gemologist, his life was so much more. Gübelin was a Renaissance Man in the old-school style. Author, artist, filmmaker, traveler, poet. He had a love of life and living and that always came through in his writings. While his death saddened me greatly, no one who knew him can feel anything but joy. Eduard Gübelin was the father of modern gemology. We are all his children.
John Koivula, also with the AGTA, and co-author with Dr. Gübelin on Photoatlas of Inclusions of Gemstones (volume two of which is slated for publication this year), had these remarks:
It is never easy to lose a close and dear friend. Dr. Eduard Gübelin was far more than a professional mentor to me. He was like an older brother, and someone I loved. A part of my family. While we shared a common interest through our enjoyment of gemmology and the microscopic world of gems, we also shared much in our personal lives. In public he was always polite and professional, but when you got to know him well his fun-loving side and wonderful sense of humor were delightful.

I remember vividly Eduard crawling around on the floor of our apartment in Santa Monica playing a chase game with our daughter, Erika, who was three years old at the time. I can still hear their laughter. On our long morning walks together he would always politely insist that I go ahead of him on any narrow portions of the trail. It didn't take me too long to realize that he wanted me to clear the path of spider webs and dew. When I mentioned this we both laughed and he explained that, being younger, I was much better able to deal with the wet clothes and hungry spiders waiting for their morning meal.

As he grew older he slowed down some, but never gave up doing the things he loved to do. He was a truly remarkable man and lived a long, full, and exciting life. While his passing is very sad, the life he lived is reason for celebration. My family and I will miss him greatly.
We will post more information regarding Dr. Gübelin on Palagems.com as it becomes available. [back to top]
March 16, 2005: An Invitation to AGS Conclave Attendees, April 2005
Pala International extends a special invitation to attendees of the AGS Conclave Hollywood, April 13-16, 2005. Pala will open its doors to Conclave attendees by offering small group visits April 11-14 and 18-19.

Pala is just two hours from Hollywood, in the lush hills of Fallbrook, California. Don't miss this opportunity.

See for yourself why Pala's colored stones are among the finest in the world
View one of the country's finest selections of museum-quality mineral specimens

To request a visit, telephone Gabrièl Mattice at 800.854.1598. Space is limited, so call as soon as possible to avoid disappointment. [back to top]
March 16, 2005: Bill Larson Returns from Burma—and Vietnam
Pala International President Bill Larson has just returned from Southeast Asia, where he attended the ICA Congress in Bangkok. Following the Congress, he joined the ICA Gem Mines Tour to Burma.

While in Southeast Asia, a prospect arose that he found impossible to resist—in Vietnam.

In the next few weeks we will have Bill tell us a little bit more about this very exciting place and his hunt for the finest spinels in the world. [back to top]
March 16, 2005: The Sun Rises in the East: What Bill Brought Back
While at the ICA Congress, Bill Larson acquired this stunning sunstone.
At 34.06 carats, its extraordinary quality and size surely make it one of the largest and finest sunstones to come from China. [back to top]
2015.3 | 2015.2 | 2015.1
2014.3 | 2014.2 | 2014.1 | 2013.3 | 2013.2 | 2013.1 | 2012.3 | 2012.2 | 2012.1
2011.3 | 2011.2 | 2011.1 | 2010.3 | 2010.2 | 2010.1 | 2009.3 | 2009.2 | 2009.1
2008.3 | 2008.2 | 2008.1 | 2007.3 | 2007.2 | 2007.1 | 2006.3 | 2006.2 | 2006.1
2005 | 2004 | 2003 | 2002 | 2001 | 2000
Note: Palagems.com selects much of its material in the interest of fostering a stimulating discourse on the topics of gems, gemology, and the gemstone industry. Therefore the opinions expressed here are not necessarily those held by the proprietors of Palagems.com. We welcome your feedback.