Research Roundup
This month we take a look at reports from some of the world's gemstone laboratories.
This Imitation Not Flattery
GGTL Laboratories, in their September newsletter, examined two colorless diamonds and their accompanying reports. The examination uncovered an elaborate scam. It involved obtaining GIA report information, inserting it into poorly counterfeited reports, cutting HPHT (high pressure, high temperature) treated stones to match the specs in the reports, and laser-inscribing the stones' girdles with the initials of GIA and the report numbers.
If a certain amount of attention to detail was paid in the scam, it was sloppy around the edges. Amongst the flubs: the observed inclusions did not match the plotting diagrams and the report could have benefited from a spell check, as shown here.
Blue Sapphires from Nigeria
In August, the GIA Laboratory, Bangkok issued a report titled "Blue sapphires from the Mambilla Plateau, Taraba State, Nigeria." The report comes after the appearance this past spring of large, clean sapphires of good color and considerable size—some as large as 300 carats—in Thailand and Sri Lanka, purportedly originating from Nigeria. As the report's title explains, the material was coming from the country's Mambilla Plateau in eastern Nigeria. Mambilla had been the site of earlier sapphire production, with the "classic" rough being darker than the new material. GIA had planned a field expedition to the new locality for April, but it had to be postponed. Accordingly, the present report is based on samples received by GIA in Bangkok. This preliminary report will be completed following an anticipated visit to the region. The samples studied in the report were from trusted West African sources in Bangkok. Regardless of the expedition delay, the report includes images of the deposit, obtained from a contact at the company holding the mining license, Gendutse Investment.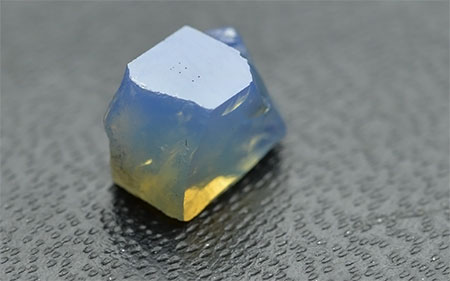 No yellow sapphire samples were amongst those received by the laboratory, but yellow is observed via the Tyndall effect in GIA reference sample 100309934811. The sample was placed on a slightly reflective background and a white "daylight" type fluorescent illumination illuminated it from above. As can be seen, blue color is scattered from the sides of the sample but when light reaches the lower part of the stone it becomes greenish and then yellow as most of the blue is scattered away. (Photo: Vincent Pardieu © GIA)
Despite being a preliminary report, this one contains all the information that you'd expect from the lab and its authors, Vincent Pardieu, Supharart Sangsawong, Jonathan Muyal, and Nicholas Sturman. The report leads off with a section on the background of Nigerian sapphires and their deposits, followed by a description of the rough sapphires from the new deposit. A new parcel came into the lab on June 5, and these ranged in color from light blue to deeply saturated blue. Results of scientific study are given, and many photomicrographs accompany the report, showing the internal world of these sapphires. Also discussed are the challenges associated with determining the geographical origin of the stones.
Speculation regarding a typical application of heat treatment on the sample pictured above, based on the its chemical composition, resulted in a warning from the authors: what might appear to be the perfect candidate for heat likely would produce a very dark blue to black stone. The upside is that the samples' low iron content holds the promise that these stones, once faceted, will be less likely to take on a greenish or grayish appearance.
Over the years, we've looked at the travels of Pardieu and his colleague Richard Hughes to many far-flung localities, including Madagascar. For a look at that land's waning sapphire mining, published in February, see "A Plague of Sapphires" by Aaron Ross, writing for Roads & Kingdoms/Slate.
Also in sapphire news: While Apple didn't employ synthetic sapphire in its new crop of iPhone as many had speculated, Denver-based Sapphire Technology is developing use of the material in dentistry, according to an October 7 press release. The firm's instrument line will utilize optically clear sapphire-tipped instruments that, due to their hardness, will reduce "pull-back" when used with photo-cured resin composite fillings. Metal-tipped instruments can cling to such fillings, creating gaps that "can trap bacteria, provide opportunity for further tooth decay, and provide micro-leakage pathways for post-filling hot and cold sensitivity issues," according to the release.
When Unenhanced Is Unimportant
Last spring, at the JCK Show, emerald dealer and author Ron Ringsrud was asked to speak on the mining and marketing of emeralds. Also included in his presentation were the following remarks on emerald gemology. This appeared in Ringsrud's occasional newsletter; you can sign up to receive it here.
Emeralds: Perfect Gems with Minor Enhancement
In Europe, the treatment or enhancement of emeralds is an afterthought. Yes they prefer cedarwood oil, it is well understood and it's low tech. But they pay attention to the gem; its rarity, fineness and uniqueness. The enhancement is not given that much importance; it's noted and then they move on. In the USA and China however, it's as if they never even see the emerald; they get lost in the certificates as well as endless discussions that I won't bore you with.
However, in March this year at the Basel Gem, Jewelry and Watch show, I witnessed something that surprised me: the flood of requests for emeralds with no oil or enhancement. This is both good and bad. The surprising volume of requests for no-oil emeralds is a clear sign that there are many beginners and "newbies" coming into the colored stone world. They don't understand the subtleties of gemstone enhancement and they have plenty of money so they ask for no-enhancement emeralds. This is good; we want new people buying gems.
#20793. (Photo: Mia Dixon)
A nice 1.11-carat Colombian emerald, treated with oil and resin. Inventory
But it is also bad. It is bad in that the power of this new money is strong-arming established dealers to beg for (and sometimes demand) no-oil emeralds. These established dealers, in my opinion should turn aside those requests and bring the attention of the customer to the fineness and rarity of color and of transparency, regardless of whether the certificate says no-oil, minor or even moderate. Two years ago I sold a 10-carat cushion emerald for $300,000. It had a moderate degree of enhancement according to one gem lab. How did I sell it? I educated the customer about rarity. Rarity is not found in a lab certificate but in the unique combination of color, transparency and cut.
I have to roll my eyes when I think of all the rare, special and fine emeralds that have been passed over because a customer blindly demanded emeralds with certificates stating "no enhancement." If my emerald inventory has few or zero no-oil emeralds I don't see it as my problem; it is the problem of the customer. The customer needs to educate himself and become a connoisseur. He needs to buy for beauty and rarity and let the certificate be secondary.
The 10-carat cushion emerald with the moderate degree of enhancement could have been sent to another lab and it probably would have come out "minor" but I didn't bother. My customer and I were very happy that such a rare and special stone came across our path so we could buy it. It was the stone that thrilled us; not the subjective opinion from a gem lab—an opinion by the way, that the lab specifically states on the legal disclaimer that they are not liable for ("errors, omissions, or … negligence of employees"). Gem labs are not being criticized here; the problem is that the emerald enhancement determinations are much more difficult than, say, diamond clarity calls.
Want more of the same, er, treatment? Peruse this vintage article by Richard W. Hughes, "Cloak and Dagger: The Politics of Opticon."
Amber, Ruby and Sapphire
Amber
Six authors, led by Thanong Leelawatanasuk of The Gem and Jewelry Institute of Thailand (GIT) issued a report on Indonesian amber, published in The Australian Gemmologist ("The Characteristics of Amber from Indonesia," 25:4, 142–145). The mind does not turn to Indonesia when thinking of amber, but the report states that this is changing, with this material appearing more and more at major gemstone shows.
Ten samples were studied, all purportedly from the westernmost island of Sumatra. The color ranged from yellow to brownish yellow to brownish red. Some samples, when viewed in strong sunlight, take on a bluish sheen similar to that of blue amber from the Dominican Republic.
When compared with reference stones from the Baltic, Dominican Republic and Burma, the Indonesian ambers featured prominent round-to-oval droplet inclusions in numbers not seen in those from the other localities. The Indonesian samples came from three different donors, but their Mid-IR and Raman spectra patterns were identical. This, again, is in contrast with the patterns from other localities. The researchers suggest that this is because each locality would have its characteristic plant species, from which amber is fossilized; and, of course, the species would have been laid down in differing geologic ages.
Ruby and Sapphire
Authors Thanong Leelawatanasuk, Wilawan Atichat, Visut Pisutha-Arnond and Pornsawat Wathanakul, all from GIT, provided a well-illustrated guide to ruby and sapphire grading tools in the pages of InColor this past spring ("Ruby and Sapphire Grading Tools," Spring 2014, 46–51).
The article begins with a comparison of the "4 Cs" (color, clarity, cut, carat weight) between varieties of corundum, with clarity in yellow sapphire being typically being higher than blue sapphire, which is higher than ruby. Next, GIT's quality assessment system is described, and is noted to be in a process of constant refinement. That said, GIT's standards are based on the Munsell system, which converted common Thai color names into its own color codes. GIT also has taken the somewhat amorphous but classic terms like "pigeon's blood" and "royal blue" and created its own master sets for comparison. Likewise, GIT has done the same with cut and proportion. "Unfortunately, due to very high value of such stones, cutters are forced to maximize weight retention," the authors observe. "Hence, very few stones possess ideal proportions." Finally, clarity is discussed briefly, once again noting the differences between corundum varieties.
Galileo Galilei, Gemmologo
Portrait of Galileo Galilei by Giusto Sustermans, 1636.
Galileo Galilei is well known to school children as the father of astronomy, but like so many medieval and Renaissance investigators his pursuits were manifold: mathematics, physics, engineering, philosophy—and gemology. In a free-access edition of Journal of Gemmology ("Galileo as Gemmologist: The First Attempt in Europe at Scientifically Testing Gemstones," 34:1, 24–31), Prof. Annibale Mottana shows that at least one of Galileo's challenges was the same as that facing the modern gemologist: many of his samples were simulants.
Galileo was a university dropout who dared to use the vernacular rather than Latin in an early essay on hydrostatic buoyancy of precious metals, which he then applied to gemstone materials. It was only published posthumously—and incorrectly, omitting three pages due to a copyist's error—in 1644 by a follower, and even then, Mottana writes, care had to be taken to escape the Roman Inquisition, which had ensnared the essay's writer. The missing pages contained the results of Galileo's gemstone testing, and weren't located until 235 years later.
Mottana takes the reader through a fascinating analysis of la tavola and its accuracies and inaccuracies—such as mistaking what might have been topaz for diamond; at 141.5 carats such a diamond was worth nearly twelve large houses. [back to top]