2015.3 | 2015.2 | 2015.1
2014.3 | 2014.2 | 2014.1 | 2013.3 | 2013.2 | 2013.1 | 2012.3 | 2012.2 | 2012.1
2011.3 | 2011.2 | 2011.1 | 2010.3 | 2010.2 | 2010.1 | 2009.3 | 2009.2 | 2009.1
2008.3 | 2008.2 | 2008.1 | 2007.3 | 2007.2 | 2007.1 | 2006.3 | 2006.2 | 2006.1
2005 | 2004 | 2003 | 2002 | 2001 | 2000
2004 Gem News Archive – Links
2004 Gem News Archive – Stories
July 2, 2004: AGTA issues lab alert regarding glass-filled rubies
On March 16, 2004, we reported on a glass-filling technique that had been identified by the Gemmological Association of All Japan. The AGTA lab today disclosed that a 16-carat ruby treated by this process was submitted to them for testing in June. Here is their full report:
AGTA Gemstone Update - July 2, 2004
New Ruby Treatment Arrives in the United States
Most industry members are aware that glass often enhances the appearance of rubies that have been heated. Recently Ahmadijan Abduriyim of the Gemmological Association of All Japan (GAAJ) reported that unheated rubies were being treated by a glass fracture filling technique similar to that applied to diamonds (2004).

In April of 2004 the GAAJ sent a sample to the AGTA-GTC. Our tests confirmed: Flash effects within the rubies similar to those found within glass filled diamonds and resin filled emerald.

EDXRF also confirmed the presence of leaded glass in the fracture of the ruby.

The prevalence of this treatment is not known. However, a 16-carat ruby was submitted for a report to the AGTA laboratory in June 2004, which had been treated by this method. Members and clients should be aware that rubies treated by this technique are now present in the US market.

Reference
(2004), GAAJ Lab Alert: Lead Glass Impregnated Ruby. GAAJ Research Laboratory. 2004.
[July 6 Update: Adolf Peretti has informed us that GRS has also seen rubies treated by this process.] [back to top]
April 27, 2004: AGTA clears unusual blue sapphires
Along with most other major labs, the American Gem Trade Association Gemological Testing Center (AGTA GTC) has now determined that the Sri Lankan sapphires with unusual color zones are not the result of lattice diffusion. Therefore they shall use standard heat treatment comments on their identification reports. [back to top]
April 12, 2004: Jewelers Burma Relief Project
Illinois jeweler Brian Leber, is a passionate advocate for human rights. When he learned that the US had imposed sanctions against the Burma military junta to punish them for human rights violations, he decided to take a pro-active approach, setting up the Jewelers Burma Relief Project (JBRP). According to Leber:
Our industry, which acknowledges the beauty and rarity of the various Burmese gemstones, has historically offered aid to this troubled land through our involvement with and trade of these products. Yet in the face of the ongoing oppression by a brutal military government, compounded by the current US trade embargo against all Burmese goods including gemstones, we must offer these people our financial support in their time of need. We've heard a lot about the industry in relation to conflict diamonds, tanzanite, and terrorism. Through this project, the industry can do something positive. By offering aid to Burmese people of all ethnic backgrounds and religions, our project will help fund and support locally run projects that promote health, education and leadership development.
Members of the industry can give donations, which the project will send to the Foundation for the People of Burma, a non-profit humanitarian organization based in California.
For more information, contact Brian Leber at:
Leber Jeweler Inc.
907 Burlington Avenue
Western Springs, IL 60558
USA
Tel: 708-246-1455; Fax: 708-246-1451
Email: info@LeberJeweler.com
Donations can be made directly to:
Jewelers Burma Relief Project
c/o Foundation for the People of Burma
909 Montgomery Street
Suite 500
San Francisco, CA 94133
USA
Tel: 415-486-6527; Fax: 415-486-6786
[back to top]
April 5, 2004: Cheaper beryllium testing
Jewellery News Asia has just reported that Henry Hänni's Swiss Gemmological Institute (SSEF) has developed an inexpensive method for testing treated sapphires for the presence of beryllium. They plan to begin offering this service immediately through their Basel laboratory, as well as at on-site testing in various locations around the world.
Currently, beryllium diffusion can be identified in many orange and orange-red sapphires via immersion, but is often undetectable in yellow and blue sapphires without resorting to expensive SIMS or LA-ICP-MS testing. Thus the breakthrough by the SSEF could be hugely beneficial to the trade. [back to top]
March 10, 2004: New Burmese ruby mine? [updated March 22, 2004]
The S.H.A.N. News Agency has recently reported on what may be a new ruby mine in Burma's Shan State. Located at Loi Hpaleng ("Red Cliff Mountain"), on the southern banks of the Salween river, the deposit is said to have been discovered over two years ago. Ja Pikoi, a local militia leader had been quietly digging and selling the gems mixed into parcels from Möng Hsu (Maing Hsu).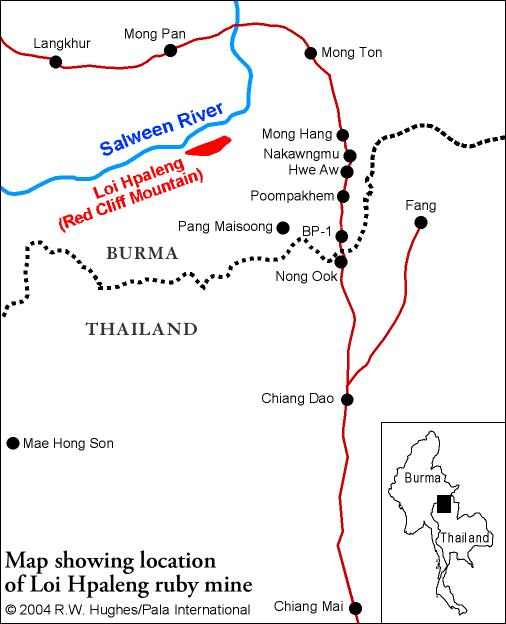 Map showing the location of the Loi Hpaleng ruby mine in Burma's eastern Shan State.
Suspicions were raised when it was noticed that Ja Pikoi was displaying unusual wealth without dealing in drugs. Eventually word filtered down to the capital, which dispatched both troops to keep prospectors out, and a team of nine gem experts to examine the mines. They arrived on September 30, 2003.
So rugged is the area that the experts apparently did not actually visit the mines, instead sending their Lahu militia escorts to obtain samples while they remained below in the camp. According to S.H.A.N.:
"Samples that the experts obtained melted when they were heated, unlike Monghsu stones," one of the gem traders who also occasionally deal in drugs told S.H.A.N.

Loi Hpaleng, "the mountain of red cliff", is located west of the Mongton-Chiangmai highway and became known to the Burmese commanders after a local militia leader, Ja Pikoi, became unusually rich without noticeable dealings in drugs like his peers. On 30 September, the gem specialists arrived under heavy security to investigate.

"The experts, after climbing a few hills, decided to trust their Lahu militia escorts to get the samples for them and just stayed in their camp," a businessman in Fang recounted, "so nobody knows whether Ja Pikoi had refused to show where he had found his stones or whether he had just made good by selling his stones mixed with those from Monghsu. In any case, the terrain there is so rugged it is a real challenge for the get-rich-quick outsiders."

Ja Pikoi, leader of the militia force at Hwe Aw, 21 miles north of the Chiangmai border, has apparently escaped persecution by Rangoon for the unfortunate incident and has been allowed to carry on with his duties.

"But the fact is that while his fellow militia chiefs who deal in drugs are facing financial hardships due to suppression in Thailand, he appears to have remain unaffected," observed a local trader.

Apart from Mogok and Monghsu, another rubyland in Panglong in Namtu township, northern Shan State, was reported to have been located. However, the discovery has never been publicized and the place remains off-limits to non-military members, said a Shan ceasefire officer.
On March 4, 2004, S.H.A.N. reported the following:
Wa grab gem mountain
Troops from the United Wa State Army's 171st Military Region of Wei Hsuehkang has since 1 March, taken the Loi Hpaleng range, opposite Chiang Mai, that was reportedly "crammed" with red ruby stones, a fact that was yet to be officially substantiated by Rangoon.

The 120-strong UWSA troops were commanded by Wei's deputy, Jalawbo, 60, a native Lahu who speaks 5 languages: Lahu, Shan, Chinese, Burmese and Wa. "Although gem experts in Rangoon had decided the stones there were worthless, the Wa thought there must be some real fire behind the smoke," a Shan businessman close to the Wa told S.H.A.N. "Since January their troops have been combing the area. They also offered a reward to whoever was willing to show them the location of the lode. So far, they have yet to succeed on that score."

The reasons for the Wa zeal were Bao Youxiang, President of the Wa, and Wei Hsuehkang, he said. "Wei particularly thought that the place might well turn out to be an ideal front for all their drug activities," he quoted a Wa officer as saying.

Loi Hpaleng, "The mountain of red cliff," is located on the western part of the Mong Ton–Chiang Mai highway near the Salween. "The place is quite rugged," said a local source. "It takes two days from Nakawngmu (halfway between Mong Ton and the Thai border) even to get there."

A team of specialists visited the range in October under heavy security, soon after stories began to circulated that a Lahu militia leader had discovered rubies there, but nothing ever came out of it.

In the meantime, the news of the "big find" has appeared to have drawn enterprising people to the area. "Some are already offering cheap rubies from the Mong Hsu gemland for sale as Hpaleng rubies," said a trader from Chiang Mai's Fang district.
So does Burma really have a new ruby mine or two? Discusssion with our sources in Burma suggest it is just too early to say.
[Note from September 24, 2004: One Burmese source reported that the Loi Hpaleng deposit is actually garnet, rather than ruby. We have now confirmed with other sources in Burma that the stones are indeed ruby.]
Further reading
January 15, 2004: Suspect Blue Sapphires May be Cleared
The International Colored Gemstone Association (ICA) issued its first ICA Lab Alert for 2004, reporting on the latest gemological findings regarding suspicious treated blue sapphires from Sri Lanka. Preliminary testing suggests that the unusual rims on these stones may result from heat alone. For more on this, see Richard Hughes' Suspect Blues: Coming in from the Cold? [back to top]
2003 Gem News Archive – Stories
November 13, 2003: Update New Blue Sapphire Treatment?
The American Gem Trade Association (AGTA) has just released an update regarding blue sapphires that appear to be treated by a new high-temperature heating technique. It is still not certain exactly what these stones are. [back to top]
October 9, 2003: New Blue Sapphire Treatment?
The American Gem Trade Association (AGTA) has just released an update regarding blue sapphires (archived here) that appear to be treated by a new high-temperature heating technique.
The exact mechanism of this treatment remains uncertain, but a number of stones in sizes ranging from 2 to 17 cts. have been seen over the past several months.
The major identifying feature of these stones is a blue core surrounded by a diffuse colorless or near colorless skin. This is best observed by immersion in methylene iodide (di-iodomethane) with a diffuse white plastic filter between the immersion cell and light source in the microscope.
Note that all stones placed table down in an immersion cell will show some lightening of color at the girdle, since the stone is thinner at the girdle. But stones treated by this new process show a distinctive colorless rim that penetrates well into the gem, unlike the normal gradual lightening of color towards the girdle in untreated stones.
Two immersion photomicrographs of a stone treated by the new process have been posted on the AGTA website at the following URLs:
The AGTA is requesting that anyone who has information on this treatment to contact them at: info@agta.org. [back to top]
October 9, 2003: Beryllium Treated Rubies and Sapphires
In addition to the above, just last week we were shown three stones purchased on a television shopping network that appeared to be treated by the beryllium lattice diffusion process. Two were rubies with a face-up color appearance much like red spinel, while one appeared like a padparadscha. Immersion of one of the rubies revealed a pinkish red core, surrounded by an orange rim. This is extremely strong evidence of beryllium diffusion.We have been in close consultation with the gemologists involved in identifying these treatments and will report more as additional facts come to light. [back to top]
June 6, 2003: AGS Richard T. Liddicoat Journalism Awards
The American Gem Society (AGS) recently announced final nominees for the American Gem Society (AGS) Richard T. Liddicoat Journalism Awards. The RTL awards were developed in remembrance of Richard T. Liddicoat to honor journalists that have made exceptional contributions to the understanding of gemology, as well as AGS ideals of ethics, education and consumer protection. Richard Hughes and Pala associate, Edward Boehm, are among the nominees.
Due to an exceptional number of tie scores in the jewelry industry/trade reporting category, six finalists will be judged to determine the final winner. The nominees are:
The nominees will now go on to be judged by an undisclosed panel of journalism professors from universities throughout North America. The winner in each category will be announced at the Circle of Distinction Dinner on July 29, 2003 during the JA NY Show at the Rainbow Room at Rockefeller Center. Each recipient will receive a cash prize of $1,000, an etched crystal award, and the Society will donate $500 to the Richard T. Liddicoat Scholarship Fund at the Gemological Institute of America in the name of each award recipient. [back to top]
May 12, 2003: Las Vegas JCK Show Foreign Entry Requirements
According to Jewelers Circular-Keystone magazine, organizers for the May 30–June 3, 2003 Las Vegas JCK show announced today that exhibitors and attendees from SARS-stricken areas such as Hong Kong, China and Taiwan will be required to comply with strict entry regulations. People from these countries will be required to enter the US no later than ten days prior to the show, and pass a medical exam administered 48 hours before their entry to the show premises. This is similar to a plan offered by the Hong Kong Jewelry Manufacturers Association. The JCK website has full information. [back to top]
March 24, 2003: Burma gem auction nets US$23 million
Myanmar's state-run news agency has reported that Burma's latest gem auction has netted US$23 million.
China's Xinhua News Agency provided more details:
Myanmar fetches 23 mln dlrs from gem sale
Xinhua News Agency, March 24, 2003: Myanmar has fetched a total of 23.32 million US dollars from sale of locally-produced quality gems through competitive biddings at an annual gems emporium which ended here Sunday evening.

Through tender and competitive bidding systems, of the 1,423 jade lots displayed, 446 were sold, while of the 219 gems lots, 48 were sold, and of the 224 pearl lots, 16 were sold at the 40th annual gems emporium.

Besides, through fixed price system, 1.44 million dollars worth of jade figurines, jewelry, gems and jade lots were sold.

Although the proceeds from this year's gems emporium could not break the past highest record of 30.7 million dollars gained in the event held last November, it was registered as near to the second highest sale of 24.17 million dollars earned in the March annual one in 2000.

The nine-day state-sponsored gems emporium, which began on March 15, attracted 622 merchants of 246 companies from 18 countries and regions, mostly from China, China's Hong Kong and Thailand. The number of local gem traders from 162 companies participating in the event reached 440.

Myanmar started holding annual gems emporiums in 1964, introducing mid-year ones in addition since 1992 to boost the country's dollar earning.

Since 1964, Myanmar has earned a total of 413.94 million dollars from its gems emporiums as of now, according to official statistics.

Myanmar, a well-known gem producer in the world, is in possession of nine gems – ruby, diamond, cat's eye, emerald, topaz, pearl, sapphire, coral and variety of garnet tinged with yellow. [actually, there is no emerald in Burma; the major gems are ruby, sapphire, spinel, pearls and jade]

There are three famous gem lands in Myanmar – Mogok in Mandalay division, Mongshu [Möng Hsu] in Shan state and Phakant [Hpakan] in Kachin state.

To develop the gem mining industry, Myanmar enacted the new gemstone law in September 1995, allowing national entrepreneurs to mine, produce, transport and sell finished gemstone and manufactured jewelry at home and abroad.

Since April 2000, the government has started mining of gems and jade in joint venture with 10 local private companies under profit sharing basis.
According to the Bangkok Post, the previous auction in Burma was marred by reports of money laundering. [back to top]
February 24, 2003: Gerry Manning of MCM Gems passes away
It is with great sadness that we report the passing of long-time AGTA member, Jerry Manning of MCM Gems, Middletown, Ohio. Jerry passed away early in the morning of Feb. 24th, after a long and valiant battle against Lou Gehrig's disease. All of us at Pala International and the entire AGTA family would like to extend our condolences to Jerry's wife, Peg, and the entire Manning family. For more on Jerry Manning. [back to top]
Jerry Manning
February 20, 2003: Chanthaburi dealers/heaters agree to come clean
The Chanthaburi Gem & Jewelry Association (CGA) has issued a press release regarding the beryllium bulk diffusion of ruby and sapphire. For the first time, a major Thai gem association has committed to full disclosure of gem treatments, including the beryllium bulk diffusion. Indeed, the CGA has not only committed to complete disclosure, but to the expulsion of members who refuse to comply with this policy.
As many are aware, this issue has dogged the trade for the past year. We at Pala International are extremely pleased to see this change in attitude. We are also hopeful that treaters/dealers in other countries will display similar professionalism.
On a related note, during one of the Tucson press conferences covering this issue, one trade journalist raised the question of how a jeweler would describe beryllium bulk diffusion to a layperson. While enhancement codes such as those used by the AGTA and/or the ICA are sufficient within the trade, they do not arm consumers with the information they need at the time of purchase.
In our opinion, at the retail level, a beryllium-diffused sapphire or ruby can be simply described as:
Artificially colored by beryllium
In situations where the artificial color layer does not deeply penetrate the gem, that should also be noted.
Such a description should satisfy even the most staunch consumer advocate. It is short, accurate and, most importantly, understandable. [back to top]
January 23, 2003: Demantoid Garnet
In the summer of 2002, miners in Russia's Ural Mountains unearthed the find of the century – large quantities of fine demantoid garnet the likes of which have not been seen since the time of the Czars. Pala International is handling the lion's share of production. Rough will be available in commercial quantities, as will cut stones in a variety of sizes. All will be on exhibit at the AGTA show (Booth #1016–1018) in Tucson, Feb. 5–10, 2003. Stop by and see just how beautiful green can be.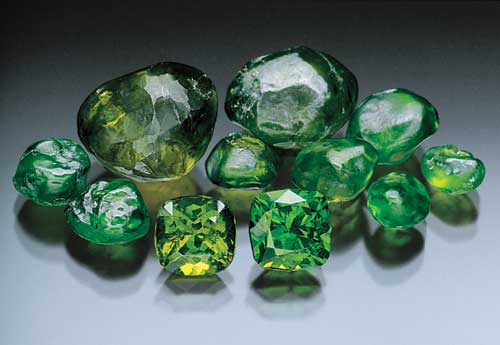 Ural Pearls. A bevy of beauties from the Ural Mountains in Russia. Demantoid such as this has not been seen since the time of the Czars. The cut stones are over 4 cts. each. (Photo: Jeff Scovil/Pala International) [back to top]
2015.3 | 2015.2 | 2015.1
2014.3 | 2014.2 | 2014.1 | 2013.3 | 2013.2 | 2013.1 | 2012.3 | 2012.2 | 2012.1
2011.3 | 2011.2 | 2011.1 | 2010.3 | 2010.2 | 2010.1 | 2009.3 | 2009.2 | 2009.1
2008.3 | 2008.2 | 2008.1 | 2007.3 | 2007.2 | 2007.1 | 2006.3 | 2006.2 | 2006.1
2005 | 2004 | 2003 | 2002 | 2001 | 2000
Note: Palagems.com selects much of its material in the interest of fostering a stimulating discourse on the topics of gems, gemology, and the gemstone industry. Therefore the opinions expressed here are not necessarily those held by the proprietors of Palagems.com. We welcome your feedback.